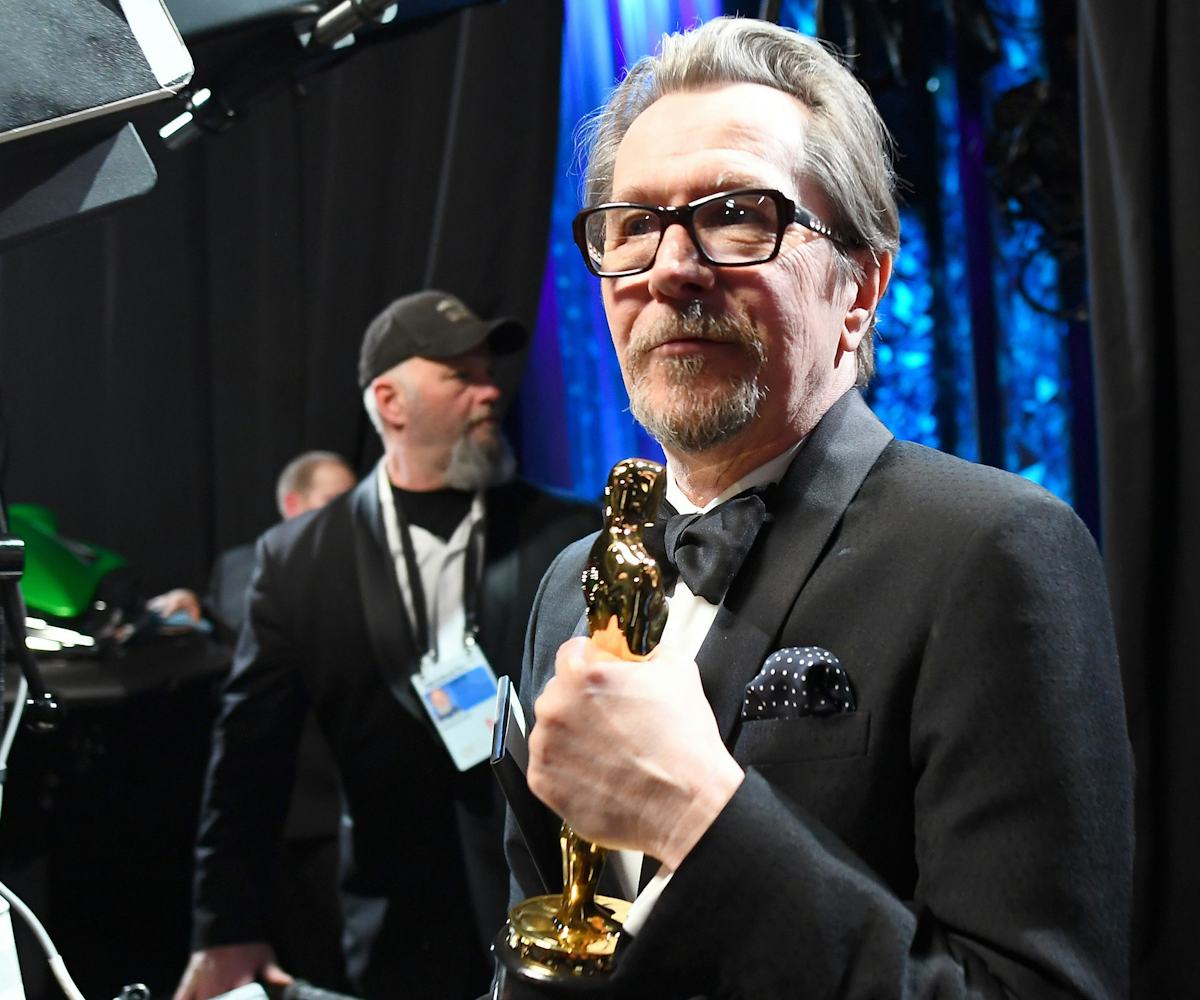 Photo by Handout/Getty Images
The Oscars Were A Safe Exercise In Virtue Signaling
This was a huge missed opportunity
Last night, everyone involved with the 90th Academy Awards had the difficult task of publicly congratulating their colleagues and themselves for their work in the film industry, while simultaneously addressing the myriad allegations and systemic abuse problems plaguing the industry. There was opportunity for some significant disruption of the normal awards show script, but, instead, Hollywood's biggest night was filled with the type of discourse more usually seen in one of its less remarkable films.
Sure, there were several overtly political bright spots, including Lupita Nyong'o, and Kumail Nanjiani's heartfelt support of Dreamers and Frances McDormand's rousing acceptance speech which ended with a call for a mandatory "inclusion rider." There were also some more implicitly political moments, like when Best Live Action Short Film winner Rachel Shenton used sign language in her acceptance speech—her film, The Silent Child, is about a deaf girl who has a hard time communicating—and the fact that Guillermo del Toro's win for Best Director made it the fourth time in five years that a Mexican director has won the award. These shining moments, though, felt few and far in between. And it's hard not to feel like some of these moments are merely lip service; McDormand pointed that out in her speech, saying that she didn't want any inclusivity conversation to be relegated to this one night: "Don't talk to us about it at the parties tonight. Invite us into your office in a couple days, or you can come to ours, whatever suits you best, and we'll tell you all about them." 
Perhaps it's wrong to expect an awards show to be anything more than a lukewarm gesture to essential political movements, where the utilization of enamel pins is seen as revolutionary. Maybe it's an intractable problem to have a feel-good night filled with easy anti-Trump gags, Weinstein jabs, and a rallying cry of "diversity is important," and then have the Best Actor award go to alleged domestic abuser Gary Oldman. And though the Oscars may have tried to talk the talk, they seem to be quite a ways away from actually walking it, as evidenced by the Academy's instructions to the press to "keep questions focused on what is happening on screen and not anything else."
But while there weren't supposed to be any unscripted questions about diversity or feminist movements, scripted virtue signaling was everywhere—from that ironic Twitter ad about amplifying the voices of women to Jimmy Kimmel's well-intentioned yet ultimately "chummy and conciliatory" opening monologue—making for a relatively snoozy show. As Tracy Clayton put it, "these metoo & times up jokes are clever but this feels exactly like watching an anti-smoking ad paid for by tobacco companies." 
The Oscars felt so lackluster this year precisely because, as the most prestigious awards show on the block, the awards show had the opportunity to do something that would have had a major impact. It's hard not to lament that there were so many opportunities to make pointed statements, push the big questions, and call out the abusers sitting in the audience, yet only a few were taken. Compared to the Globes—which felt like a concerted effort to integrate these conversations throughout the program—the Oscars spent, as Vulture notes, "almost its entire first half" tiptoeing around these topics, and then came in hard with a slew of nods that conveyed the vague notion of "equality." Because while Weinstein accusers Ashley Judd, Annabella Sciorra, and Salma Hayek presented a lengthy segment toward the end of the program dedicated to representation in Hollywood, it was somewhat remarkable that it took until almost the end of the program to even utter the word "intersectionality." Not only that, but why make women and POC almost "plead" their cases? Or, as some pointed out, to seemingly sequester this huge conversation to three minutes?
Again, it's not that the Oscars didn't try, it just felt like they didn't try hard enough. And sometimes that can feel—and be—less productive than doing nothing at all, as it allows for a sort of complacency to permeate the atmosphere. With a pat-on-the-back and a tepid smile, the main takeaway from last night was that while the Academy tried to embrace changing times, it was, for the most part, a huge missed opportunity to address significant issues that can only be fixed from the inside out.