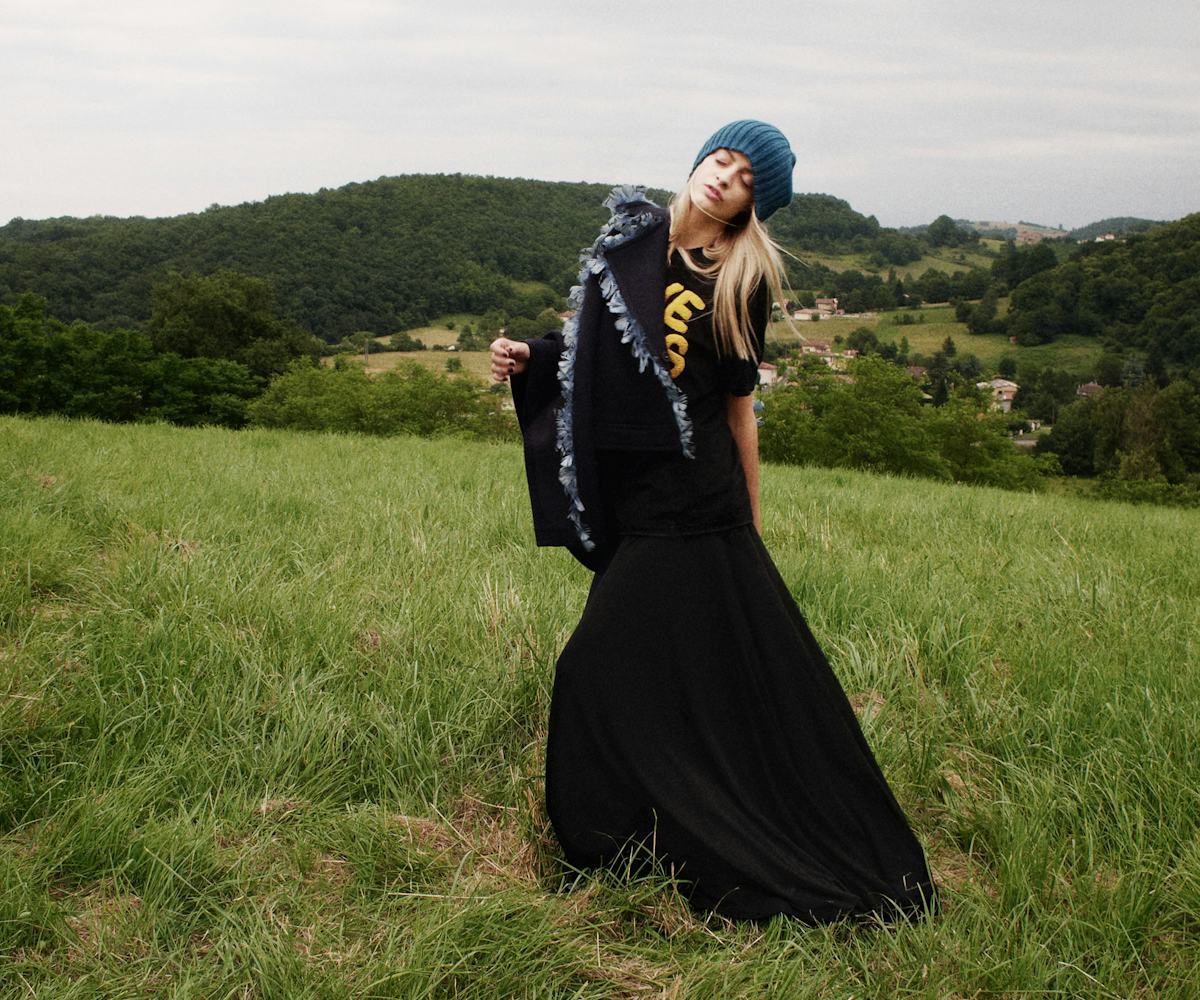 Photo by Kristin Vicari.
the great outdoors
camping-inspired gear is great for fall, even if you have no idea how to use a compass.
Put me in nature and I'm lost. I don't really know how to use a compass (even though my iPhone has a very pretty one built right in) nor can I deal with even the sight of bugs. Recently, however, I moved in to a new apartment with a roommate who is a carpenter from Wisconsin. (I know, it sounds like the plot for an amazing Odd Couple-meets-Girls spinoff.) He knows how to build furniture (a fact he proved by building himself a shelf for his bedroom), drinks Miller High Life beer (the pride of Wisconsin), and, oh yeah, he can fish. These are all alien things to me, a suburbs-to-city girl who only uses rock climbing rope as laces for my Doc Martens, but one day I found myself perusing through a fishing magazine in our living room thinking, "I want that!" about almost every hat, jacket, T-shirt, and pair of boots. 
Even if you're no nature girl, items inspired by outdoorsy apparel are the perfect addition to your wardrobe for fall because they not only look cool, but they are also highly practical. Take Fjallraven's cape-meets-parka combo; it's comfy, warm, and, yep, cute. Timberland boots are a great plus one to skinny jeans on rainy days, while a Carhartt beanie is an inexpensive way to get some workwear cred into an otherwise girly outfit. I'd also happily take some white A.P.C. faux fur snow boots or a Uniqlo camouflage puffer any day. I'm considering the outdoorsy trend to be the autumn counterpart of my summer sportswear phase (cough, track pants and Adidas shower sliders, cough) because (according to me, at least) you don't have to be good at a hobby, be it soccer or camping, to take part in its best fashion items. 
Don't think these styles are for you? Take it from the girl least likely to spend time in nature: Never did I think I could be a person who used words like "rucksack, " but thanks to a cute Jansport one, I am.  
Timberland Six Inch Leather Boot -- $110
Uniqlo Mens Ultra Light Down Jacket -- $69.90
Ray-Ban Polarized Aviators -- $220
Palladium Monochrome Boot in Maroon -- $60
Fjallraven Luhkka Parka Cape -- $300
Urban Outfitters Handmade Slalom Sled -- $150
Bernhard Wilhelm Camo Trench -- $715
Jansport 1980 Off Trail Rucksack -- $55
Camping and Survival by Paul Tawrell -- $30
Adidas Hooded Camo Parka -- $200
A.P.C. Faux Fur Snow Boots -- $665
Topshop Sno Winter Coveralls (Available at Topshop this November)
Pendleton Notebook Set of Three -- $12.95
Topshop Sno Winter Socks (Available at Topshop This November)
Gap Faux Fur Trim Puffer Vest -- $79.95
Proenza Schouler Aviators -- $325
A.P.C. x Eastman Large Backpack -- $370
Billabong Flannel Shirt -- $49.50
Levi's Mens Shearling Jacket -- $110
Billabong Fleece Pullover Hoodie -- $52