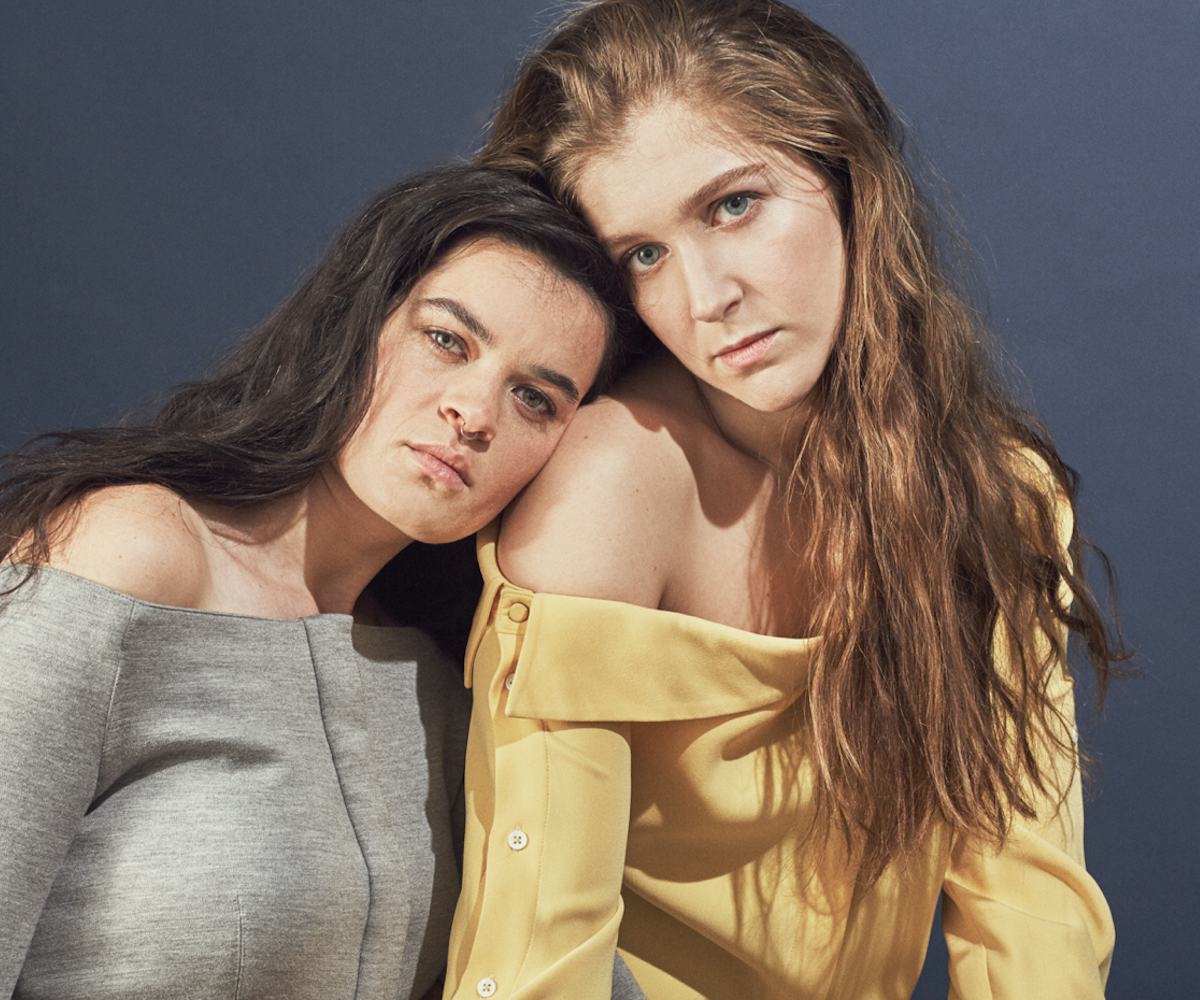 Photo courtesy of Overcoats
Overcoats Has Your Daily Dose Of Folktronica Right Here
Listen to "Leave The Light On"
Before Hana Elion and JJ Mitchell joined musical forces, they were undergrad students at Wesleyan University. The pair first connected after hearing each other sing embarrassing songs in the bathroom of their dormitory, though it wasn't until their senior year that they wrote music together and formed their folktronica duo, Overcoats, a name they settled on because they thought it would "act as a coat of armor for us" since their songs contain vulnerable lyrics. Elion adds, "We wanted to be able to express our emotions freely and honestly, but remain protected by our name—genderless and sheltered."
The pair consistently brings together tight vocal harmonies with upbeat electronic tracks for a fresh take on folk, and so we're excited today to premiere the track "Leave The Light On," off of their forthcoming debut albumYOUNG. 
Hana told us that the single is an anthem of self-reliance and personal growth. "We wrote it after a long winter in NYC, after feeling monumental changes in our social lives, our everyday existence and realizing what it means to be far from our parents," she says. "The song, for us, is about realizing that you are changing and transforming—everybody always is—and that you can embrace the ways in which you are moving forward."
While you stream the single, get to know more about the duo in the interview below. You can also catch Overcoats on tour this spring with Tennis and Maggie Rogers. YOUNG is out on April 21 via Arts & Crafts.
Can you recall one of your earliest shared musical moments?
JJ: The first concert we went to together, other than campus shows, was Citizen Cope. We drove to New Haven in a borrowed car and saw him play. We both loved his music, and the evening was really special. Little did we know, it would be us on stage together a couple years later.
Hana: That night ended in a less inspiring way, though—the car broke down and we were stranded at Yale for six hours! But I think we somehow made some friends and ended up in some nice folks' apartment. So maybe it was inspiring after all.
Who are some of your musical influences?
Hana: Every time we take a road trip or go on tour somewhere, we discover that we actually share so many of the same musical influences. Our childhoods were filled with the Dixie Chicks and Simon & Garfunkel. And we spent high school listening to Amy Winehouse.
JJ: And in college, we listened to The Staves, Hiatus Kaiyote, Sylvan Esso, Jamie XX, Hozier, King Krule, among many others.
Tell me about your debut album YOUNG. What are some of the themes or topics on the record? How is it different from your EP?
JJ: The album is a journey. Its bookends—"Father" and "Mother"—tell the story. The album, conceptually, is about how each of us came to relate to our mothers and understand them after spending our adolescences as daddy's girls. The songs each hold a place in that coming-of-age story, each telling a different part of the journey. How we learned to love, how we relate to our parents, our brothers, the men we encountered in the music industry. The album feels sonically like the next step after our EP. The EP had all the ideas and all the intention, but in our album, we got to execute our dream of creating electro-folk using organic and synthetic instrumentation.
Hana: And we sang our hearts out.
What is your creative process like as a duo?
Hana: We write in a number of different ways. Sometimes we'll sit down together and write an entire song from start to finish. Other times, songs take months and months to develop. We send soundbites back and forth. Voice memos of melodies, guitar parts, or an inspiring piano chord. We leave our egos at the door, try to walk in each other's shoes, talk, listen, empathize, and write.
Your sound is described as "folktronica." How would you explain it in your own words?
Hanna: Folk is definitely at the foundation of what we do; we love harmonies, and we love the storytelling aspect of folk music. The lyrics are always emotional and always telling you a story. However, we also LOVE dance music—beats that make you move and forget about whatever is going on in your life—and how it can release so much tension.
JJ: So for us, those two aspects are really important to combine—lyrics and stories that speak to the heart, and electronic backdrops that help you find power and fun in those emotions.
What do you hope listeners take away from your music?
Hana: I think healing is a huge part of why we make music. If our lyrics and our experiences can make someone else feel like they're not alone, and someone out there has gone through what they are going through, we have succeeded.
JJ: We really wanted to make music for all parts of life. There are songs on the album you can cry to, songs you can dance the night away to, songs you can feel angry to; we wanted to encapsulate a lot of different feelings, so that people can turn to the music in all sorts of times.
How would you describe your style?
JJ: Hana and I both are super into fashion. We have a lot of different styles we play around with...
Hana: We love minimalist clothing, oversized T-shirts, and monochrome suits.
JJ: We also like to rock a good track pant. Athletic clothes are great on tour because you can do anything in them.
Hana: But sometimes we show up to venues looking like a soccer team.
What is the best part of being in a band together?
Hana: Oh my god, what isn't? I feel so lucky every day to be able to make music with JJ. To have this creative partner and friend who I go through life with... it's awesome. It's so much fun to combine our visions; we really feel like the sum is greater than its parts.
JJ: Yeah, and playing live is amazing. Sometimes we're like, "How on EARTH did we wind up with a career that is basically getting to jump around on stage with your BFF?" This is nuts.
What is one piece of advice that you would give to girls growing up in America right now?
Hana: I'd probably say, "Don't feel like you have to subscribe to any way you're 'supposed' to be." When you want to feel confident, feel confident; when you want to cry, cry; when you want to fight, fight; when you need to stay in bed, stay in bed. There are so many pressures coming at girls from all sides about how we're supposed to act and feel. It's so important to be true to yourself and take care of yourself.
JJ: Be strong. Let's take care of each other.
What are you most looking forward to in 2017?
Hana: Dropping our album!
JJ: We can't wait for everyone to hear it. It's just the beginning.