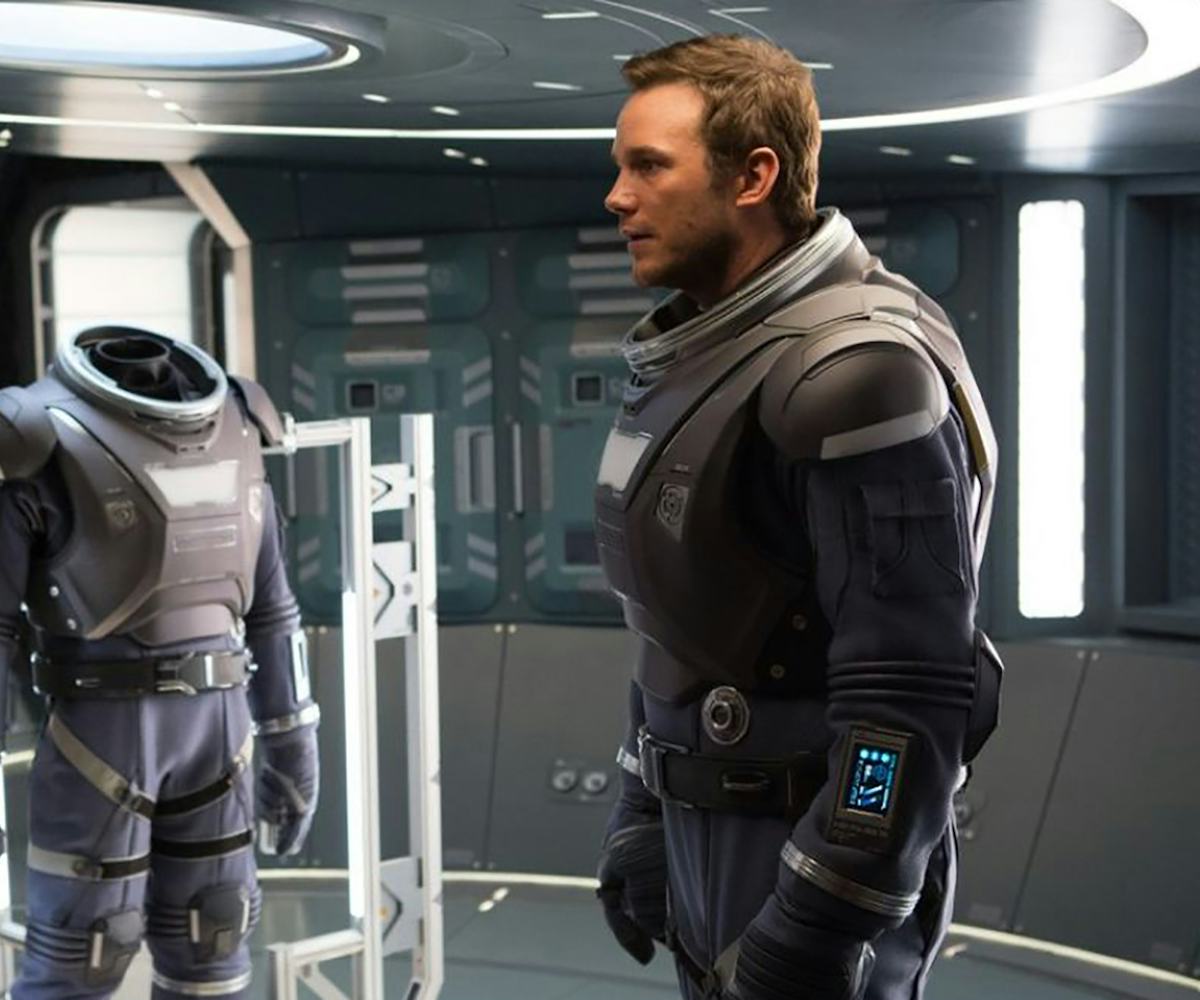 Photo courtesy of Columbia Pictures
Not Even Jennifer Lawrence + Chris Pratt Can Save 'Passengers'
Here's what the critics are saying
It seems that not even the two biggest movie stars in the world were able to save Passengers, which is getting absolutely savaged by critics ahead of its release next week. Directed by Morten Tyldum—who earned an Oscar nod for his work on The King's Speech—Passengers stars Chris Pratt and Jennifer Lawrence as a man and woman who fall for each other after waking up 90 years early on a 120-year trip to a distant planet. So, you're telling us it's basically two hours of Pratt and Lawrence flirting with each other on an otherwise empty spaceship? What could go wrong? Well, according to the critics, plenty. 
One of the most vicious reviews came courtesy of IndieWire's Kate Erbland, who went so far as to call the film an outright "disaster." Chris Nashawaty of Entertainment Weekly was equally ruthless, calling it "pretty bad," while echoing what seems to be a common consensus among critics: Jennifer Lawrence just isn't given much to do. "She's stuck in what essentially amounts to a risable two-hour exhibit of sci-fi Stockholm Syndrome," Nashawaty writes. "But cheer up, even the best movie stars need to make a howler like this every once in a while. It makes us appreciate the good ones."
Nashawaty's mention of Stockholm Syndrome—a term used to describe what happens when a victim begins developing feelings of affection toward their captor—is in reference to the plot element in the film that many experts have taken the most issue with. We won't spoil it here, but those who have seen the film have criticized its darker undertones and implications. 
That said, Pratt and Lawrence obviously sizzle and watching their undeniable chemistry, however fleeting, might be worth the price of admission alone. Check out more critic reactions below. 
"There is, at first, a thrilling what-if in Jon Spaihts' screenplay, which concocts a sort of Titanic in outer space, with dollops of "Sleeping Beauty" and Gravity thrown into the high-concept mix. Under less shiny, by-the-numbers direction, the story might have soared, or at least been more stirring. Yet while Passengers offers a few shrewd observations about our increasingly tech-enabled, corporatized lives, its heavy-handed mix of life-or-death exigencies and feel-good bromides finally feels like a case of more being less. Whatever the critical consensus, though, the marquee leads are sure to entice moviegoers seeking grown-up action-adventure." —Sheri Linden, The Hollywood Reporter
"It's a fantastically creepy start, and while Lawrence and Pratt undeniably possess the magic spark of on-screen chemistry, the basic creepiness of this anti-meet-cute extinguishes what the film-makers presumably are hoping is a warm fuzzy glow of spiky, sparky interaction." —Andrew Pulver, The Guardian
"Pratt and Lawrence are magnetic as the literal star-crossed lovers, convincingly seduced by each other over the passage of time; an awkward, space-suit-bumping kiss giving way to a passionate, Cheerios-all-over-the-floor breakfast shag." —James Dyer, Empire
"Passengers is the tale of a lonely guy in space, the drama of an ethical conundrum, a love story featuring two of the hottest actors on the planet, and a turbulent sci-fi action-adventure - and for all of that, it manages to be not a very good movie." —Owen Gleiberman, Variety
"By the time Passengers hits its underwhelming finale, you almost wish that it didn't start out so strong, just because it's basically all a set up for disappointment." —Eric Eisenberg Cinema Blend
"There are a handful of really interesting scenes, including a night-time attack in James's cabin and some breath-stopping zero gravity hijinks in the ship's luxury swimming pool. But for the most part Passengers is so anodyne, so frightened of the ethically troubling opportunities inherent in the setup that it just ends up feeling forgettable and silly." —Tom Huddleston, Time Out