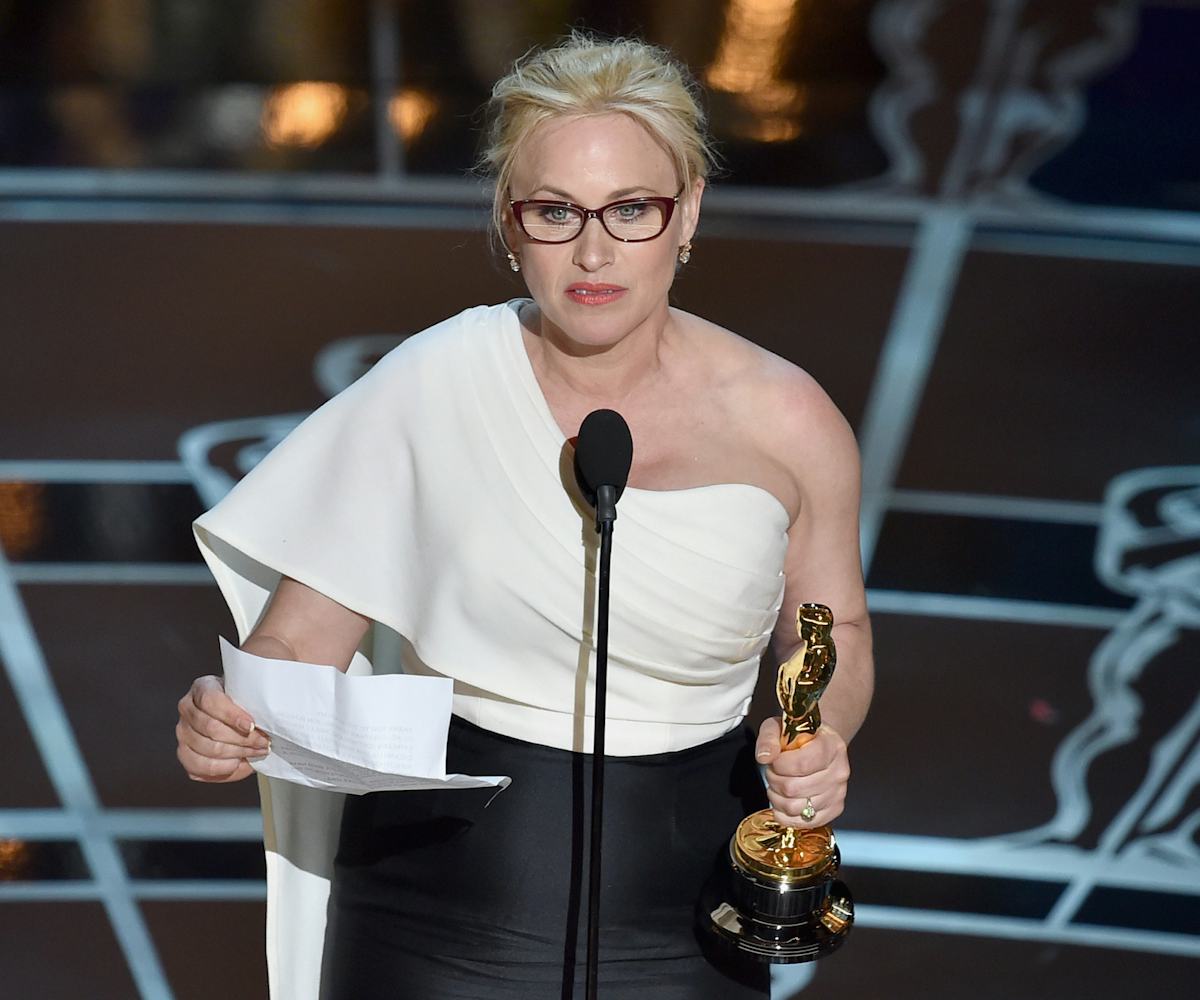 Photo by Kevin Winter / Getty Images
patricia arquette clarifies her oscar speech once and for all
Patricia Arquette pretty much won all the Oscars when she gave an impassioned, feminist speech about wage inequality upon accepting her Oscar for Best Supporting Actress last month. But because we live in a world where backlash is a national pastime, Arquette soon faced heavy criticism and calls that her speech was actually regressive. This was mostly thanks to her interview backstage, where she used some dicey words to further explain herself that she has since admitted were a mistake. "It's time for all the women in America and all the men that love women, and all the gay people, and all the people of color that we've all fought for to fight for us now," she said at the time, implicitly implying that feminism belonged to white women.
So yesterday, as U.N. Women launched its Planet 50-50 by 2030 initiative, which is fighting to make gender equality a real thing in the next 15 years, Arquette was in attendance and used the opportunity to explain that she wasn't always a rich movie star, and that she stands by what she said at the Academy Awards: 
People have asked me why I'm doing this, and it's true, today I'm blessed, having some material success, for which I'm extremely grateful. But I have other truths, too. If I were to tell you as a child, there were times where I lived below the poverty line, literally not having shoes to wear that fit me, that would also be true. If I told you that I was a single mother at 20, and lived with my baby in a converted garage, and that I would worry about my baby's nutrition while nursing, because I could only afford to eat macaroni and cheese mixed with water for a week so I could afford diapers, that would also be true.
So let's be honest: We have in place fair-pay laws that are not ensuring fair pay to women. The effect of the gender gap is most oppressive for women of color. In the United States, Latina women working full-time are taking home 56 cents to every dollar earned by her male, white co-workers. In California, which is the seventh-largest economy in the whole world, that number dropped last year to 44 cents on the dollar. African-American women earn just 64 cents. White American women may now average 78 cents on the dollar.
Countless lesbian women and women in the transgender community also suffer wage penalties that hurt them and their families. And the women in our transgender community are suffering even more; most are not even able to get a job.
"This is about supporting families, and getting women what they have already earned for their own hard work. Hold your lawmakers accountable … We are a movement, and we are making changes for our daughters. We matter."
(Source: The Cut)