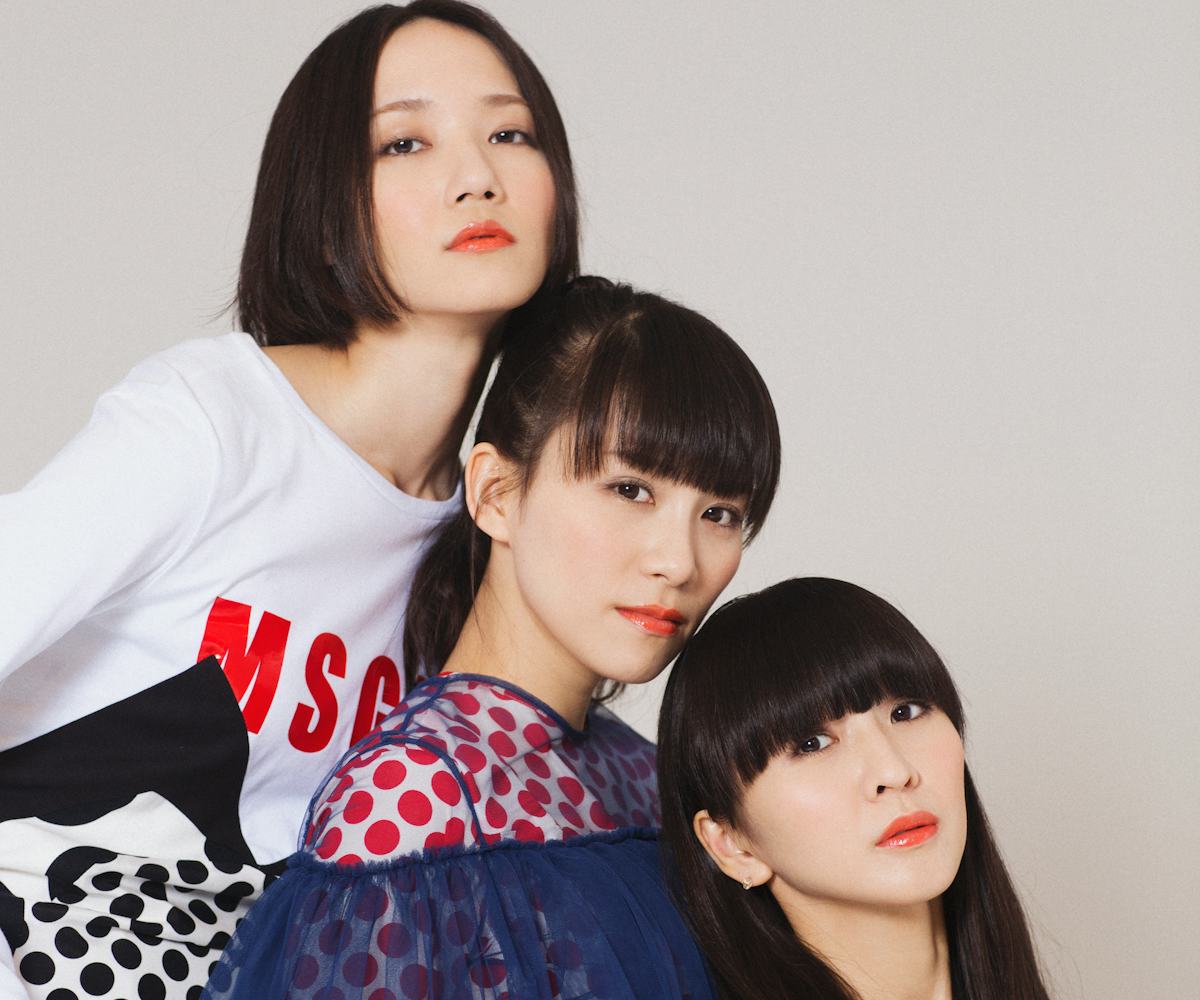 Photographed by Cecy Young.
Touring With Perfume, The Most Popular Girl Group In Japan
And, maybe soon, the world
The following feature appears in the September 2016 issue of NYLON.
When I'm presented with the opportunity to see a live show by Perfume, Japan's most popular girl group, I have to admit that I know nothing about them. But a few YouTube searches later and I'm hooked. It's like if Grimes, Cocteau Twins, and Skrillex had a baby, or triplets, rather, who perform kick-ass choreography and catchy melodies that weave between Japanese and English lyrics, surrounded by sick visuals on stage. Though I start to understand the obsession, it's not until I'm 7,000 miles from home, in a small city outside of Osaka called Wakayama, that I actually start to feel it.
I'm walking around a venue known as the Big Whale, named for its rather bulbous architecture, when I notice a theme: intense cosplay. Teenage girls and 50-year-old dudes alike are in groups of three, dressed up with either a clean-cut long bob, bangs and a ponytail, or straight bangs and long silky hair—the signature hairstyles of Nocchi, A~chan, and Kashiyuka (a.k.a. Yuka), the powerhouse trifecta known as Perfume.
I'm sitting front row when thousands of fans start clapping and dancing—45 minutes before the girls hit the stage. Nobody is on a cell phone, nobody is drinking alcohol—everybody is there to see their beloved Perfume. Case in point: When I pull out my phone to Snapchat the scene, I'm met with aggressive, disapproving stares, silently ordering me to put my phone away and become totally present—talk about a culture shock. Finally, the lights dim and the massive stage beams with neon lights. A countdown begins. Holograms of Nocchi, A~chan, and Yuka appear, and the stars themselves step out onto the stage. It's all very dramatic, and people are losing their shit.
The girls perform three songs, while dancing pretty damn impressively in their heels. Then the lights turn on, and the girls begin talking to the audience. Completely confused, I ask my translator Aya for the Cliff Notes version of the speech: Essentially, the girls are super grateful to be performing—and then they launch into an anecdote about how their show used to feature water shooting up from the roof of the venue, but people who lived nearby complained that their laundry hanging outside was never dry. They have two more interludes during the show, with the final one being the most unexpected: The girls roll massive dice across the stage to tell them which three songs to perform last, which direction to face when they perform, and whether or not they should wear a headset or use a microphone for each. The songs are chosen, the girls take a minute to strategize, and, with the audience hooked on every word and move, they pull it off flawlessly. I've never seen anything like it, such effortless improvisation—I can barely walk without tripping. "Talent" is far too weak of a word for what I'm witnessing.
The show ends. A group of girls sitting next to me are crying, happy that they got to see their idols but sad that the moment is over. Then I'm told that Perfume want to meet me. But aren't they tired? They just performed for over two hours in heels! I'm quickly assured that they won't mind; they're shocked I came all the way to Wakayama to see them. Next thing I know, I'm in the maze of backstage, navigating through dozens of crew members who are disassembling the stage, until I'm finally face-to-face with the girls. We end our quick introduction by planning to meet up again in Tokyo in a few days. I walk away shocked by how sweet and down-to-earth the girls are, considering that they are three of the most famous musicians in Japan, and they've just put on one of the most insane shows I've ever seen.
This is a crucial moment for Perfume. Not only are the 27-year-olds celebrating their 16th anniversary this year, but they're steadily increasing their international appeal. The 2015 documentary We Are Perfume: World Tour 3rd Document shows the girls traveling to America to perform for the first time at the Hollywood Palladium in Los Angeles and Hammerstein Ballroom in New York City. There are funny clips throughout—such as the girls eating In-N-Out (the Animal Style burger, of course)—but you also get a feel for how touching it was for them to realize that halfway across the world, they are loved, admired, and idolized by so many. This month, they'll get to experience that feeling again when they return to the States, performing not just in L.A. and New York, but also in San Francisco and Chicago, proving that their American fan base is only getting bigger.
On the way to Tokyo, I do some impromptu market research on Perfume, casually mentioning to the Japanese girls I encounter that I'm here from New York City to interview the country's biggest girl group. Nine out of 10 times, they flip out; one even tears up because she's "their biggest fan." Their popularity is almost overwhelming when I check in to my hotel in Shibuya, with its massive posters promoting the girls' new album, Cosmic Explorer.
Before I meet up with Perfume again, I have some time to explore the area. I end up in a Purikura machine on the top floor of an arcade—it's a photo booth that makes you look super kawaii by enlarging your eyes, slimming your face, and blurring out imperfections, and then you can apply stickers and glitter to your photos before you print them. Schoolgirls are everywhere (no surprise, considering the arcade's strict requirement that all boys be accompanied by a girl), sporting not just Perfume merch, but also the three telltale haircuts. Aya confirms that Nocchi, A~chan, and Yuka are, in fact, beauty trendsetters, promptly showing me a meme with a photo of Nocchi beside one of a man with a bob wig. The caption reads: "When you go to the hairdresser and ask for a Nocchi, but come out looking like this." I can't help but laugh.
Finally it's time for the girls and I to reunite. After a few hours of glam, a couple of outfit changes, and an impromptu photo shoot with my disposable camera, we finally sit down and talk—first about how Perfume basically went from being local idols in Hiroshima to three of Japan's biggest celebrities almost overnight. "During our summer vacation from college, our breakthrough single 'Polyrhythm' came out, so when school resumed in the fall, people started recognizing me as 'Nocchi from Perfume,'" the singer recalls, detailing how the girls met at the ages of nine and 10 while attending Actor's School Hiroshima. Yuka chimes in: "At school they had you form groups, so A~chan and I formed a group with another girl in the beginning." The three original members all had the same Japanese kanji character for "fragrance" in their names, so they named the group Perfume. "She left the group, then Nocchi joined a year later. We're lucky she was chosen as the new member because we were the same age, around the same height, and all had the same blood type, so we had so much in common," says Yuka. Blood type? The girls start laughing. "In Japan," explains Yuka, "a lot of people care about blood types because they believe your personality depends on your blood type, so a lot of young people ask what blood type you are." So what's the blood type that unites the group? "A," replies A~chan, "which means we're very detailed and precise people."
I can't help but throw in a couple of beauty questions—especially about those hairstyles. "It's paying off that we've kept the same hairstyle for 16 years," says A~chan as the other girls giggle. "We didn't change it because we thought we needed to keep our image the same until we made our big break, but even after we did, we kept it. There are tons and tons of people with bobs like Nocchi, but people think of Nocchi when they see that hairstyle because it's her signature." I recall from the documentary their ritual of applying essential oils to their skin before they step out on stage. Though I'm sworn to secrecy on the specific scent, the girls are willing to describe it. "It's a little bit of a spicy scent," says A~chan, to which Nocchi adds: "It's more floral. It's something that gives you confidence."
But back to their overseas success: "What I think is cool is that what we were doing in Japan was brought over to the U.S., and it really overcame the cultural and language barriers," says A~chan. "It gave us so much confidence as Japanese artists." Still, their biggest dream is to perform at Madison Square Garden, an aspiration that they mention several times in their documentary, as well as during one of their speeches at the Wakayama show. "The chairman of our management company never, ever complimented us before our New York show," continues A~chan, "but when we got off stage he said, 'You are the ones that are going to make my dream come true, to do a show at Madison Square Garden, and be the first Japanese artists to do it.' We were really happy that his expectations of us were so high, so we've made it our mission to go for it from here on out."
Our night in Tokyo ends around 11 p.m. in Isetan (basically Tokyo's Bergdorf Goodman), in the perfume section, naturally. We have the whole place to ourselves, thanks to Perfume's strong relationship with the store: They shot their music video for "Pick Me Up" here with OK Go, and also have collaborated with the store on an insanely popular shoe (inspired by the fact that they're known for dancing in heels). Now that my visit has come to an end, I find myself in an emotional limbo, both happy and sad—similar to how their fans felt back in Wakayama. There's no denying how powerful their presence is; it's difficult to put it into words. But this is not goodbye for us: I tell the girls that I'll be seeing them when they return to New York City, and again when their dream of selling out MSG comes true. The girls let out a big "Aww," and we all hug. Arigato, Perfume, until next time.