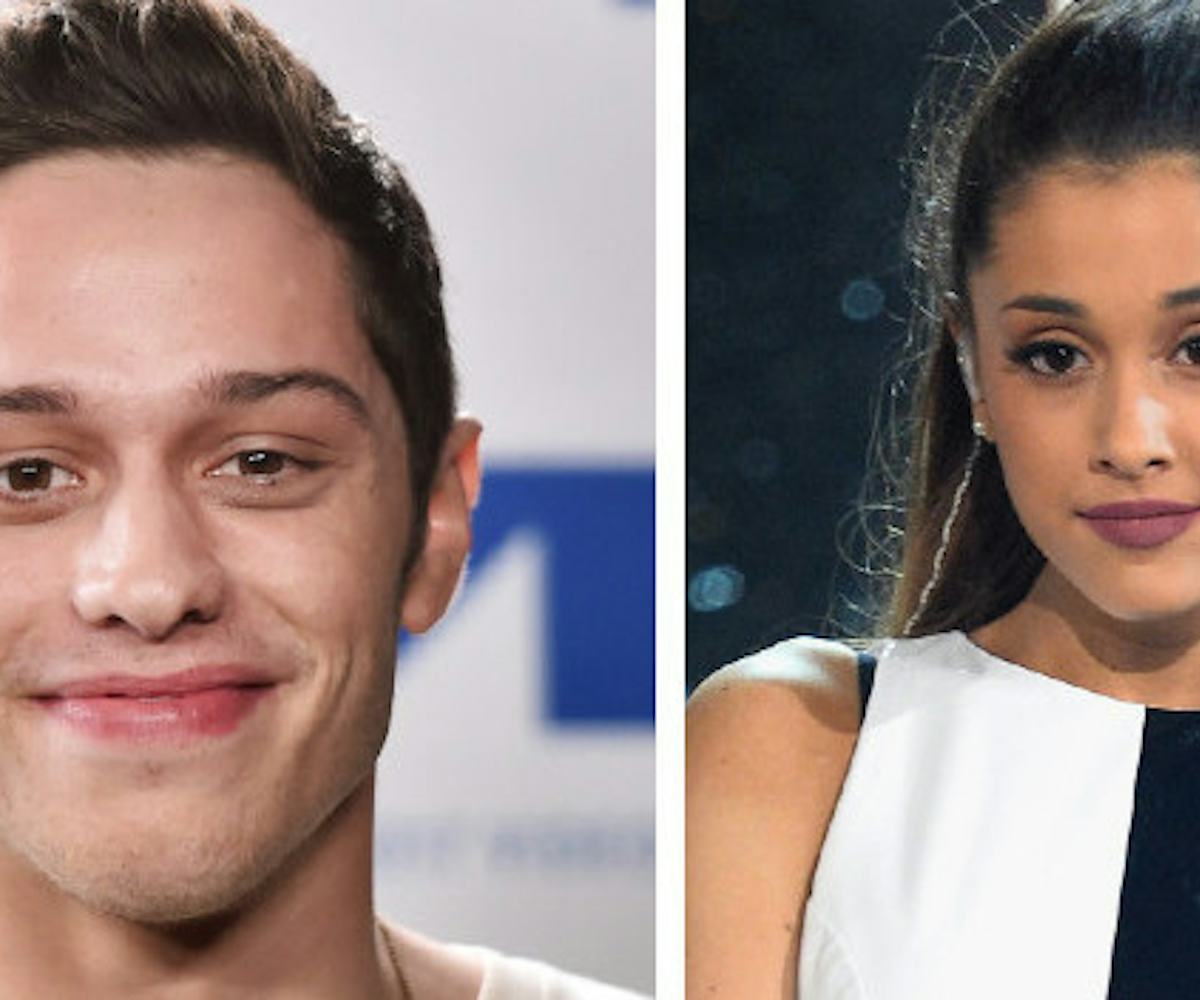 Photos via Getty Images
Pete Davidson Slams Claims That His Relationship With Ariana Grande Is "Toxic"
And is negatively impacted because of his mental health issues
Saturday Night Live star Pete Davidson responded to people concerned that his relationship with Ariana Grande could be impacted by his mental health issues via a lengthy statement on his Instagram stories last night. 
Davidson—who has borderline personality disorder and has been open about his battle with substance abuse in the past—said that, while he typically wouldn't comment on his personal life like this, he is concerned about some of the chatter unfairly labeling his struggle with mental health as "toxic" for a relationship.
"I've been hearing a lot of 'people with BDP can't be in relationships' talk. I just wanna let you know that's not true," Davidson wrote. "Just because someone has a mental illness does not mean they can't be happy and in a relationship. It also doesn't mean that person makes the relationship toxic." 
Firstly, Davidson's mental health history is none of anyone's business. And, as he states, when fans continue to talk and project upon his ability to be a good partner, they just further stigmatize very real issues and reinforce the (untrue) idea that people with mental illness cannot do "stuff that anyone can do." As Davidson wrote, "It's not their fault and it's the wrong way for people to look at things."
And he's right. It should go without saying that people, regardless of their past experiences with mental health, can have the capacity to be good partners. Having a mental illness is not a cause for eternal isolation. It also does not preclude the potential of one building a healthy, interpersonal relationship rooted in compassion and mutual respect.
Most importantly though, people who have struggled with their mental health are not defined by their past traumas or issues, and their past struggles should not be weaponized against them. Especially when it comes to something as intimate as a romantic relationship. That said, Davidson put it best toward the end of his note: "I want everyone out there who has an illness to know that it's not true and that anyone who says that is ill and full of shit. Mental illness is not a joke it's a real thing." 
"For all those struggling I want you to know that I love you and I understand you and it is going to be okay," he concluded. "That's all. Love to everyone else." Read his entire statement here.