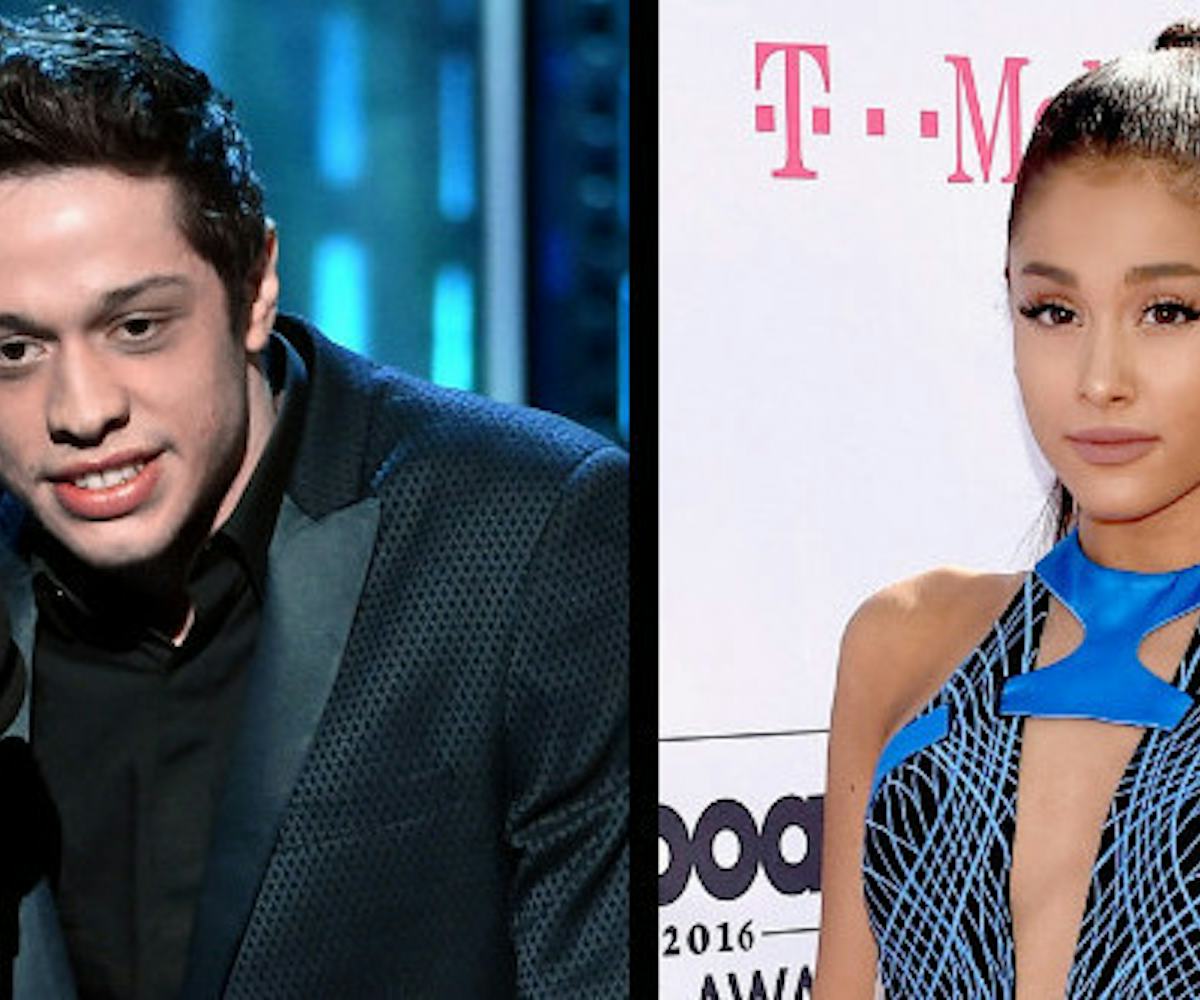 Photos By Kevin Winter & David Becker/Getty Images.
Pete Davidson Jokes About Switching Ariana Grande's Birth Control
"I just want to make sure that she can't go anywhere"
Over the weekend, Saturday Night Live returned for its 44th season, and cast member Pete Davidson's relationship with Ariana Grande was all anyone could talk about. However, a joke that Davidson made about messing with Grande's birth control pills has left a bad taste in many peoples' mouths. 
According to People, Davidson's co-star, Colin Jost, asked him about his engagement to the pop star during the show's Weekend Update segment. The segment itself began innocuously enough with Davidson laughing about how "she's the No. 1 pop star in the world and I'm that guy fromSNLthat everyone thinks is in desperate need for new blood." But things soon took a turn after they began talking about signing a prenup.
"Obviously I wanted one, you know, so god forbid we split up and then she takes half my sneakers," Davidson said. "No look, I'm totally comfortable being with a successful woman, I think it's dope. I live at her place." Davidson didn't stop there, as he continued to joke that he had found a way to make sure Grande stuck around. 
"Last night I switched her birth control with Tic Tacs," Davidson said. "I believe in us and all, but I just want to make sure that she can't go anywhere."
Obviously, it's never okay to joke about something like this but talk about a particularly bad time to make light of anything related to a woman's autonomy over her own body. Not only that, but this also comes right on the heels of concerns that Davidson continually objectifies Grande.
Davidson has yet to respond to the backlash, but here's to hoping he makes an apology for this one stat.