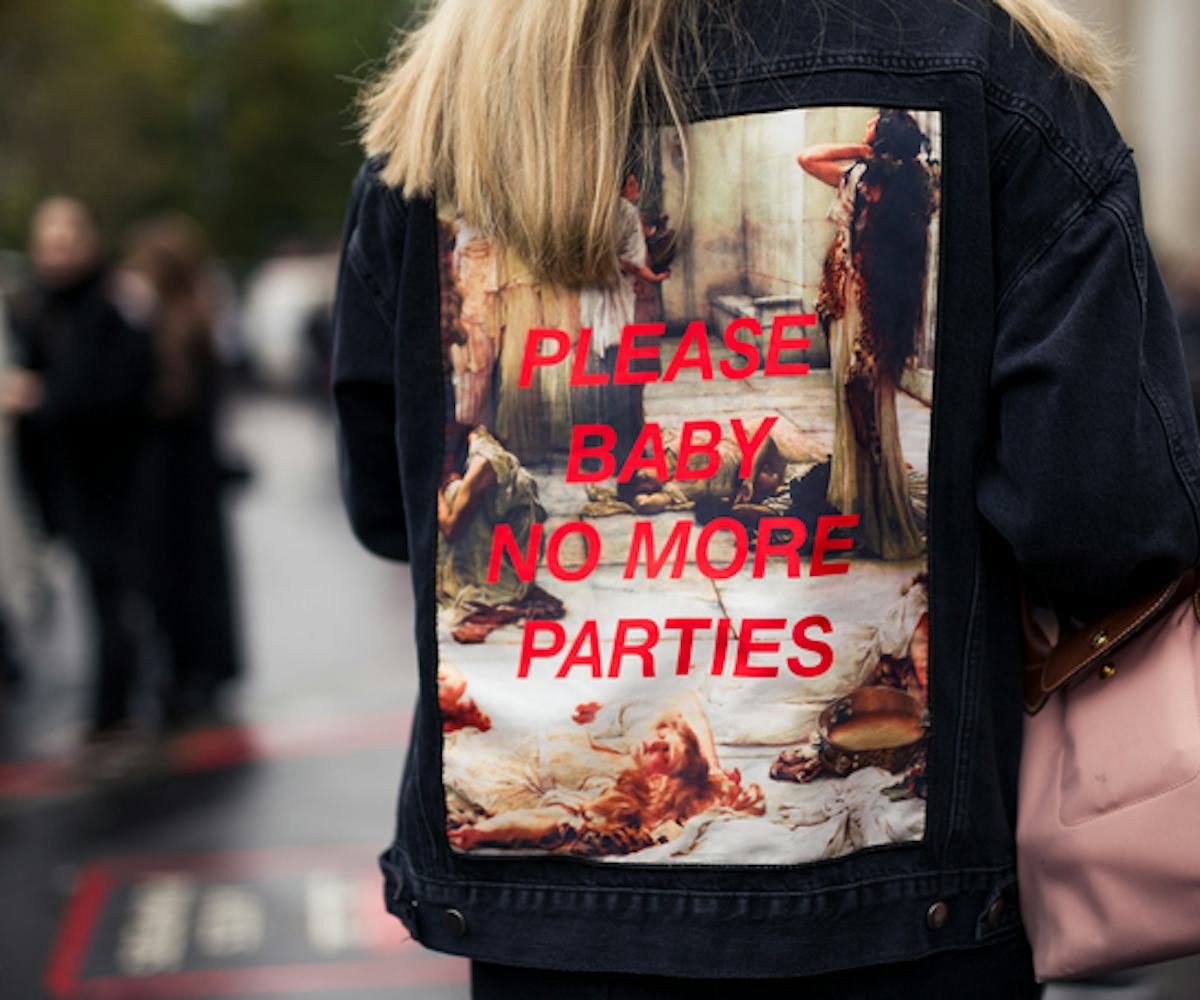 PHOTO BY MATTHEW SPERZEL
PFW Street Style Day 6: Paris Is Prettier In The Rain
The romance of Paris is most certainly felt when it starts to drizzle and the sky grays itself out. Something about those Baron Haussmann-designed streets and zoning comes alive with a coziness that can only be quenched by a proper cup of espresso and maybe, depending on the time of day, a glass of wine. When the fashion world collects itself during PFW, you best believe the romance factor turns itself way up. There's nothing like seeing the finest fashion and the characters that embody it roam the cobblestones between shows, unencumbered by Mother Nature's elements. In fact, the rain brings a sense of calm to PFW. It's a nice contrast to the optimism Paris in the sun boasts. Plus, overcast skies make for the prettiest of pictures. Need we say more? Allons-y!
Missed day five's batch of PFW street style? Miss it no more.
I am certainly compelled by this look, this moment, and this attitude.
Smells like Marilyn Manson's spirit.
When in doubt, turn yourself into the planet you so rightly are.
Who needs Google Maps?
This isn't her first time at the street style rodeo.
Love to be reckless almost as much as we love a good denim choker.
Houston, we have a street style spotting.
Sleep all day.
Come through with that Missy Elliott tee! (That holographic blazer ain't too shabby, either.)
So we're really doing the whole long sleeves under T-shirts thing again, huh?
At first, we were very much here for the white hoodie paired with the mod, boxy overcoat, but then we scrolled down to the pop of purple those heels provide and nearly fell out of our chair.
Look closely, and you'll see the most perfect cat eye flick.
Catch us donning this look come Friday night.
Thanks to Balenciaga, nap time is anytime, anywhere.
All the wild horses.
Turn the crosswalk into a catwalk.
Snakes on a jacket!
Do you think they feel like Pablo in that?
Well, motocross is officially the new metal.
A riveting look, wouldn't you say?
Shimmy, shimmer, shine on.
Paris, je t'aime your couples.
Is anything really real?
Imagine twirling in that dress.
Wow! Thank you, jacket.
Beep! Beep! Style coming through.
As above, so below.
Hey! What's all the ruff about?
TFW you've got your kids' orchestral recital at 7 but have to fight The Matrix at 9.
A coat Edie Sedgwick would be very proud of.