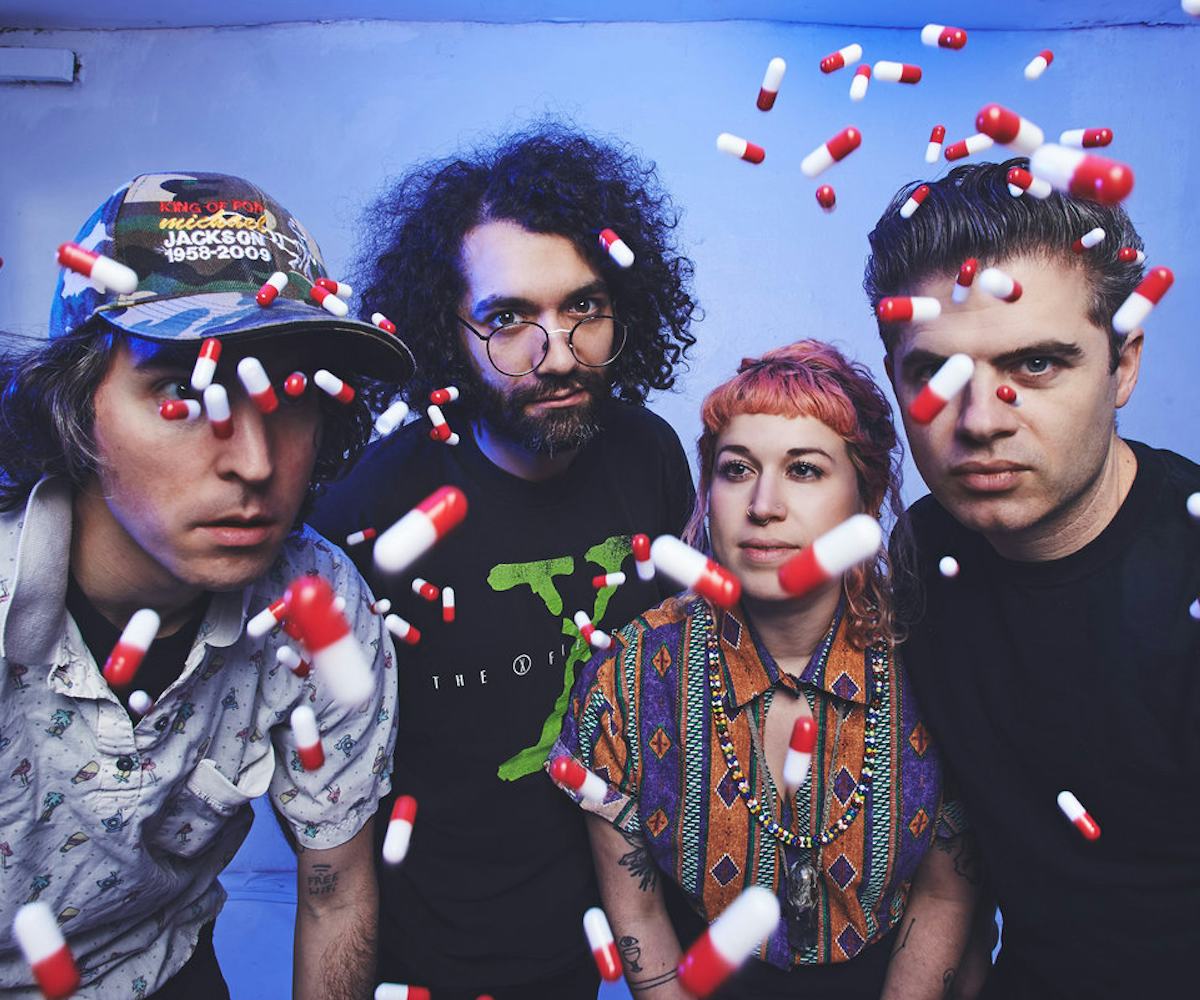 Photograph courtesy of PILL.
PILL Talks Politics And Premieres The Trippy Video For 'J-E-N-O-V-A'
"Now more than ever… we must stand together"
At a time where uncertainty remains at the heart of the nation's politics and rights, Brooklyn, New York-based band PILL comes ready to fight. The band's debut album, Convenience (released back in August), is centered around not only politics but feminism and body image. Released before Donald Trump was elected as our next president, the album foretells the depths of our nation's problems before they were as clearly apparent as they are now.
Led by Veronica Torres, the four-piece known as PILL showcases emotional and political discourse throughout their lyrics. And perhaps nowhere is the band's plea for social justice more evident than in the song and video for "J-E-N-O-V-A," a take on the effects a capitalist society has on its people.
Premiering below is PILL's video for "J-E-N-O-V-A," which is equal parts trippy and thriller; think: a very punk exorcism. We spoke to the band about politics, how the video for "J-E-N-O-V-A" got dangerous, and making a statement in the DIY scene. Read after the video.
How did you choose the visuals to go along with the song J-E-N-O-V-A?Andrew Spaulding: Jon [Campolo] bought one of those wiggle men you see at gas stations, and we were trying to use it somehow. Initially, we wanted it in a video for "Vagabond," another single from our record Convenience. The wiggle man was going to be dancing in funny situations like in a grove of trees or in a desert. The problem was finding enough power for it. We blew a fuse in our van attempting to power it with the cigarette lighter. We decided to use the wiggle man in Jon's creepy mirrored basement and all of the visual elements unfolded from there. Our primary motivation for this video was to take an everyday symbol of capitalist effluvium, like the wiggle man, and put it in a scenario that seemed against its will.  Even though the object could not possibly have an opinion of its surroundings, our minds anthropomorphize its blind smile and associate a personality with the toy. Trapping the toy in the basement triggers empathy despite the object being inanimate. In this way we negate the meaning of the wiggle man as advertisement, the camera lens transforms it into a prisoner of the red-eyed demon. The mirrored prison reflects our simulated reality, where meaning and truth are secondary to power and rhetoric.
What made you want to make a spoken word poetic song like this?Veronica Torres: When we got to the Mexican Summer studio, we were all so excited to experiment with all of the crazy instruments and resources. I mainly sat listening as the boys fleshed out the song and opened myself up to the mood it was invoking. I carry a journal with me all of the time, so I already had a lot of words that I felt could fit the sounds the boys were making. At that time, I was also super inspired by Jenny Hval's work, so the style was a bit of an homage to her record Apocalypse, Girl.  
What's the meaning behind the song?VT: The song is a meditation on surveillance, the exchange of warfare for luxury, and modern love. All of the tools and technology that we have accepted for a sense of safety come at a cost of lives and privacy. We, at times, take for granted the history that has set our contemporary lives in motion. It's all mixed in with bloodshed, self-interest, and control. I try to play these feelings out in an everyday home setting with two lovers going to sleep underneath the weight of the history, complacency, and procreation. My favorite line is actually toward the end of the song: "Your face caught in the green orb of night vision surveillance." It calls to mind something as innocuous and intimate as taking a snapshot of a lover's face, but the lines blur and also invoke a target in a conflict zone.
Can you explain how the video got dangerous for the film team?AS: Jon bashed his head on the edge of something very pointy and had to go to the hospital right at the end of shooting. The shoot felt almost like an exorcism, and Jon hitting his head felt like the penance we paid for not psychically protecting ourselves. In ritualistic magic, there are precautions one must take to protect from negative energies; we didn't take those precautions because the lens of a camera hardly seemed like a wand. Unfortunately, the spirit world doesn't hold with our corporeal notions of what is and isn't a ritual and the red-eyed demon we exorcised from the basement bit Jon on its way back to the spirit realm.
Who have you looked up to in the punk scene? Why?VT: More than any one person, I am fascinated by the various circles and communities that have come up in different American cities over the past 30 years. With the recent tragedy in Oakland in mind, I think it's really important to make sure that people understand that a lot of these DIY venues have not only been safe spaces for LGBTQ persons, women, and POC, but that the music, songs, zines, and art that have come out of these spaces ripple out into popular culture and encourage a better society.  There's no better feeling than going to a show and see a band you don't know that's simply shredding it, and shouting over to a friend while everyone is dancing to ask, "Who is this band?"
How do you hope to change the punk scene?VT: We just want to play songs for friends and anyone the music resonates with! 
What was your latest record about? How was it different than your previous work?VT: We are not interested in making the same song over and over again. Our sound while creating Convenience was definitely a lot jazzier than our EP and 7-inch, but overall, our collective interest in body politics, feminism, and technology has always been a part of our work within this group. It's a little curious to me when reading some post-election reviews of our record that say something along the lines of "wow, this record definitely makes more sense now." Trump is not the only problem; he is just another symptom. 
What makes PILL stand out in the DIY scene?AS: PILL is only one of many voices in a DIY scene that incorporates everything from hip-hop to techno to punk rock, the point of DIY is not to stand out but to stand together.  The recent heartbreaking fire in Oakland at the Ghost Ship has, for better or worse, tightened the U.S. underground scene but it has also brought the national media spotlight and with it thousands of fascist trolls who hate that we've created enclaves of progressive thought. PILL believes every town should have a DIY space that is safe and promotes joy for LGBTQ, POC, and any human who feels oppression from powers that be. Now more than ever, with Trump taking the presidency, we must stand together and reject his divisive politics.