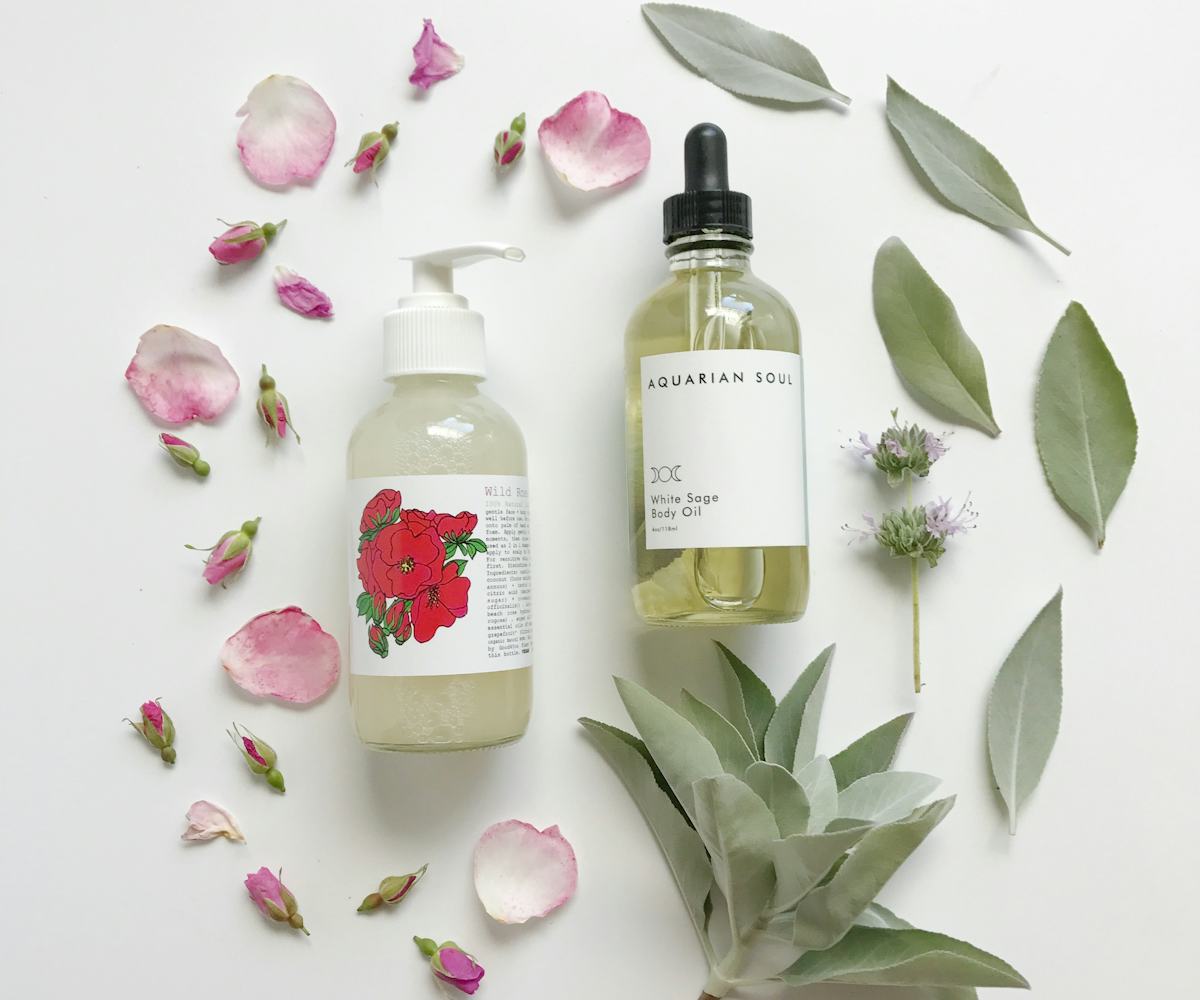 Photo courtesy of Plant Family
Plant Family Is Here To Spread Some All-Natural Love
Meet the collective, and shop our favorites
What happens when two friends in the natural beauty biz get together? They start a collective of like-minded natural brands to spread love and do good for the planet. Meet Plant Family.
Plant Family comprises a community of plant-based beauty and wellness brands, founded by Jes Morgan of Plant Makeup and Ally Sands of Aquarian Soul (which just so happen to be two of our favorite natural beauty brands out there).The duo met online when they started each of their respective brands. While they've never met in person, together they're making waves—and have cultivated a web of support for smaller brands.
It all began back when the natural beauty industry was nothing like it is today. "When I started with Aquarian Soul, and when Jes was already working on Plant Makeup, there weren't many of us," says Sands. We saw a need to have a space where we could all come together. We wanted a community where we could ask each other for advice, share tips, and share our love for plants with each other." Many of these brands you may already be familiar with: Herbivore, Fig + Yarrow, Soul Sunday, and more.
Members work together to spread the message of plants—from usage to conservation and awareness—and become as eco-friendly as possible, something that's so necessary with our planet's current state. Together, brands cross promote, support one another, and collaborate. "Our work creating natural beauty products is so positive, we wanted to create an atmosphere among the plant-based businesses that reflected this," says Morgan. "It's a way to express love among what can typically be competitive."
Overall, it provides a sense of community for its members, something of a rarity in such a newly booming and competitive industry, with new brands popping up left and right. "We like to see the Plant Family as a childhood club dream come true," says Sands. "We're all really friends—whether in real life or via the internet. We're all connected in some way to each other."
Not only are they bringing exposure to products and brand that are truly natural and plant-based, but they're also joining forces to make some serious impact. Recently, Plant Family raised $12,500 through Instagram sales alone, donating all proceeds to Standing Rock Medic and Healer Council. They also are starting a monthly subscription-style box filled with donated products from each brand, and all proceeds are going to an organization benefitting positive Earth, plant, and human initiatives.
Plant Family is also looking to expand beyond the realm of natural beauty and wellness, and looking to collaborate and work with other Earth-friendly businesses. Earth Family is a new addition to the collective, which includes a variety of businesses that align with Plant Family's goals, such as their use of recycled or locally sourced material or donating proceeds to Earth-centered organizations. Current members include Facture Goods and Knot and Splice.
Do you have a sustainable or eco-friendly plant and Earth-based business? You can apply for membership to join the fam, here.
In honor of Earth Day, we rounded up some of our favorite brands and products to come out of the Plant Family collective. Below, plant-based beauty and wellness products that yield real results that you can feel good about—what could be better?
Aquarian Soul, Full Moon Body Oil, $30, available at Aquarian Soul.
Plant Makeup, Hibiscus Blush, $20, available at Plant Makeup.
Soul Sunday, Gentle Toner, $26, available at Soul Sunday.
Herbivore, Lapis Facial Oil, $72, available at Herbivore.
Fig + Yarrow, Hair And Scalp Tonic, $34, available at Fig + Yarrow.
Wildcare, Ojai White Sage Hydrosol, $18, available at Wildcare.
Smoke, Ritual Perfume, $60, available at Smoke.
Meow Meow Tweet, Deodorant Stick, $22, available at Meow Meow Tweet.
Aster & Bay, Dry Shampoo, $28, available at Aster & Bay.
Moon Rivers Naturals, Calendula Turmeric Mask, $16, available at Moon Rivers Naturals.
Plantfolk Apothecary, The Flower Bath, $20, available at Plantfolk Apothecary.
Marble & Milkweed, Rosy Lip Tint, $14, available at Marble & Milkweed.
Apoterra, Night Regenerative Balm With Prickly Pear And Vitamin C, $42, available at Apoterra.
Urb Apothecary, Hair Shine Serum, $24, available at Urb Apothecary.
Moon Minded Medicine, Holy Smokesol Montaña Tube, $15, available at Moon Minded Medicine.