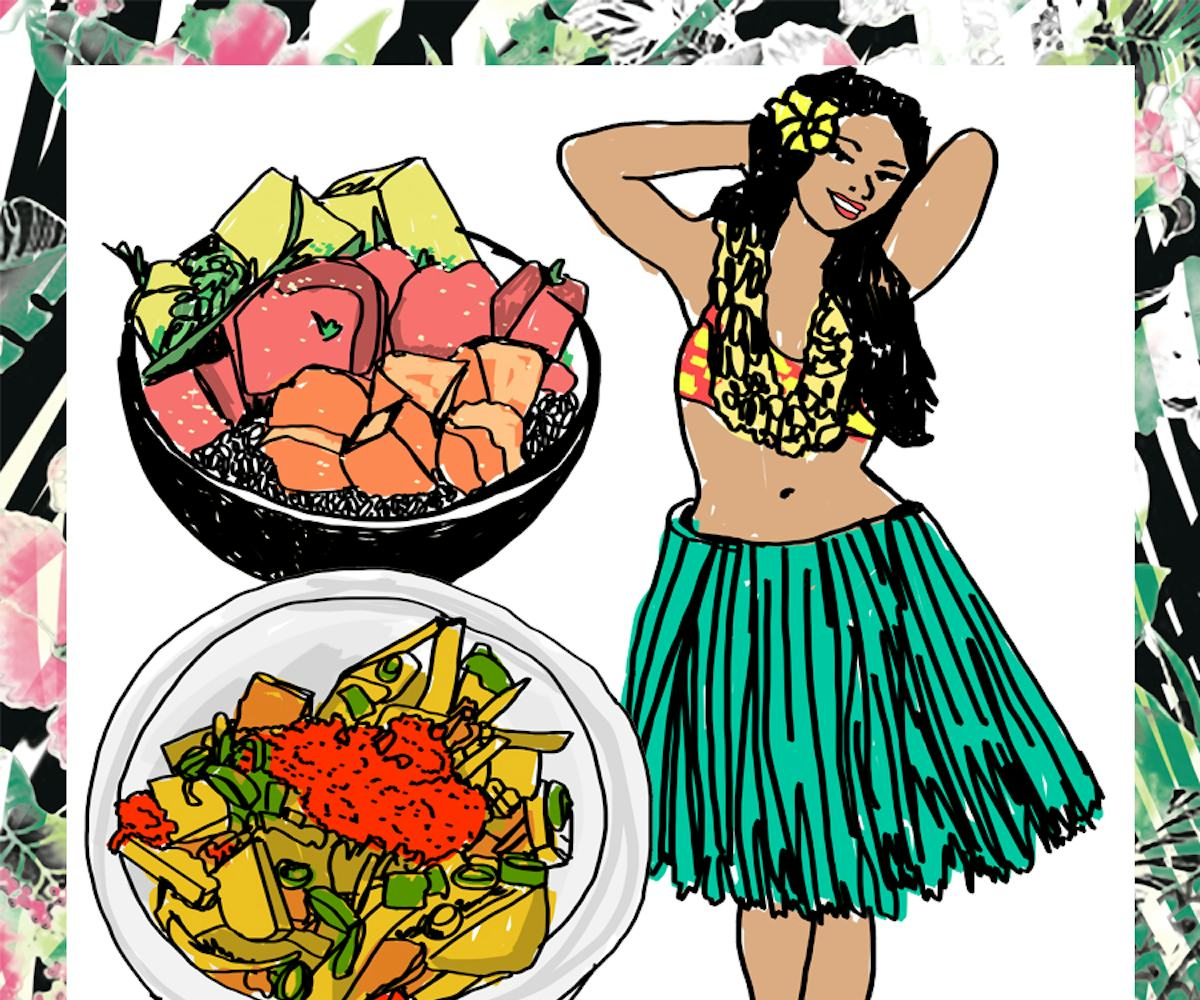 Illustrated by Kelly Shami.
Wisefish Poké Shows Us How To Make The Perfect Poké Bowl
The following feature appears in the April 2016 issue of NYLON.
Any poké fan can confirm: Just one bite will leave you wondering how you survived your humdrum pre-poké life. The fast and fresh meal composed of diced raw fish tossed with sauce and various garnishes is embedded in Hawaiian history; it predates the arrival of British explorer Captain James Cook to the islands in the late 18th century. Unsurprisingly, there are other local versions of poké around the world, with slightly different flavorings and preparation methods. But thanks to the influx of restaurants like New York City's Wisefish Poké, there's no need to travel halfway across the globe to enjoy it. "Our take is a bit more modern," says co-founder Drew Crane. "We expanded traditional poké to include ingredients and sauces that you wouldn't typically see." He and his partner Bryan Cowan also added a fast-casual element to the poké experience, with a Chipotle-like assembly line that lets you customize a dish to your liking and grab it to go in a plastic bowl, true to how it's served in Hawaii. Here, Crane and Cowan show us how to enjoy poké the Wisefish way. 
Step 1: Drop the Base
Poké can be eaten plain or with a base—Wisefish offers a choice between white or brown rice, or zucchini noodles. "The zucchini noodles add a great freshness to the dish," says Cowan. "But I like how the rice absorbs a little bit of the sauce and takes on the flavor."
Step 2: Pick Your Protein
"Having great quality, really fresh fish is the most important component of poké," says Crane. Wisefish offers salmon and tuna—with additional options depending on the season—responsibly sourced through Brooklyn-based seafood market Greenpoint Fish & Lobster Co. Both are light and tender, but the salmon is a bit oilier.
Step 3: All in the Mix
Here's where you really get to make your bowl your own, with mix-ins and sauce. Edamame and Ginger Mojo (a ginger-garlic puree) with Wisefish Sauce (garlicky soy) or the Classic Sauce (soy sesame) are a safe bet. The guys also suggest pairing tuna with salty, umami-rich, soy-based sauces, and the salmon with a citrus or sweet one. And if you're still crumbling under the pressure of indecision, there are premade combos you can choose from with no judgment.
Step 4: Top It Off
The ingredients are gently folded together and placed on top of the base. Choose your toppings, such as avocado and scallions, and you're all set with a fast and fresh meal.