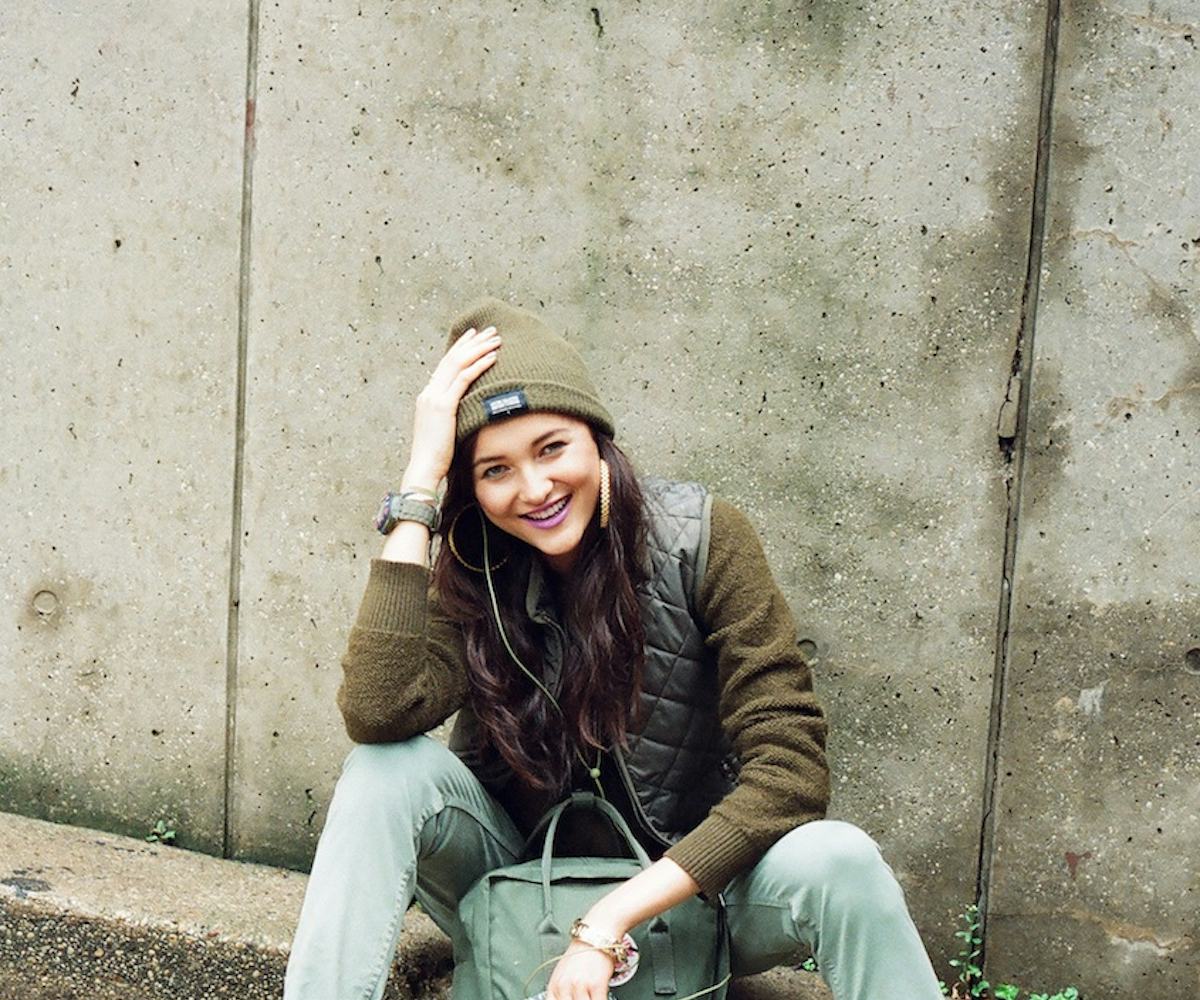 photo by kathy lo
24 hours in portland
restaurant, shopping, and drinking recs from the coolest kids around.
Baton Rouge has its vampires, suburban Atlanta its zombies, and various American metropolises our most repellant housewives. Portland, though, may be stuck with worst of them: the twee, brunch-obsessed denizens of Portlandia, the show that made a middle-aged couple's obsession with a particular kind of pancake (see: marionberry) into "Brunch Village," a slow-rolling docudrama that may be the most trenchant critique of hipster culture any of us will ever see.
The real Portland—the actual, generally non-televised capital of Pacific Northwest design, art, and aggressively local cuisine—long outgrew its rep as the craft-glued HQ of the bird-on-it aesthetic, thanks to its affordability (offering residents the opportunity to make their own stuff—rather work 16 hours a day to cover their rent) and covetable location (offering peace, quiet, and some of the loveliest, rainiest green spaces in the country). We asked a few of our favorite Portlanders to help us come up with a plan for 24 hours of non-stop diversions—proving their home truly is the best of both worlds: the everybody's-welcome, gluten-free paradise of Portlandia and a sleek, chic, manageable city.
10 a.m. Drop your bags at The Sentinel, downtown's newest hotel. Notable benefit: Salt & Straw ice cream is available on room service. This may be the only way of getting it without standing in a long (but probably quite friendly) line. 
11 a.m. Three of Portland's best design stores are within a couple blocks' walk of the hotel: Alder & Co., Canoe, and Woonwinkel. They're all great, but if there's only time for one, Canoe has the best assortment of locally produced—classy!—souvenirs, like Lynn Read's glass salt bowls and (appropriately) sliders of Ben Jacobsen's hand-harvested sea salt to fill it.
11:30 a.m. Lunchtime: "Eat soup at Ha VL," says Jessica Kelso of Loyly, the city's most wonderful spa. "They run out early!"
1 p.m. Time to head into one of Portland's many green spaces. "A short hike through Forest Park," suggests Brianne Mees of Tender Loving Empire, which is equal parts record label, screenprinting studio, and emporium of very neat things. "Right at the edge of downtown is over 5,000 acres of lush, mossy, urban forest. You don't feel like you could possibly be in the middle of a city.
5 p.m. Repair following an active afternoon at Loyly, the best European sauna that's actually in the United States. Book a massage with Kerrie and then spend the next hour zoning out in the steam room.
7 p.m. Nicole Funke owns Victory, one of our favorite clothing shops in town. For the evening's entertainment, she suggests: "A Portland Timbers [soccer] game. It's better than the craziest rave you've ever been to." Once the novelty wears off, we have her second choice: "If low on time, I would go to the Whiskey Library for some fancy whiskey. It's literally a library of whiskey."
9 p.m. Jewelry designer Betsy Cross of Betsy and Iya suggests Tasty n Sons for drinks and snacks: "Start with the bartender's cocktail, the griddled bacon wrapped dates, and a radicchio salad while you pick out the other bites you'll share with your friends." Or, you know, "the other bites you'll eat all of, yourself." Either way. 
11 p.m. Back to The Sentinel for a few drinks at the gorgeous new Jackknife bar—one of the most beautiful and aesthetically distinct hotel bars in the country, with a 65-foot marble bar and copious amounts of PDX-appropriate wood. Your favorite celiacs and vegans will be happy here, too: Co-owner John Janulis is well known locally for his two vegan bars, Bye & Bye and Sweet Hereafter, and though hamburgers and a ham-and-cheese sandwich are on the menu, so are beets, Brussels sprouts, and gluten-free waffle fries. Oh, and "classic hotel cocktails" like the Jack Rose, with Laird's applejack, Commissary grenadine, and lemon.
2 a.m. Archie Archambault was a philosophy major before he moved to Portland and took up letterpress printing. Now, he makes very cool maps (ranging from Portland itself to the Solar System) and suggests a late-night dining option: "The taco cart at 3rd and Stark downtown. Chances are you need something to eat. 
4 a.m. The line at the main Voodoo Doughnuts (where the "little guy" on Portlandia found a scavenger-hunt clue baked into a doughnut) might be under 45 minutes at this point—but there's seating, and a guaranteed shorter wait, at "Location 2", at 1501 NE Davis St., which is also open 24 hours.
5:30 a.m. Return to the Sentinel for a brief nap.
8 a.m. Shannon Guirl ditched her NYC TV job to start over as a designer in Portland—and now she makes classic lighting pieces for her Caravan Pacific brand. (One lamp is called the Vanderbilt—named for her old street in Brooklyn.) She offered two ways to get going: "The healthy version: Grab some kombucha at Townshend's Tea and head out to Sauvie's Island Farms for some freshly picked blueberries. Or the slightly less healthy version: Get a blueberry bourbon basil donut at Blue Star Donuts on Hawthorne and head to the top of Mt. Tabor, an extinct volcano, to get the best view of Portland rising and shining.