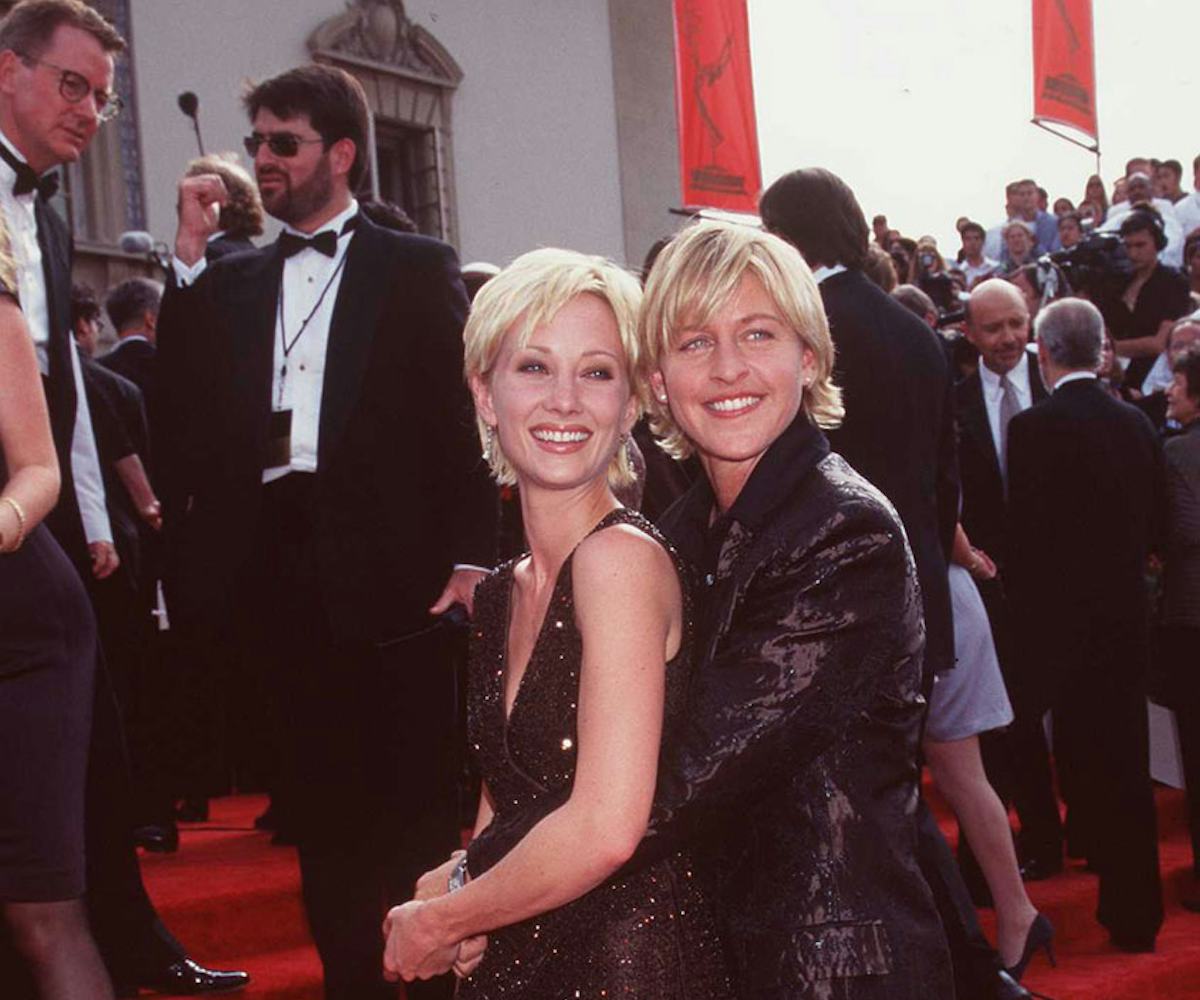 Photo by Getty Images / Stringer
8 amazing, brilliant feminist red carpet pics
prepare to feel majorly inspired
During the Oscars, Reese Witherspoon took a moment to ask reporters to #AskHerMore, pointing out that—while we all love fashion (and, trust, we do)—the conversation around women during awards season so rarely looks at their achievements and instead focuses more on their superficial traits. Critics of Witherspoon's thoughtful discussion pointed out that, at its core, the red carpet is supposed to be a place to peacock. Except, well, it isn't always. 
Because of the nature of highly publicized celebrity events, a lot of women have used the red carpet to make a point—intentionally or otherwise. Sure, red carpet performances can feel a little stunt-y, but by simply appearing as they are, some women have made pretty powerful statements about what it means to be a woman in the Hollywood machine. Here are our favorite empowering photos of gals taking it to the red carpet. 
Photo by Jason Merritt / Getty Images
Sure, some people think Jennifer Lawrence can be hamfisted, but when she won an Oscar in 2013, her attitude was absolutely refreshing. JLaw was always quick to point out the reason she looks so great is because she pays people to make her look great, that she is a real human woman who does things like burps and farts, and that the polish you see on TV does not exist in real life. Ladylike (ugh, that word) she is not, which is why her flippant attitude was so endearing.
Photo by Getty Images / Stringer
Back in 1997, Ellen wasn't the feel-good, beloved talk-show host that we know her as today. She was a trailblazer, and it was this year that she came out (on national television) as gay—which forced ABC to put a "parental advisory" before the show (seriously). Her much-publicized relationship with Anne Heche (who predated Portia) was, at the time, the basis of a media frenzy, so it was a brave move for the couple to appear on the red carpet at the 1997 Emmys, no less. In fact, we believe this may be the first time a same-sex couple walked a major red carpet together. Quite a milestone, indeed.
Photo by Jason Merritt / Getty Images 
Okay, so this is ridiculous, but here is Mo'Nique—with her gorgeous husband who clearly loves her—on the night that she won the Golden Globe for best supporting actress in a dramatic role. And you know what everyone sees? A woman who doesn't shave her legs. Not only did Mo'Nique not "campaign" for her award (a fact that she has recently discussed), but the actress—who has said, for years, that her decision to shave was between her and her husband—chose not to change her routine or politics for the red carpet. Of course, the papers focused way more on her gams then her great win. Sigh. 
Photo by Matt Cardy / Getty Images
We know it may be hard to believe, but once upon a time, Angelina Jolie was not wife of Brad Pitt. (Those were the dark ages, amirite?) In fact, after her divorce from Billy Bob Thornton, Jolie took sole custody of her 11 month old son, Maddox, which wasn't only a turning point in her career, but in the perception of modern single motherhood. Writes Vanity Fair's Naomi Wolf, "When Maddox appeared — this adorable, brush-cut tyke photographed by Annie Leibovitz in his early romance with his mom — Jolie revealed a new, and fairly radical, vision of single motherhood that made the relationship seem tender, glamorous, and complete, father figure or no father figure in the picture."
Photo by Jeffrey Mayer / Getty Images
Laverne Cox is such an amazing goddess that it is almost easy to forget that she is a trailblazer, a person who has fought for trans* visibility with true courage and grace. She was the first trans* Golden Globe nominee, and her appearance on a televised red carpet may be one of the first instances of a trans* woman being on live television, well, ever. Alongside all of this groundbreaking work, we have to say: that cape, girl. That cape is it. 
Photo by Brenda Chase / Getty Images
The naked body is not groundbreaking, per se, but during the 1998 VMAs, Rose McGowan showed up with her date Marilyn Manson wearing a very small dress which had a very large reaction. McGowan was nearly naked, with her chainmail frock revealing both her front and behind. McGowan's dress was a statement that, if MTV really wanted scantily clad women, well, here she was.
Photo by Jason Merritt / Getty Images
While there was nothing particularly shocking or scandalous about M.I.A's Grammy's look, it often falls on lists of "the worst red carpet disasters of all time." Yet, when pregnant women dress for the red carpet, they are praised for looking maternal, demure, sophisticated, and phrases like, "baby bump" are often uttered. Yet, with this evocative Jeremy Scott dress, the "baby bump" becomes a big ole pregnant belly and there is nothing hidden or pristine about M.I.A's vibe. Here was M.I.A exploding the Victorian notion that pregnant bodies should be hidden from sight and discussion. 
Photo by Vittorio Zunino Celotto / Getty Images
HONORABLE MENTION: Um, this red carpet photo doesn't have any deeper meaning or larger significance. It's just cinema royalty Asia Argento looking super tough at Cannes—and also, it is just a really, really cool photo that we like to look at when we get sad.