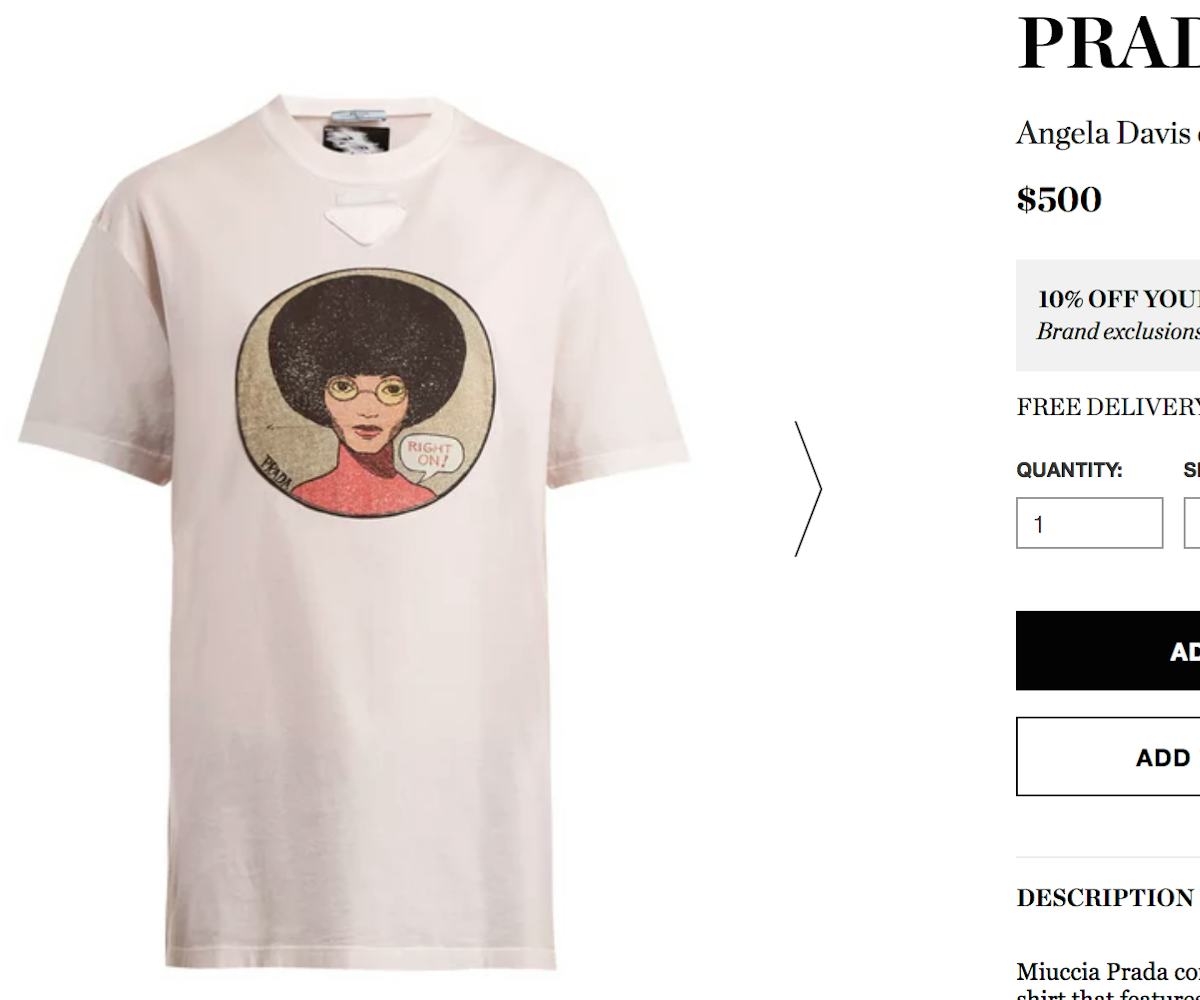 Photo via Matches Fashion
Prada Is Selling A $500 Angela Davis Shirt
Last fall, Prada incorporated prints of comic book heroines by eight different women artists into its SS18 collection. Among those fictional heroines was a real-life revolutionary icon: Angela Davis. However, as incongruous as it seems, the illustrated image of Davis did come from a comic book. It was on the back page of a 1970 all-female comic book, Ain't It Me Babe, and drawn by artist Trina Robbins, who told website Snobette that "the idea [behind the drawing] was you'd put this in your window to announce that if Angela Davis just happened to be passing by on the lam from the FBI she could knock on your door and you could give her refuge."
Robbins says that she thinks it is "lovely" that Miuccia Prada incorporated the image into her collection, but now that the t-shirt is on sale, lots of people are speaking out against the incorporation of Davis' image—not least because the t-shirt is retailing for $500.
Miuccia Prada told Vogue last year that the collection was inspired by contemporary politics and a desire to "change the world... especially for women, because there's so much against us, still." Prada said that her collection was "suggesting militant women in a very practical way, through clothes, which is what I do." And yet, it's hard not to find the use of Davis' image ironic here, since she was a leader of the American Communist Party, and this is a very expensive t-shirt. 
"Angela Davis wouldn't even approve of Prada's existence, let alone a Prada t-shirt w/ her on it priced at $500," one Twitter user wrote. "People really turning whole revolutionaries & their lives to overpriced, fashionable aesthetics for the sake of profit."
Since the Prada collection debuted last September, Davis hasn't commented on the use of her image, but plenty of others have. 
But while Prada might be a case of branded radicalism at its finest, if you want to buy something honoring Davis, Blavity has a list of shirts with the activist's image, which all run a lot cheaper than $500.