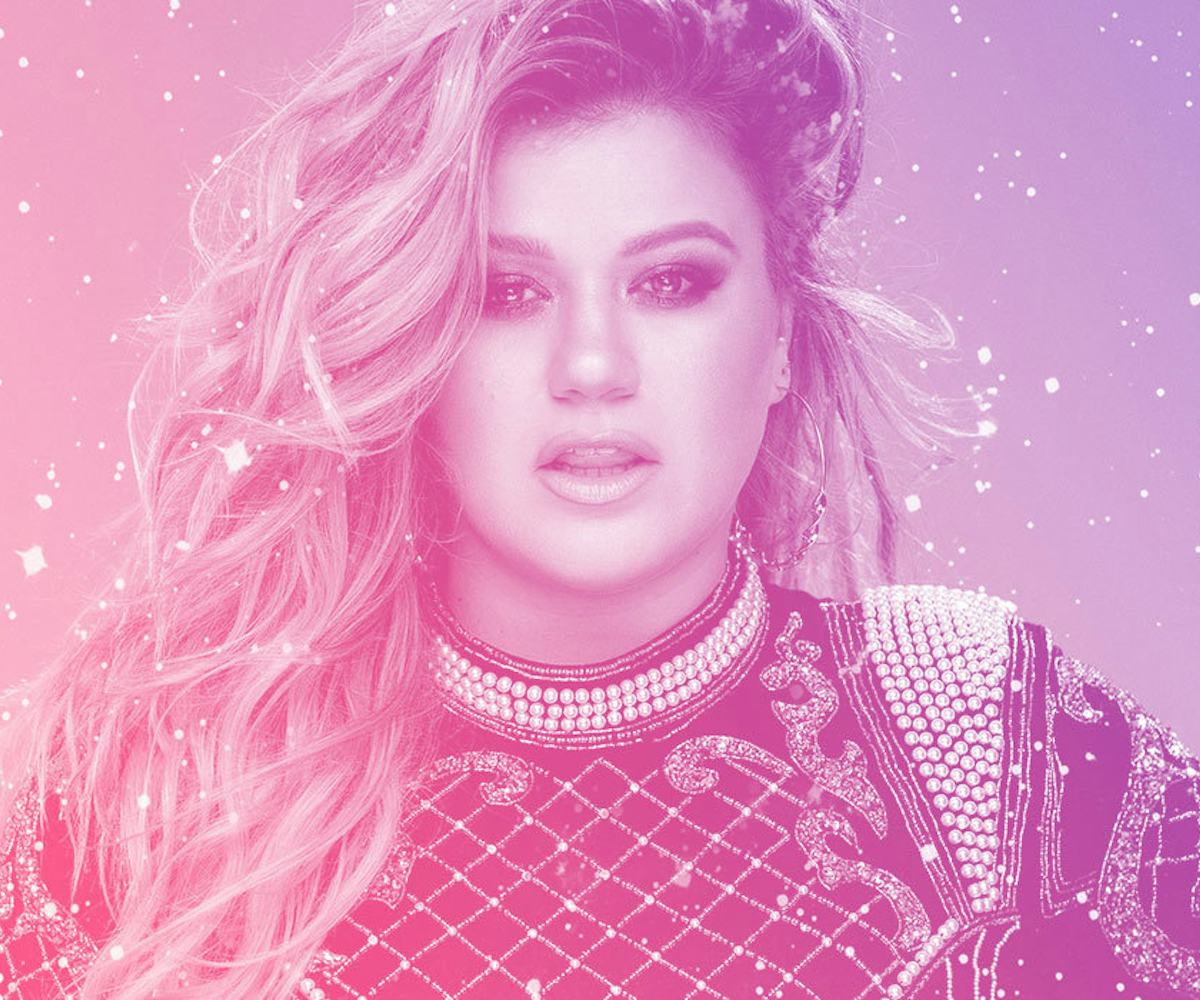 Photo by Vincent Peters
In Praise Of Kelly Clarkson, The Unproblematic Fave
My life would truly suck without her
Stan culture has exploded, flattened, and rebuilt the pop music world. I guess you could trace its rebirth to the peak of MTV's TRL—a literal popularity contest for musicians to see who could court the largest crowd in Times Square—and a pop star's respective street team-meets-fan club. (Do those still exist?) Massive fandoms aren't new, but the rivalries between them—not their respective stars, mind you—are definitely a recent phenomenon.
Log onto stan Twitter at any moment in the day, and you'll find the Beyhive (Beyoncé) duking it out with Little Monsters (Lady Gaga) and the Navy (Rihanna); Smilers defending Miley Cyrus' record sales to the Lovatics (Demi Lovato); the Swifties (Taylor Swift) doing something to irritate the KatyCats (Katy Perry). It's a hot mess of petty, escapist fun. 
And then there's Kelly Clarkson, whose fans apparently refer to themselves as Kellebrities (no, really!), but you'd never know it because they're not involved in the internet's stan wars. And probably that's because of who they stan for. After all, Clarkson doesn't court the record sales drama or music video coding her fellow pop queen peers do. She's the true unproblematic queen, and with her eighth studio album, Meaning of Life, coming out on October 27, it's time we (well, I) come clean and send her praises up.
Kelly Brianne Clarkson is an American success story. She turned down a couple of record deals before American Idol because she didn't want to be "pigeonholed into a bubblegum act." And thus, her American Idol win was the open door she needed to achieve the vision of which she dreamed, ditching her job as a Red Bull spokesperson and cocktail waitress for international music success. Now, after 15 years in the industry, Clarkson is a triumph, a three-time Grammy Award-winning American idol with nary a controversy to her name, other than her speaking truth to the body-shamers who think their words will tear her down. 
As someone who spends an inordinate amount of time in stan culture and pop music in general, Clarkson flew under my radar for a while. There was no d-r-a-m-a to her. Talent? Of course! But stan culture, at its nefarious heart, is rooted in equal parts pettiness and adoration. Like Helga Pataki, stans poke fun at their idol because they like them, and will defend their idol against other idol's stans. Meanwhile, these Kellebrities (????) sit quietly on the stan culture river bank as their queen continues to produce quality music that doesn't alienate a listener or is riddled with some feud easter egg. Clarkson's music is universally beloved not because it's basic, but because it stays in its lane, one that's fueled by Clarkson's undeniable vocal talent and relatability. After all, if ever there were a pop star who's "just like us," it's Clarkson. 
Clarkson champions diversity, is a LGBTQIA ally, and speaks up when the time is right. During Kesha's Dr. Luke legal battles, Clarkson shared how she very adamantly refused to have her name associated with him. "I was making a point to the people working with me, going, 'This is how much I didn't want to do this.' I don't care about the money. I don't care about, oh, 'You're going to be the most famous person ever if you do this.' That's not what holds weight in my life," she told Z100, explaining how she didn't want to share a songwriting credit with Dr. Luke on "My Life Would Suck Without You," one of her biggest hits to date but one that is, indeed, produced by Luke. Clarkson gets it. 
Meaning of Life promises to be another hit for Clarkson. As with P!nk's latest work, Meaning of Life isn't so much about reinvention or eras or spectacle. It's about the music, the lyrics, the pathos, and its impact on Clarkson's audience. With Clarkson, it's genuine—honestly and truly. She could make the Live, Laugh, Love cliché not feel trite or overused, if she wanted to. And because of that, I stan. I stan for the unbridled inspiration to reach my full potential because Clarkson has and continues to do so. Does that make me a Kellebrity? Yes, and I have no problem saying it.