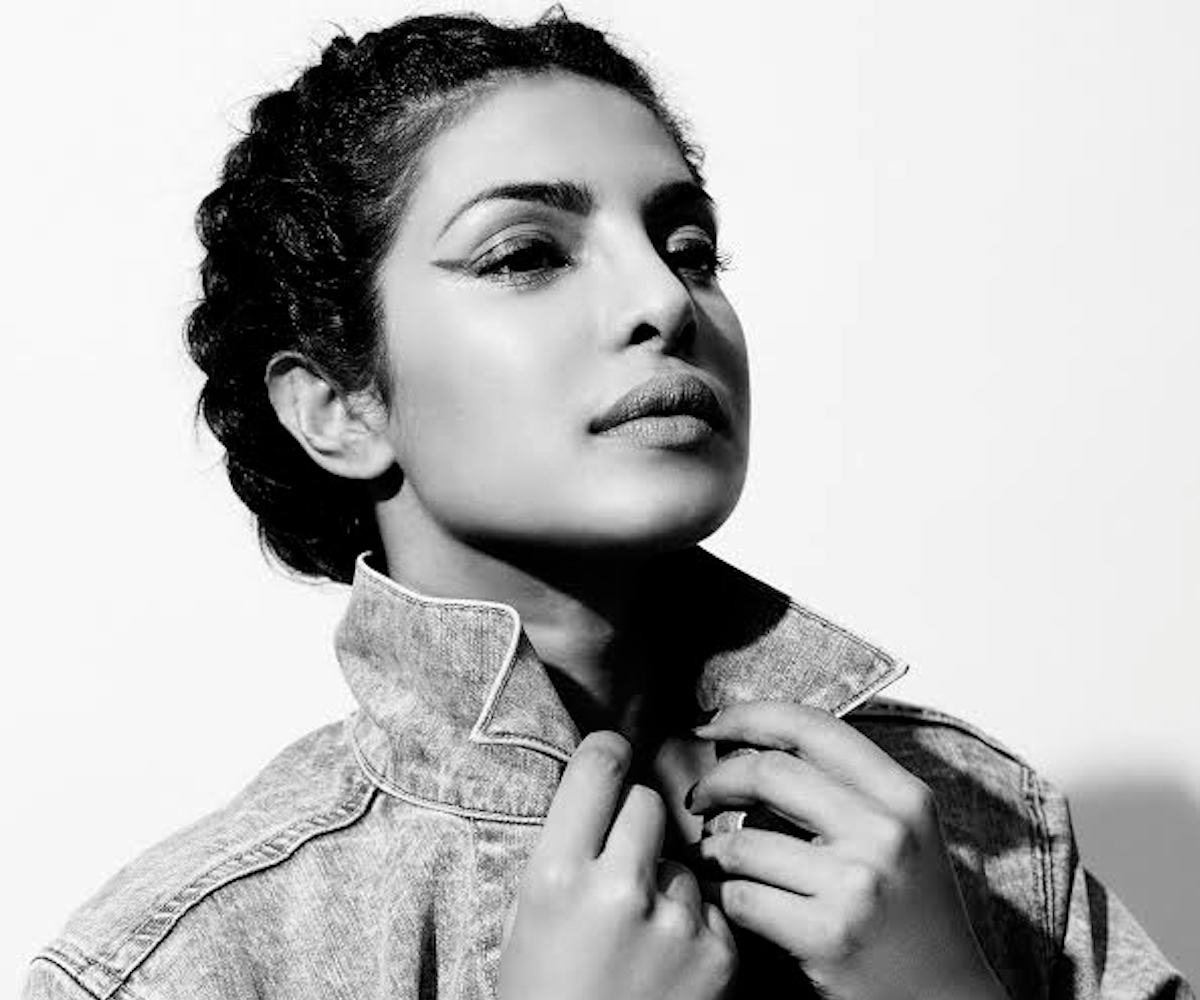 Photographed by Roman Yee
getting real with priyanka chopra
the bollywood star talks fame, beauty, and binge-watching
Priyanka Chopra is one of the most famous actresses in India. With 9.88 million followers on Twitter and 2.2 million on Instagram, she's hugely influential. Now, with a lead role in the upcoming ABC series Quantico (debuting this fall), the 32-year-old Bollywood star is set to take America, too. And with a list of accomplishments, like being crowned Miss World in 2000 and being the first-ever Indian Guess model, it seems like Chopra's star will only continue to rise. 
She stopped by NYLON's offices to talk to us about what people don't already know about her — from her beauty routine to how fame has changed her life. 
Hair by Clay Nielsen; Makeup by Anthony Tulve. 
What's the biggest difference between the Indian film business and Hollywood?
The great thing about cinema is that it's a great binder. It brings people from across the world together, often erasing the lines between geographies, languages, familiarity, and the like. Cinema is art and art, they say, is a reflection of life and society, so the way we tell our stories is the main differentiator for me. Every culture adds its own unique hue to the manner in which the story is told. I never look for the differences. I just enjoy it and try my damndest to learn from it. 
What's a misconception people have about you, and what have you done to counter it?
I've faced quite a few over the years. It began with the theory and being repeatedly being told, "Models can't act." I was also told some years ago that I shouldn't "waste my time" with female-centric films because the audience was not ready for it. I've dealt with and continue to deal with misconceptions and stereotypes about India and Indians at large… We all don't speak like Apu from The Simpsons, and India is a thriving, growing economy that is not just about, yoga, snake charmers, and chicken tikka masala! I think the best way to counter all this is to show up and let your work and personality speak. I don't believe in giving any credence to negative, closed minds.
What is something you would tell your 10-year-old self knowing what you know now?
"Take a chill pill! Learn how to breathe!" I want to do so much because I love what I do. I love to look for challenges because it brings the best out of me. I want to work 24/7 because I hate even wasting a moment. In all of this; I forget (as my mother has often reminded me) to just be. To enjoy the fruits of my success. To be carefree and to be unscheduled from time to time! Actually, I'd give myself the same advice right now, too. 
What is one thing you wish you could do, but being a celebrity may prevent it?
A normal love life that isn't dissected with a microscope, and judged even in its nascence. I am hugely private and the celebrity status often tends to get in the way of the simple things in life, like even going food shopping at the supermarket. I guess there's a price to pay for everything. But honestly, the universe offers checks and balances, so while I crave for some small things like privacy, I also am happy with where I am and what I've achieved. So really, I can't complain. 
Who are your style icons?
I have so many and they're a kind of a mixed bag. It's not necessarily just about how fashionable they were, but more about their overall persona. It was about how perfectly their outer persona matched their inner confidence and swag I guess. Over the years, depending on my phase of mind: From Audrey Hepburn, Maharani Gayatri Devi, Princess Diana, Madonna, Grace Kelly, and Sophia Loren — to Beyonce, Michelle Obama, Rihanna, Kate Middleton, and Blake Lively.  
Did you ever have an awkward phase? What was it?
Yes! Middle school. I was obsessed with Tupac — like eat, sleep, breathe Tupac. During this obsessive love affair, I dressed the part. But doesn't everyone have an awkward phase? 
What is something you discovered lately that you're obsessed with?
My current obsession is TV shows… from Grey's Anatomy and Scandal to Game of Thrones and Empire. I binge-watch sessions, ODing on each show in every spare moment that I have. The people around me have begun to look at me strangely these days.
When you do your own makeup, what do you do?
My work schedule is so crazy, so I'm pretty much always in camera-ready makeup. So when I'm doing my own makeup, I like to keep it super light and natural. Never much more than mascara, a cheek stain, and something with some color on my lips — right now, I'm really into reds. MAC Russian Red [lipstick] is my go-to. 
What's a beauty secret you got from your mother?
She's given me a few that I follow quite diligently, two of my favorites: We have aloe vera plants growing at home, and my mom often makes these divine masks out of the aloe jelly. I also go for a warm coconut oil deep-conditioning treatment, which involves massaging coconut oil into the scalp before shampooing. If it is warmed slightly, the oil gets to the root; so the hair grows healthier.
How do you take care of your skin?
I have a cardinal rule — I wash my face every single night before I go to sleep, no matter how late it is, or how lazy or tired I am. This has to be done. I also moisturize like crazy, and I drink loads, and loads of water and coconut water.