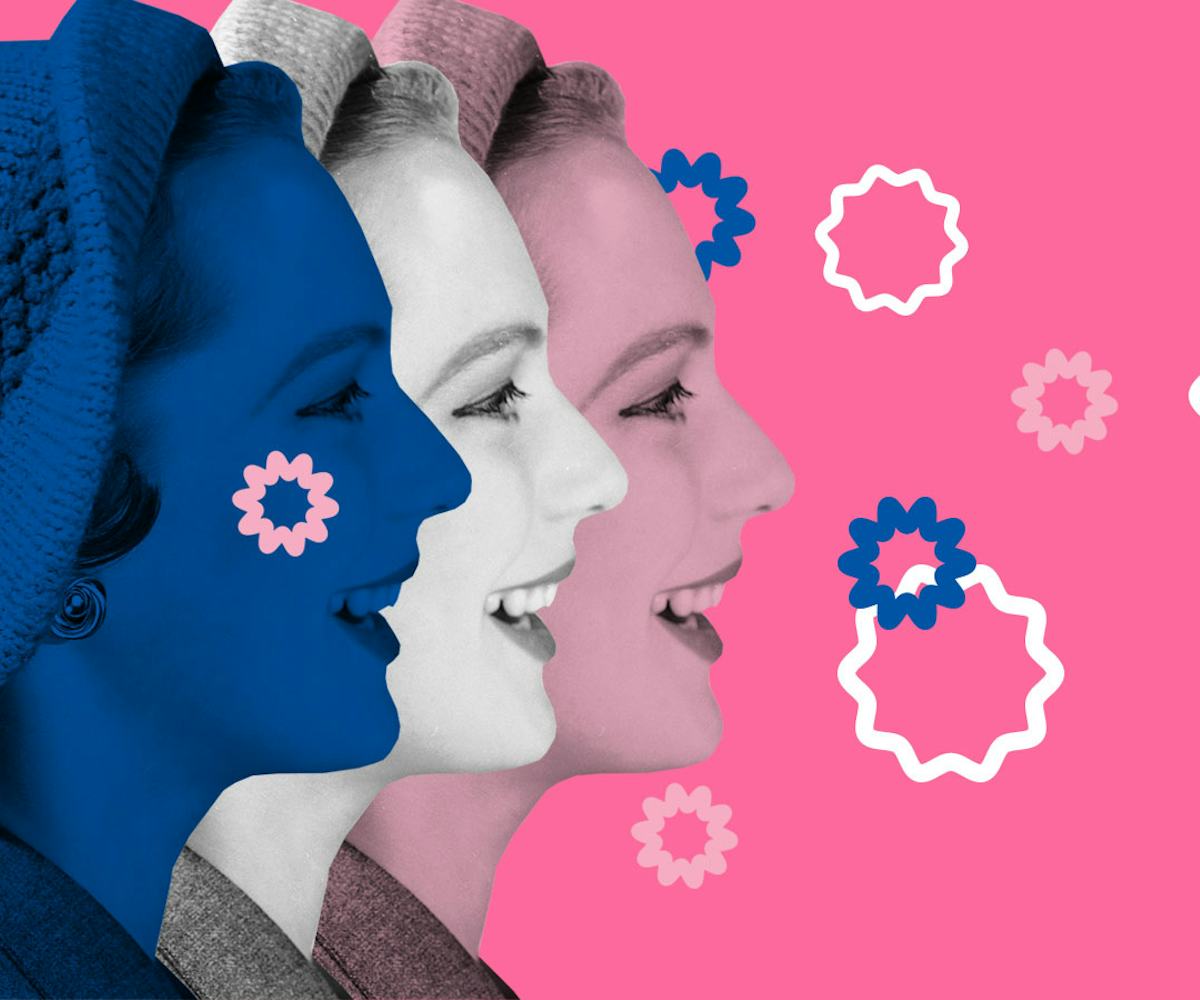 Collage photo by Chaloner Woods / Stringer / Getty Images
How Probiotics Will Help You Achieve Your Clearest Skin
Forget acne and sensitive skin
This year, you can achieve your clearest, calmest, and brightest skin yet. The key? Probiotics, for your face.
First up, a quick refresher: Probiotics, also known as "good" bacteria, are living microorganisms naturally found in our bodies. In fact, about 90 percent of our bodies are made up of bacteria. "Probiotics help you maintain a healthy balance of intestinal microbes and aid in general digestion, which is one of the top areas of ailment for a majority of Americans," explains Dr. Roshini Raj, gastroenterologist and one of the key players in the probiotic skin-care game; she's the co-founder of probiotic skin-care line, TULA. And, as it turns out, probiotics can also play a key role in skin care—apply them topically and the results are wide-ranging and beneficial to all sorts of skin types and serve as a do-it-all skin-care ingredient.
Dr. Raj explains, "Topical probiotics help to strengthen the skin's natural defense mechanisms, making it more resistant to damage from environmental stressors by forming a protective shield on the skin's surface." 
TULA, which means balance in Sanskrit, provides a good clue as to what probiotics can do for our skin. I've been trying out a number of probiotic skin-care goodies since early November and have seen firsthand the benefits of applying this "good bacteria." One of the most convincing reasons I can offer to try probiotic skin care is this: It helps with nearly any skin issue you might have.
For starters, they're calming, which benefits everyone's skin. For this reason, probiotic skin care is great for conditions ranging from acne to rosacea to general sensitivity. Furthermore, when applied topically, they have the ability to help protect against damaging UV rays, though, of course, you should still use SPF. Additionally, the good bacteria found in topical probiotics fight against stress by strengthening the skin's immune system and speeding up repair.  
"We are not usually very kind with our microbiome," notes Marie Drago, founder of probiotic skin-care collection Gallinée. The microbiome is the name for your bacterial ecosystem. It is also the name for all bacteria living in and on you.
"I love to call it your own personal rainforest: immense, varied, still mostly unknown, and badly in need of being protected," Drago says. She adds:
Between antibiotics, antibacterial products, and a preoccupation with cleanliness, we are damaging our bacterial ecosystem. Redness, dryness, sensitivity, adult acne, and eczema are manifestations of this damage on our skin. Probiotic and prebiotic skin care helps by rebuilding your skin's ecosystem, protecting, and soothing the skin. Because probiotic skin care is so in tune with your skin, it is usually perfect for sensitive skin.
Ahead, a few products to get you started.
British range Aurelia is formulated around probiotics, and their Miracle Cleanser is the perfect kickstart to any probiotic-fueled skin-care regimen. For a cleanser, it's a bit of a splurge, but with its aromatherapeutic blend (eucalyptus, chamomile, rosemary, and bergamot) and the muslin washcloth included, it makes washing your face feel like a spa-worthy ritual. As Claire Vero, Aurelia's founder notes, "The Miracle Cleanser is the fundamental first step to any skin-care routine, and will help to balance and protect the skin. The lightweight yet creamy texture removes all makeup and impurities without stripping the skin of its natural oils." 
Newcomer Gallinée is also a U.K.-based brand, created when founder Marie Drago completed her pharmacy thesis on the application of probiotics to the skin's bacteria. Her tightly edited line has been quick to garner attention—it has already won two beauty awards. If you like your face wash to foam, check out their La Culture Foaming Face Wash. It's pH5, making it suitable for sensitive skin, but its benefits extend to all skin types. Drago notes, "It is also going to be purifying for problem skin and non-drying for dry skin. The foam is super creamy, and people get addicted to the smell of grapefruit and mandarin."
Mother Dirt's Face and Body Cleanser works to preserve the skin's good bacteria and eliminate dirt and pollution. Mother Dirt believes that the addition of good bacteria is actually just what we need to eliminate skin issues. This means skin is cleansed without compromise to the acid mantle, which is the skin's outermost protective layer.
TULA's Exfoliating Treatment Mask is that rare product that, at once, exfoliates, and provides hydration to the skin. Lactic acid and bentonite clay peel away impurities, while jojoba and Vitamin E heal and calm the skin. Of course, TULA's proprietary probiotic technology (in this case, Bifida Ferment Lysate) helps the skin's immunity and protects it against free radicals.
As the use of topical probiotics gains popularity, be on the lookout for more and more brands including the ingredients in their formulations, even when it's not the brand's raison d'être or even a part of the product's name.
Hungarian organic skin-care line Eminence's Clear Skin Probiotic Moisturizer is a soothing (and cooling) treatment for acne-prone, inflamed skin. Cucumber juice calms the skin while yogurt hydrates and balances the complexion.
Finally, if you're looking to treat hyperpigmentation or improve radiance, try Hydropeptide's new Lumapro-C Skin Brightening Pigment Corrector, in which lactobacillus ferment (a lactic acid bacteria) acts as a natural preservative and probiotic-promoting ingredient Brightenyl™ (i.e. diglucosyl gallic acid) activates the skin flora to restore an even skin tone and reduce inflammation. In total, eight brightening ingredients help to make your skin shine.
So, the next time you hear "bacteria is on your skin," pause before reaching for traditional soap—embracing it just might be the best thing you can do for your complexion.