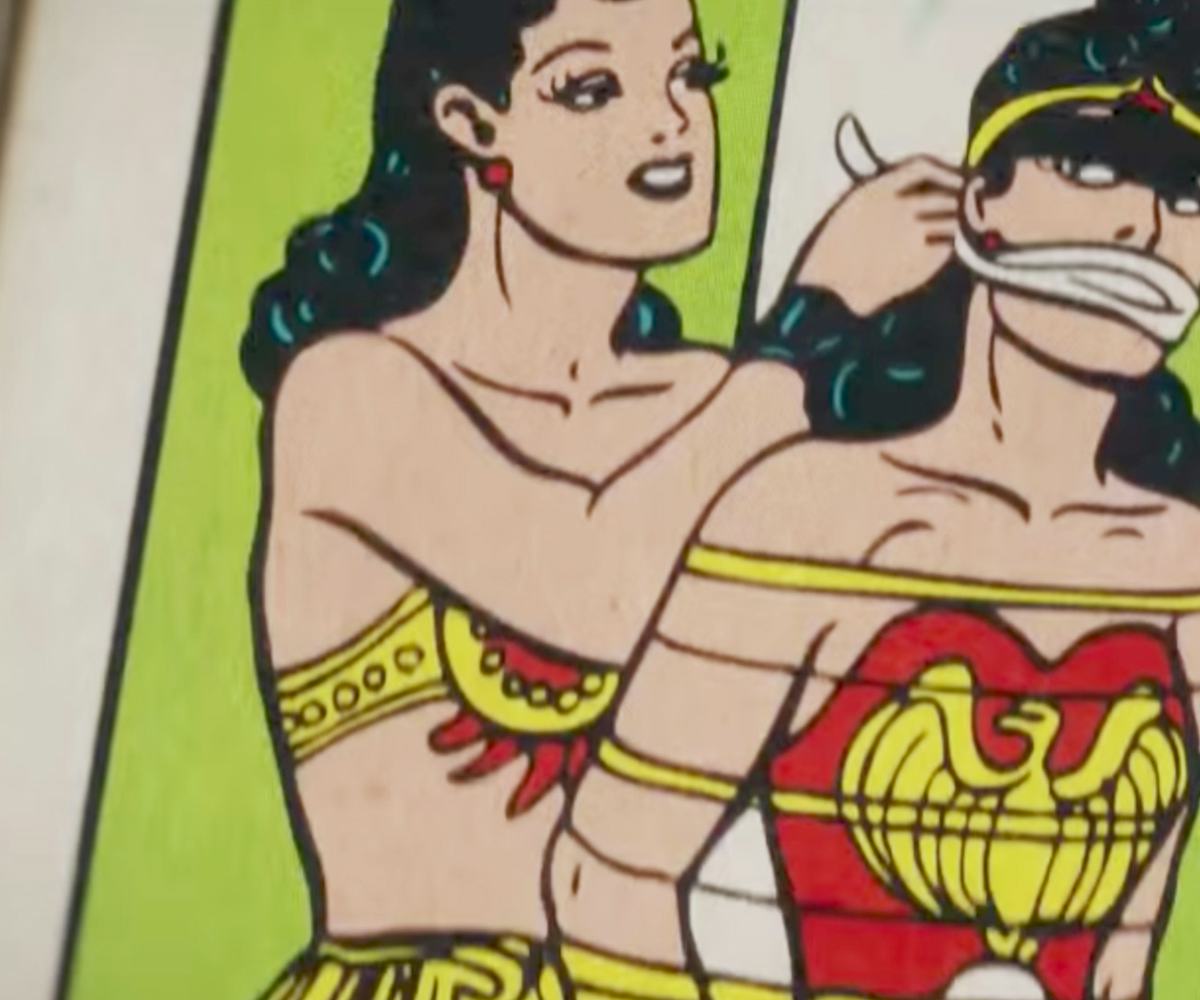 Image via YouTube/Movieclips Trailers
Wonder Woman's Kinky Side Is Revealed In 'Professor Marston & The Wonder Women' Trailer
This is a whole new side of the superhero
In 1941, William Marston created the iconic Wonder Woman—you know, the red-, gold-, and blue-wearing badass who fights for justice. She was a feminist icon. She was also really into S&M. This part of the story has been left out of more modern iterations of the superhero.
We find out in the trailer, for the new film Professor Marston & the Wonder Women, that Marston was a psychologist with a thing for bondage. He believed that submission and domination were part of human nature. This explains all the bondage and spanking in the earlier comics. 
Marston also lived a double life of sorts, much like his heroin Wonder Woman. One day, he brought home a graduate student, Olivia Byrne, and told his wife, Elizabeth Holloway, that Olivia was going to join their marriage, or they were going to divorce. Holloway was "devastated," according to Jill Lepore's book The Secret History of Wonder Woman. However, the three formed a polyamorous relationship, and both bore Marston's children. 
The new film based on these events stars Luke Evans as Marston, Rebecca Hall as Elizabeth, and Bella Heathcote as Olivia. Connie Britton also stars in the film. In the clip, when Britton's character is interviewing Marston, she asks, "What would happen if Wonder Woman's secret identity was revealed?" "Everything would be lost," he says, to which she replies, "I wonder if you're the one with the secret identity." 
This is definitely a different side of the story than what Patty Jenkins created for the big screen earlier this year, but it'll be interesting see the real origin story of this iconic superhero. 
Watch the full trailer below.