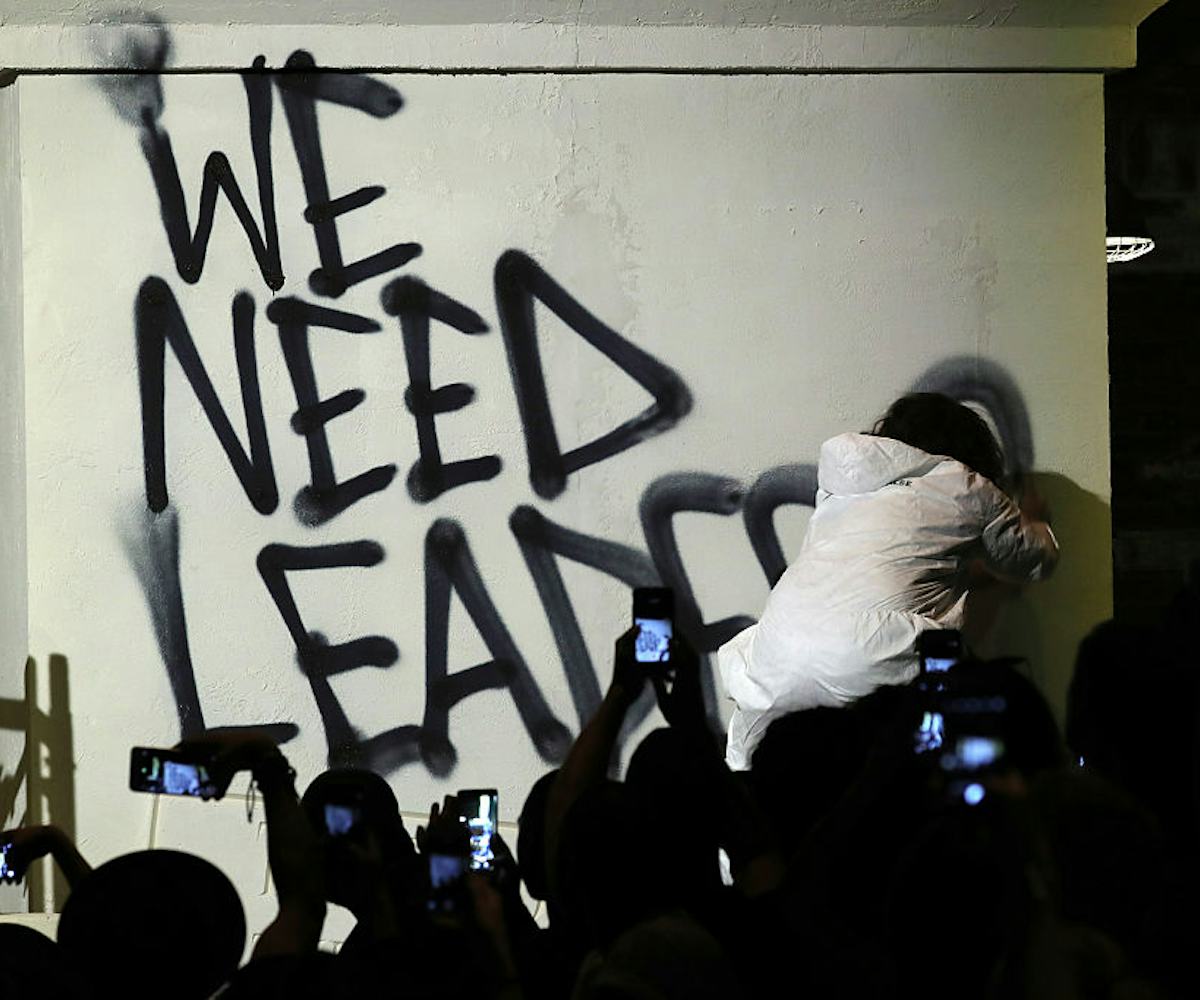 Photo by Neilson Bernard / Getty Images
Public School Made A Serious Statement At Their Collection 1 Show
Is revolution brewing in the fashion industry?
Yesterday afternoon, Public School showcased their first Collection 1 runway show.
To be clear, unlike other designers who have been presenting their resort collections this week, Collection 1 consists of the brand's pre-spring and spring collections for both menswear and womenswear—a first for them after deciding to break away from the norms of the fashion calendar back in April.
The brand's designers, Dao-Yi Chow and Maxwell Osbourne, stated that going forward they will be presenting their menswear and womenswear collections together twice a year (Collection 2 will showcase their pre-fall and fall designs) in June and December, rather than following the typical September and February dates reserved for New York Fashion Week. This change enables them to not only align more closely with the retail calendar but also allows more time for the creative design process, instead of rushing the designers to constantly pump out new collections with separate shows. 
Their first Collection 1, entitled "False Heroes," was all about revolution and rebellion—nodding at the designers' decision to begin shaking things up in the industry. Serving as a backdrop, masked factory workers in white jumpsuits hammered away at cinder blocks in unison, while borderline unnerving music played loudly in the background.
The clothing itself was comprised of the expected androgynous, mostly gender-neutral, streetwear with heavy layering in the form of oversized cutoff sweatshirts layered over silk tops and oversized blazers over button-downs paired with long, flowing skirts thrown over matching trousers. In a mostly black-and-white palette, bright yellows and deeper hues did make sparing appearances throughout the collection. An added rebellious touch: black, netted veils hauntingly covering some of the models' faces. 
The hair was very laid-back and natural, with just a bit of added texture here and there; beauty looks followed suit with minimal and clean makeup. "I don't think the hair needs to be so rebellious. I think they cast rebellious characters, so the hair could be whatever works for them," said Aveda hairstylist Frank Rizzieri. Some of the models (both male and female) donned shaved heads, while others had everything from flowing waves to cornrows.
What made the real statement at the show, over the backdrop and collection itself, occurred at the very end, right before the final walk. A graffiti artist emerged from backstage, tagging a monument-like structure with the words "we need leaders."
With the entire industry playing musical chairs over the past two years, the growing disagreement and uproar over the fashion calendar's collection schedules and designers' abilities to be putting out so many different collections per year, it's true that changes need to be made—and that the powerful people need to step up and make the change happen.
"False Heroes" by Public School
"False Heroes" by Public School
"False Heroes" by Public School
"False Heroes" by Public School
"False Heroes" by Public School
"False Heroes" by Public School
"False Heroes" by Public School
"False Heroes" by Public School
"False Heroes" by Public School
"False Heroes" by Public School
"False Heroes" by Public School
"False Heroes" by Public School
"False Heroes" by Public School
"False Heroes" by Public School
"False Heroes" by Public School
"False Heroes" by Public School
"False Heroes" by Public School
"False Heroes" by Public School
"False Heroes" by Public School
"False Heroes" by Public School
"False Heroes" by Public School
"False Heroes" by Public School
"False Heroes" by Public School
"False Heroes" by Public School
"False Heroes" by Public School
"False Heroes" by Public School
"False Heroes" by Public School
"False Heroes" by Public School
"False Heroes" by Public School
"False Heroes" by Public School
"False Heroes" by Public School
"False Heroes" by Public School
"False Heroes" by Public School
"False Heroes" by Public School