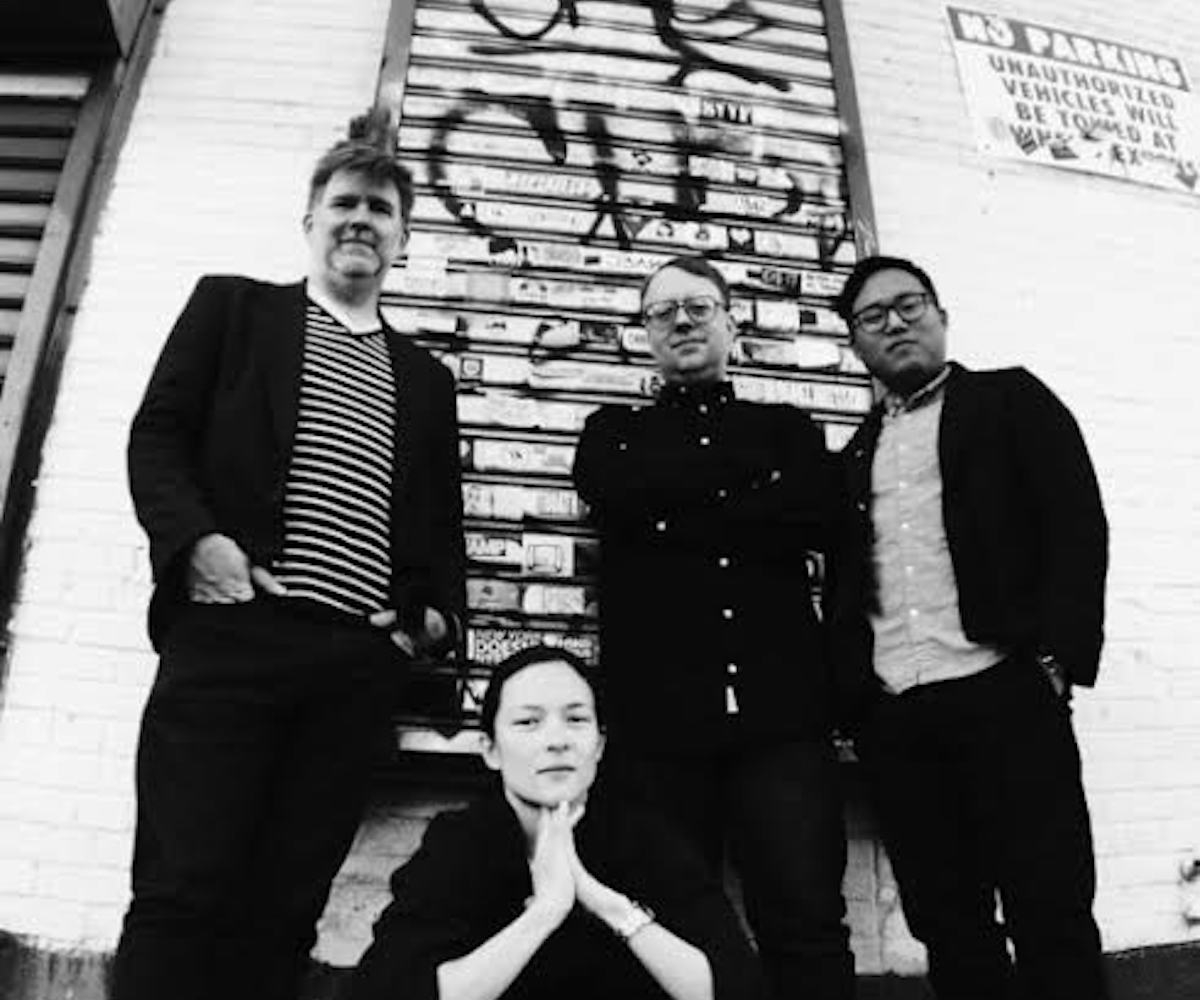 The 5 Anti-Foodie Punk Restaurateurs Changing The Dining Scene
From the stage to the kitchen
The restaurant industry is in flux. It no longer has its nose in the air. Quality food and revered institutions are opening their arms to the people… because the people are stoked about food now more than ever. Thanks to an increase in popularity of the farmers markets encouraging cooking and a dope slew of Netflix documentaries and Chopped seasons available for bingeing, people are pretty into the food industry and the art of cooking. And what's maybe more interesting than the consumers is the new wave of restaurateurs that are being welcomed into the industry with open arms and happy bellies.
The latest class of people killing it in the kitchen with innovative menus and inventive recipes are the kind of people hanging out at local punk shows after-hours—not slaving away behind steel countertops into the wee hours of the night after a long day of working in an unrelated industry. Click through to discover five of the most punk-rock, anti-foodie restaurateurs on the scene.
Vincent Minchelli, Arrojo Studio/OKIWAY
Vincent Minchelli is a hairdresser to the rock stars. He's known for his texture-intense style and with his long head-banging beautiful mess of hair to advertise his tress sensibility, shaggy-haired rockers flock to his razor with trust. Having grown up in Paris and spent time in Japan, his style is undeniably unique. Vincent is the son of the owners of one of France's most popular and long-standing restaurants, Le Duc. So, while he might be incredibly busy with his hair-cutting career, he couldn't resist dipping his toes into the family business, his way. With his love for okonomiyaki and Japanese pop culture, he created his own enclave in Bushwick in Brooklyn, New York. The whole restaurant looks like a cross between Mandarake toy store and a Bo Ningen music video. From the rare sake to the porno-papered bathrooms, OKIWAY is not your average Japanese restaurant—and if you're lucky, Vincent will be there to greet you in his favorite F*CK YOU embroidered jean jacket.
Minchelli tells NYLON:
Okonomi means "as you like it" in Japanese, which is the exact approach I took when creating my restaurant and menu. I'm not a chef, but I wanted to make sure that the menu was filled with my favorite things. Because that's what I like about having my own place—it's an opportunity for me to share what I love with people. You might think it's a huge step away from cutting hair, and obviously, in many ways it is, but it's also similar, to me. I like cutting hair because I like earning people's trust. They're not buying a T-shirt from me that they can take off. They're trusting my taste and my vision enough to physically alter the way they look for a long time. People trust my taste and vision when they come eat at my restaurant, too. They let me feed them, and when they leave happy and full or come back for more, it makes me happy. My father was an amazing host at his restaurant. People always felt welcome and well-fed, and I want to do the same. I want people to feel good when they leave, that's all. And in that way, both of my passions are similar.  
James Murphy, LCD Soundsystem/Four Horsemen
James Murphy of LCD Soundsystem and team opened up a restaurant and wine bar in Brooklyn's Williamsburg called the Four Horsemen. While the focus of the joint is wine and great food, the attention to sound was made a serious priority. The sheer construction of the room was designed to have great acoustics with absorbent cedar planks on the ceilings. And it won't be a surprise that Murphy refuses to play Pandora or Spotify—the music is promised to always be a conscious effort reflecting his tastes. The wines are hugely important and the foods dance around them. They're healthy, yet rich and savory. You'll be happy with whatever you order but the dishes are all so fragrant that you'll be sniffing your neighbors dish with envy, too. Oh, and as far as your neighbors go, expect to chat with them. While this is a serious food and drinks establishment, it's the furthest thing from stuffy.
Jesse Malin/BerlinNYC
Native king of Queens, New York, Jesse has put out a dozen records and still manages to invest and partake in much of the restaurant and nightlife business in Manhattan's East Village—a place he holds close to his heart. An original resident rocker of the neighborhood, Malin takes a lot of pride contributing to the preservation of the community. He's not flipping old bars and restaurants into swanky new joints, and instead is bringing them back to their roots and maintaining what rock and roll still lives in the area.
Malin tells NYLON:
My friends and I had this Frank Sinatra fantasy of taking our dough from publishing advances and opening our own social club—because when we were not out playing music, we wanted to listen to music and drink, and talk to other musicians and drink, and talk to girls and drink more. Wherever I go on the road, I am always looking for that dark bar with the great DJ or jukebox to go to after the gig to cool out with killer tunes. People have treated me and the band pretty good out there so we try and give it back somehow. BerlinNYC was a labor of lust and need. Its name was inspired by the German underground cabarets of the '20s and '30s. It's a hideout built on decadence and decay where glamour and dirt merge with rock and roll hearts.
Danny Bowien/Mission Chinese Food and Mission Cantina
After playing bass in a post-high school band that went on to open for a few impressive acts, Danny made a big life change, started going to culinary school, and channeled his creativity into food. Now he's becoming a major player on the foodie scene with various restaurants in San Francisco and New York City spanning cuisines and cultures, yet all equally popular and revered.
Bowien tells NYLON:
Growing up Korean and adopted in Oklahoma City, identifying was always a challenge for me. Music liberated me and gave me the freedom to explore myself and be whatever I wanted to be. Finding the band was a foot in the door for my self-exploration. When the band broke up, I was having the same feelings of not knowing who I was and what was next. When a buddy of mine suggested I come out and stay with him and check out a culinary school in San Francisco, I was happy to have an excuse to leave Oklahoma City. I was always into food, but I thought music was going to be my life. But then I started to realize that there were a lot of parallels with my creative interest in making music and my creative interest in making food. It's a similar process—working hard on an expression of yourself and then putting it out there to be listened to or eaten up and judged. When I first started working with food, it was the first time I stopped feeling like I was following in someone else's footsteps and it was the first time I felt happy with what I was doing. If you're doing what makes you happy, that's the most important thing.
Jay Welch/ LuchaLucha
Welch is the musician and owner of Brooklyn's only San Diego-style Mexican restaurant. Lucha Lucha has only been open for one year, and it's already listed in The Flama as New York's No. 4 taco joint, falling under the famed Mexicali food genre. His signature dish is the San Diego burrito—a burrito in which the rice is swapped out for french fries—aka our definition of heaven.
Welch tells NYLON:
Music is my soul. It is in my bloodline, but there comes a time where a man can only take so much heartache from his bands dissolving. The last time it had happened, I vowed the next thing would be built upon concrete and not sand. At that time, I didn't know I would get into the restaurant business, though. Things just fell together.