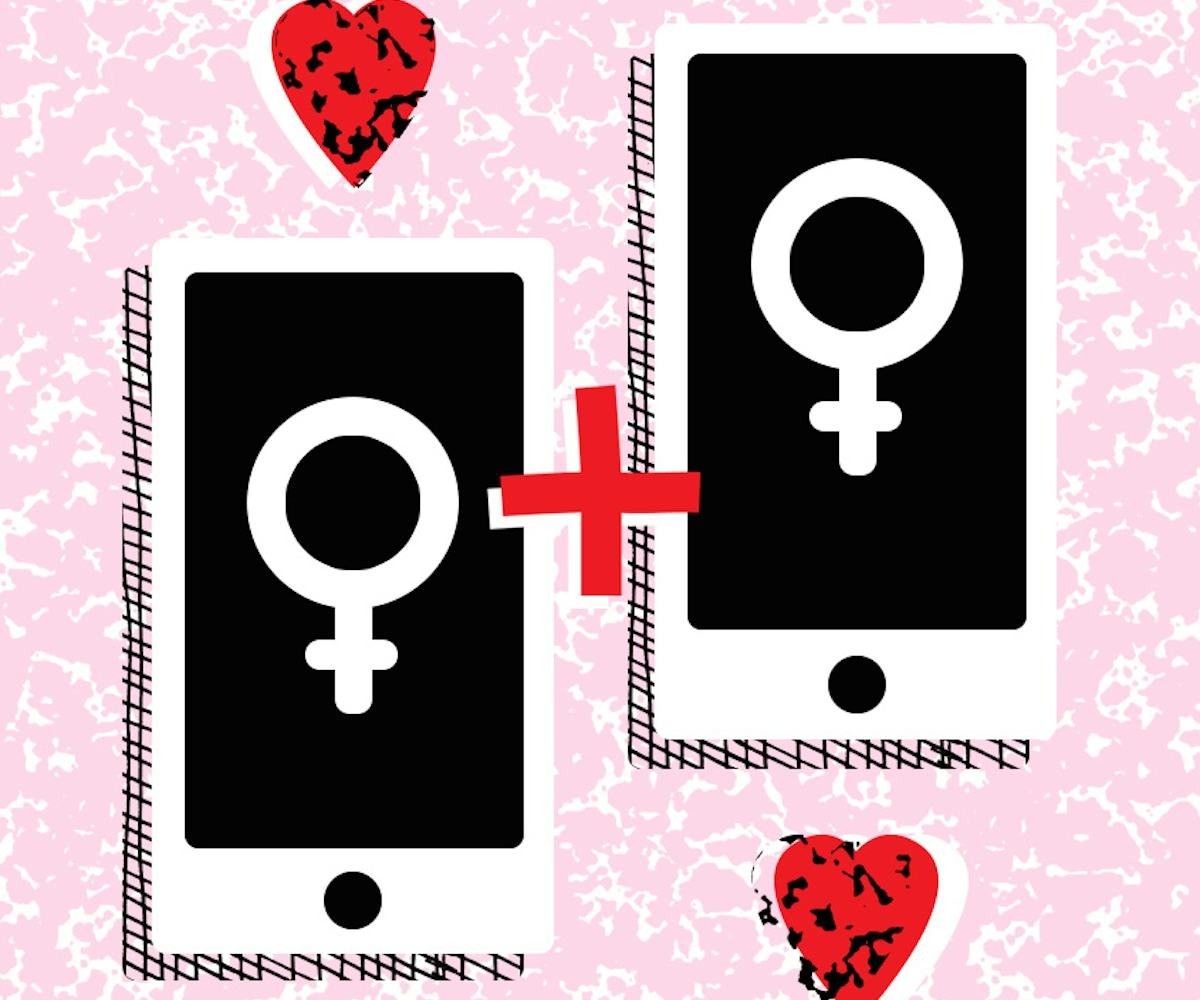 why do dating apps for queer women suck so much?
finding her in a sea of tech
As a flirtatious queer tech aficionado, I have quite a few years of online dating under my belt and some good stories to show for it. Back when we used to find other queers in the W4W section of Craigslist, where there was seldom a picture to go along with your html-text desires, I inadvertently messaged a friend with the moniker "brightly colored sneakers seeks same." I am still a fan of meeting people in whatever way brings interesting characters into my life, be they technological or luddite. But I would still say that my most successful hookups have been in person, through friends, on the dance floor, or drunken one-night-stands that turn into year-long relationships (like my current girlfriend). So why haven't I, or a host of other queer women, found the online-dating utopia that seems to work so well for our straight moms and dads, gay brothers, and friends?
When I asked a friend why she thought there was such a lack of good dating apps for women, her answers were simple: A perceived lack of monetization and scale opportunities, the demographics of app creators skewing male whose target demographic was never women, and safety. I told her I appreciated her concise, spot-on encapsulation, and for finishing this article for me in one sentence.
Despite her assuredness, however, most answers I receive when asking this question are varied and uncertain. Queer women and women in general, seem to respond to dating apps with trepidation. Our attitudes can be skeptical and fickle, with good cause. Whether this is because dating apps never seem to be built with us in mind or dating apps cannot be built with women in mind because there isn't clarity about what we, as a consumer base, want, is a chicken-and-egg scenario that seems to only be able to be answered by trial and error...and a lot of failed dating apps.
Even though I am no longer in the market, I have no less than three dating apps currently in my phone. A graveyard is filled with ones I have tried in the past, including Brenda, Qrushr, Wing Ma'am, and one whose name I can't remember that wouldn't let me in because it could not verify that I was either female or queer, despite that even the quickest of Google searches would leave very little doubt.
As for the three that have at least enough staying power not to get the axe when I need room on my phone for one more gratuitous selfie, two are big players. But neither OkCupid nor Tinder were designed with queer women in mind.
I've been an OkC member since 2009 or earlier, and though they cut through a wide swath of sexualities and genders (even recently opening their gender options beyond the binary), they have generally had a pretty high queer and lesbian user base. I've never had trouble getting conversations started here, but the barrier is high. To get a response, your profile has to be quite well filled out. Along with that, I generally found that users were more likely to respond if you reference some very specific part of their profile that you identify with (think: "OMG I'm also a huge fan of Grumpy Cat lip syncing to Serge Gainsbourg videos!"). 
But if OkC's approach to dating is TL;DR, Tinder is just the opposite. With a very hot-or-not approach, most profiles have almost no information. You glance at the photos, maybe see if the Facebook interface has picked up people or interests in common, and make a snap judgement to swipe, willy nilly, left or right. In the beginning, it even tended to mirror the more location-based, quick-hookup app enjoyed by gay men, Grindr.
The third app I've kept is Her, née Dattch, which launched nationally this week. Created by an actual lesbian, Robyn Exton, this for us by us app has got to be a success, right? But which approach did it take? The long read or the quick swipe? Is it meant for sexy hookups or meeting Ms. Right? What, exactly, do women want?
My girlfriend swears by Tinder. My roommate is traumatized by it. My bestie constantly laments the lack of Grindr for women. Even this potential savior in the race to become the first successful lesbian dating app has an ultra-female-specific pronoun name that can be alienating. So, is there any hope that Her be all things to all queers?
Certainly, it can overcome at least some of the pitfalls that other apps have fallen into. Tinder's algorithm constantly puts men and straight women into the path of women who have elected to see only other W4Ws, and there is no danger of that here. It also will not fall into the trap of previous queer entries in the dating-app scene that never had the adoption rates that Her already has. Their tactic to only launch in cities that cross a threshold of potential users, while frustrating at times, was a smart one. I may have been annoyed that every time I opened Dattch after that first San Francisco launch at Lesbians Who Tech, I saw only the two nerdy friends who accompanied me to the summit. But it was made even worse being the only person for 500 miles for several months on Qrushr.
The real question is whether the social-media platform direction that Her has taken will be right for the bulk of its user base. Initially, Dattch was more on the Tinder end of the scale. They even had swiping. Profiles still remain very succinct, with mostly photos and only the occasional sentence or two, there is now a whole area built around events, articles, and conversation. It is a whole new social-media platform that my GF found appalling, but I was drawn into (much to her dismay). With a user base that is big enough to have interesting content and events to share, yet not big enough to be overwhelming, I find the social feed intriguing. Her might actually make me want to engage even when I am not looking for a date. But if it becomes too successful, this platform will quickly become unusable. Alternately, simplicity is also appealing. This new foray into community might be overwhelming. Will too much innovation kill Her? It remains to be seen if any queer women's community agrees on what they want enough for any dating app to truly take off.