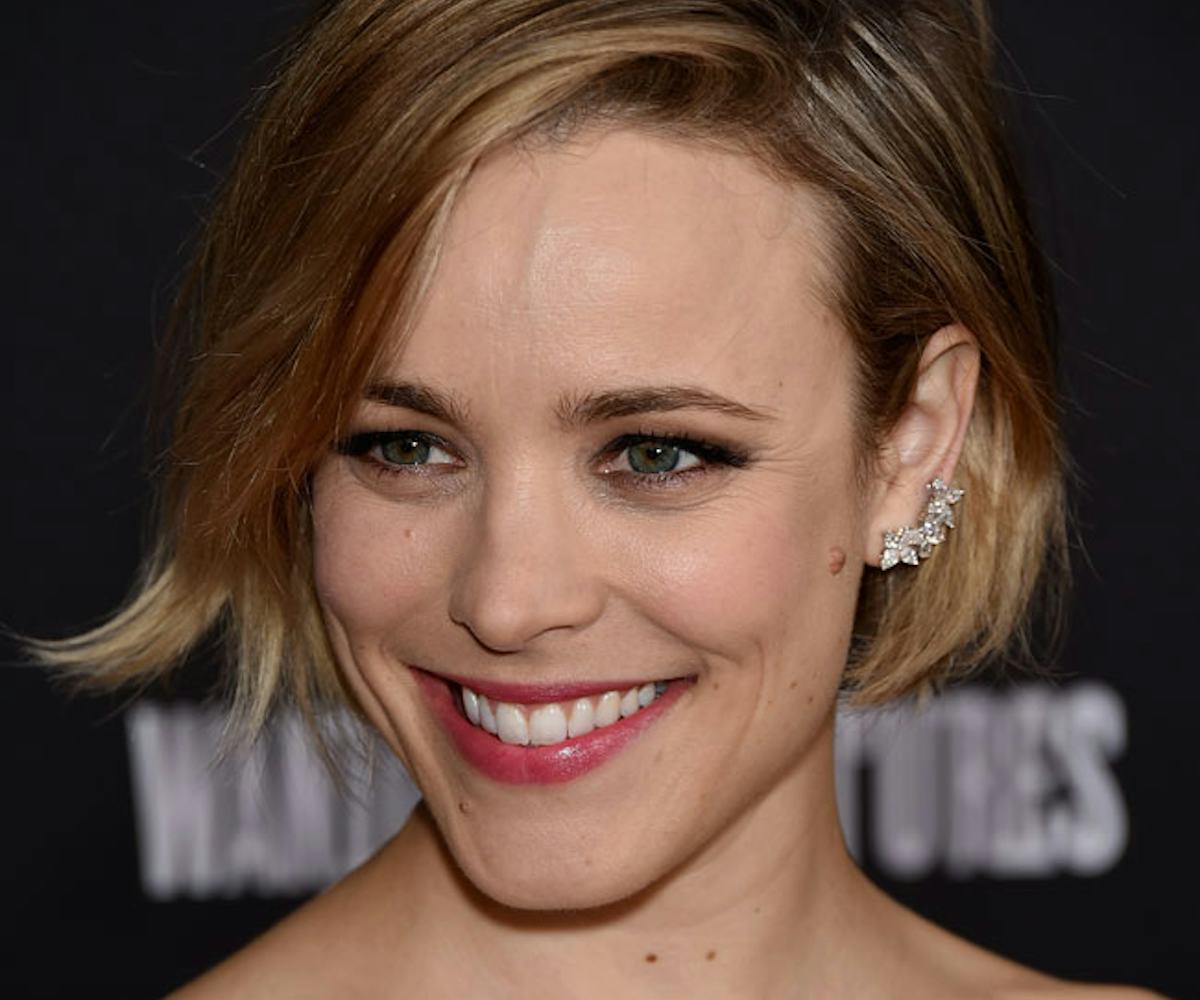 Photo by Dimitrios Kambouris/Getty Images
rachel mcadams thinks jake gyllenhaal is the best
Taking time off from her duties on
True Detective
, Rachel McAdams was on the arm of costar Jake Gyllenhaal at the New York premiere of their new boxing drama,
Southpaw
.
, there is nothing going on between them. (Evidently,
she has been seen out and about with True Detective costar, Taylor Kitsch
.)
McAdams has a history of hooking up with costars like Ryan Gosling (whom she dated twice) and Michael Sheen. What she doesn't have a history of—yet, of course—is Oscar nominations. How does an actor of her caliber, delivering standout performances in art house movies like
Midnight in Paris
and
To The Wonder, 
as well as popular classics like
Mean Girls
and 
The Notebook,
consistently escape the Academy's notice?
Her current movie,
Southpaw
, stars Gyllenhaal as light heavyweight champ Billy Hope, which—little known fact— was a role originally written for Eminem. McAdams plays his wife, the object of contention between Hope and his adversary, played by Miguel Gomez. Already selling critics on the intensity of her chemistry with Gyllenhaal, it looks like McAdams can definitely roll with the punches.
So Maureen is Billy's rock, really.
I like that she's still a woman in a man's world, and she likes being a woman. She's not a tomboy and she's not trying to pretend that she's not feminine. But she can play hardball and she's the first line of defense for Billy, at the end of the day.
What about working with Jake?
He brings so much to the table, you can't help but bring your 'A' game as well. He amplifies everything. He's always mining for the truth, mining for the best moments possible. I really appreciated how much heart and grit he brings to his characters. It's what makes him the best.
Were you a fight fan before this movie?
I had watched fights on TV, but my first live fight was after I got the film. We went to Madison Square Garden and watched Cotto fight Martinez, which was a little traumatic. The fight was called because his eye was so on the verge of not ever being the same again. I had respect for it from afar, but I got to do it first hand to understand. I thought I was in pretty good shape until I got in a boxing ring and realized I had a long way to go.
Did you do any boxing?
I tried to get in there everyday if I could. Jake was boxing every day and I was watching him every day, the same way I thought Maureen would check in with him a lot. I tried to immerse myself in it as much as I could. We were constantly immersed in boxing by Antoine (the director). So it just became a part of our everyday language.
What about the punishment Jake took training for this?
Jake didn't have a stunt double, so he was on the line all the time. So he was doing something really phenomenal. He never complained. I think it was rough—rougher than he probably let on.
Why do you think this sport makes such a strong backdrop for movies?
It's a very seductive world. I think when you're hot, everybody loves you. And the second you lose a fight, no one's there, which is what happens in the film.
Is it like Hollywood?
I like to think Hollywood's a little less fickle. I think just the fact if you can sort of stay in it, keep working, keep digging, keep trying to reinvent yourself. I think there's a little more room for that in acting than boxing. And also, you can act your whole life. Boxing is short lived.