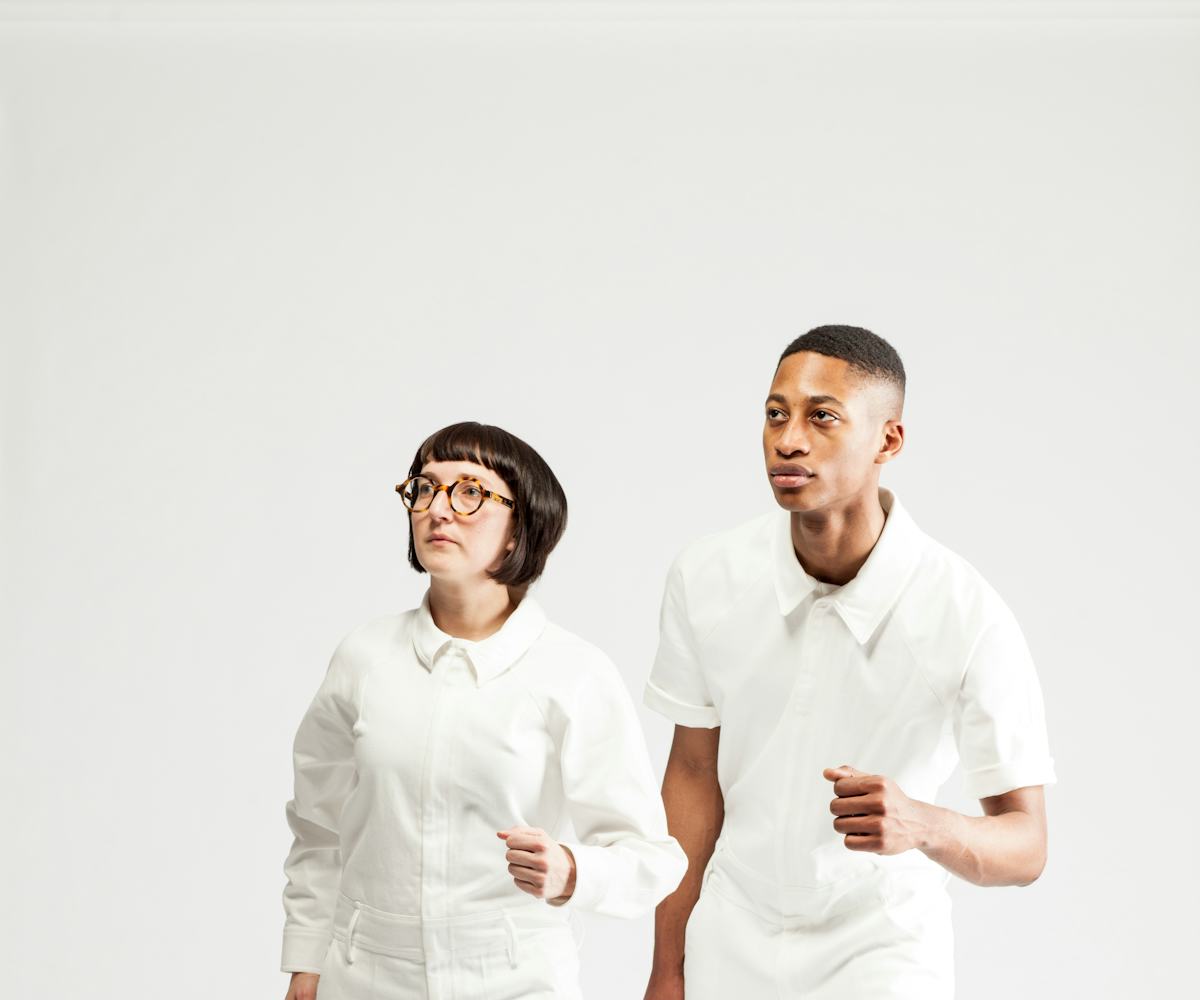 Photo courtesy of Rational Dress Society
This Brand Is Shredding Ivanka Trump Clothing And Turning It Into Fashion With A Cause
They're looking to "Make America Rational Again"
Three years ago, Maura Brewer and Abigail Glaum-Lathbury launched a fashion revolution: Rational Dress Society.
Referred to as an "experiment in counter-fashion," rather than just a clothing line, RDS challenges the world to end overconsumption by replacing our many pieces of clothing with jumpsuit (yes, it's meant to be referred to as just "jumpsuit," sans article), the ungendered mono-garment designed to be practical enough for everyday use. "We're telling people to get rid of their clothes, and to stop shopping forever," says Brewer.
Jumpsuit is available in two forms: a premade ready-to-wear garment or a downloadable pattern that allows the user to create a custom piece. Available in more than 200 sizes, you're pretty much guaranteed the perfect fit. "We've developed an entirely new sizing system, which doesn't use the male or female binary," says Glaum-Lathbury. "Instead, sizing consists of 36 different body types, with height category ranges within. We sort of opted for the exact opposite of what most fashion companies do; most lines make many things in only a few sizes, whereas we make one thing—jumpsuit—in 248 different sizes."
Rational Dress Society's goal is to sell as many jumpsuits as they possibly can, stopping completely once they're able to purchase a full-page ad in American Vogue—a signifier that they've made a sizable impact. "The patterns will live online, but the Rational Dress Society will cease to exist because we won't be needed anymore," says Glaum-Lathbury.
For their latest project, they're looking to make things political. Make America Rational Again is a four-step plan to repurpose Ivanka Trump-branded clothing into special-edition jumpsuits. The process is as follows: Solicit as many used Ivanka Trump garments as they can get their hands on, shred them, recycle the fabric into post-consumer yarn, and then weave said yarn into new fabric.
The project has a heavy focus on solidarity: While Donald Trump has been preaching Buy American, Hire American, his daughter's namesake line is being produced in overseas factories. In fact, according to RDS's sources, more than 53 metric tons of Ivanka Trump-branded clothing was imported into the U.S. from China just between November 8 and February 27. "Basically, we're hoping to call out Ivanka on all of the things the whole administration is saying but not doing," says Glaum-Lathbury. "We're just going to do all of the things they're saying they'll do, like bring back American jobs. We'll take the garments that are made under the terrible labor conditions overseas and remake them in the United States—symbolic destruction."
So while, yes, it will feel good knowing that Ivanka Trump's clothing is being shredded and destroyed, the project serves to do actual good. Rather than allowing Ivanka Trump-branded clothing to end up in a landfill, it's being transformed into a sustainably made garment, which is creating American jobs. Plus, each jumpsuit made (they're hoping to make 18 in total) will be auctioned off, with all proceeds benefitting advocacy groups dedicated to fair labor practices in the U.S. "Together, we can transform these itchy plastic blouses, dresses, and pencil skirts into the building blocks of a better future," says the brand in the project video.
As of now, the project is still in Phase 1, collecting as many Ivanka Trump garments as they possibly can. If you find that you've stumbled across some used Ivanka Trump clothing and are looking to donate, you can send it to the below address:
The Rational Dress Society
P.O. Box 50724
Los Angeles, CA 90042