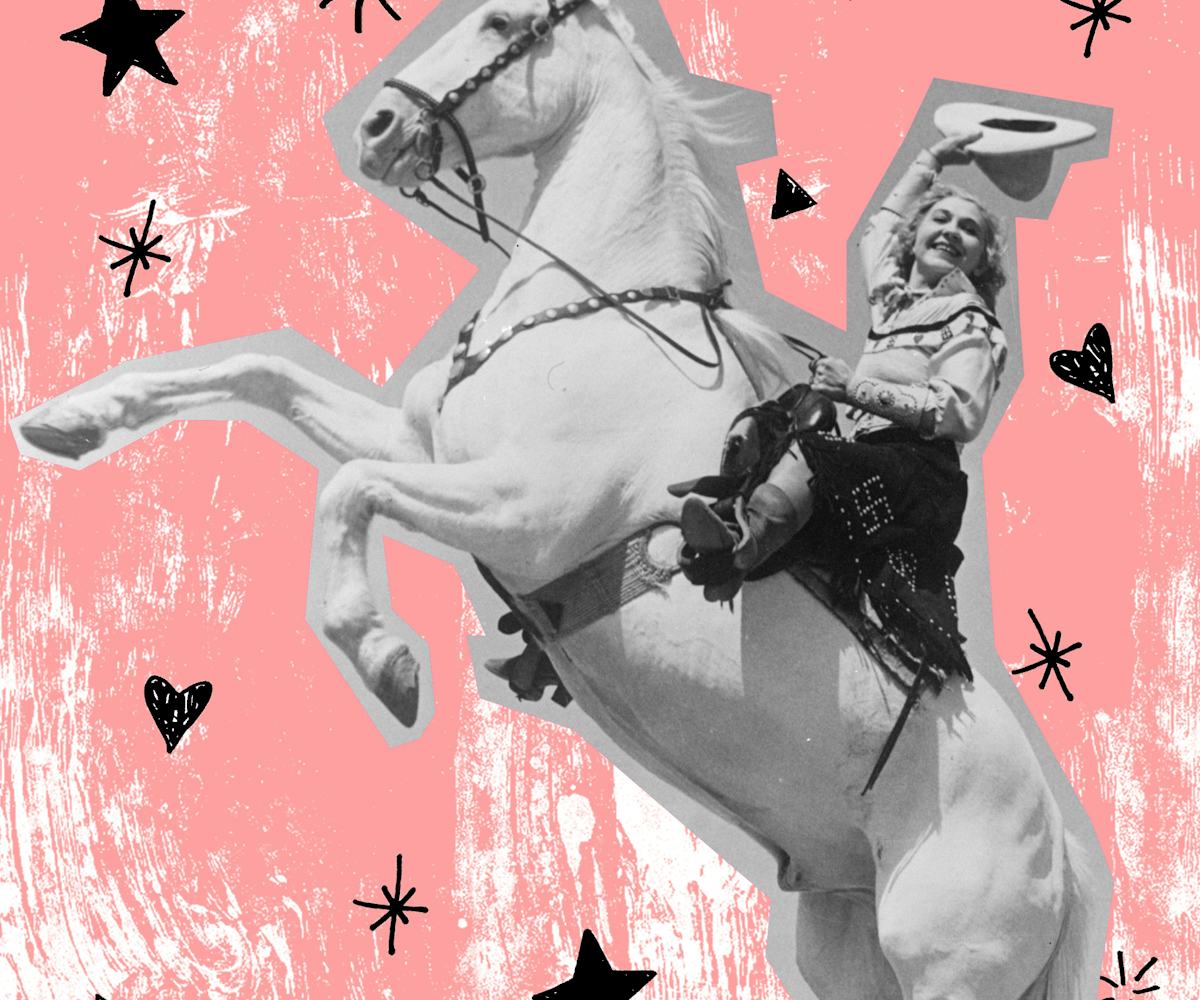 Photo via Getty Images
The Most Badass Women You've Never Heard Of
In any given Western, a woman will be portrayed as the buxom rancher whose main job is feeding her dusty, parched cowboy when he comes home from a long day of doing the "hard work." She hangs the laundry out back, raises the children, gathers the chicken's eggs, and doesn't wait up for her man. Despite the fact that cowgirls can work just as hard as cowboys, they're not represented as equals. In fact, the reality is we don't see cowgirls at all. But which came first, the Western cinematic portrayal of female ranchers or the societal pressure for a woman to stay behind and leave the ranching for her man? Nearly a century later, we still don't know much about real-life cowgirls, and most people don't have a reference that goes beyond Annie Oakley. But there's a whole population of cowgirls, who are carrying the torch of western culture and making John Wayne look like a wuss.
Unknown to most country, in Fort Worth, Texas, these cowgirls are represented at Cowgirl Museum—one of the only organizations that honors them, even though they're a kickass group of women who have excelled in the horse world and have been recognized for their tireless work, their skill, and their bravery. Each year, the museum honors a group of women and inducts them into the Cowgirl Hall of Fame. And once a year, the key honorees from the Cowgirl Hall of Fame gather at Paws Up in Greenough, Montana for a weekend of nature, namaste, and badassery. 
And because chances are you've never heard of these women, their work, or even known that cowgirls were a thing and not a style vibe for country music festivals, here's a look at the county's most underappreciated western heroes.
BARBARA VAN CLEVE
Barbara Van Cleve grew up on a ranch, working to help her family since she was a kid. In her household, she was a cowgirl, which was nothing short of a cowboy—they both did the same work, only, she did more. She'd help her father with the cattle and the horses, and she'd help her mother around the house. She never stopped to think less of herself because she constantly felt needed and important. Her work was clutch both in and out of the house. Van Cleve's father doubled as a ranch life photographer, inspiring her at an early age to document the unique life she was living. When he gave her his old camera, she took off immediately to shoot while on horseback. Now, decades later, she's a revered ranch life photographer, known for capturing the rarest and natural moments only a small group of people have access to. 
Why don't we know about cowgirls? 
"The Cowgirl Hall of Fame is the only place you'll hear about us. Men are the visible ones in the ranch world; they get all the screen time. The media allowed for men to be the visible ranchers in the old days. They needed women to stay at home and take care of the kids and manage the house. Men thought it was unwomanly for women to be out on the range. But that's why men put women up on a pedestal—to control them. Trust me, men know women are strong. Men see women as powerful, I know it, but I don't think of myself in that way. I just see myself as free."
Dr. Eleanor Green, DVM
Eleanor Green is a pioneer for not just women in equine veterinary medicine, but for women in any medical field. Green is the first female dean of the College of Veterinary Medicine & Biomedical Sciences at Texas A&M University in College Station, Texas. She's also the first female president of three national veterinary associations. At a very young age, she decided that helping horses was how she wanted to spend her life's work, and she's done just that. 
What is a cowgirl?
"A cowgirl is a word that applies to the relationship with a horse or cow. Being a cowgirl is about having rugged individualism with a strength and a softness and a compassion for animals. I love what I do, and I've been lucky to be able to do it. All I want in life is to make a mark on people and horses. I'd be happy if I died on a horse."
CATHY SMITH
Ever seen a little movie called oh, I don't know, Dances with Wolves? Yeah, Cathy Smith made nearly every piece of costuming with her bare hands. But more than an Emmy award-winning costume designer, she's an artist dedicated to preserving the history of 19th-century cowboys and cowgirls and the Plains Indians. Her extensive knowledge is shown through painting, bead and quillwork, motion picture costume design, and historical consultations. Her work in the epic set the standard for authenticity in Western filmmaking. Smith is legendary. 
Why is it different for women?
"It's a tough road being a woman, doing mama things and doing hard things. We have to take on a lot, but we do because we can. I had a husband. He went to the rodeo and never came home. I moved from the reservation to the ranch to give my daughter an education. To make a break from it. But I still take it with me. For me, it's all about being free. It's all about preserving the culture of the west, and there are a lot of incredible women working hard to do that."
STACEY WESTFALL
Stacy Westfall, aka real life horse whisperer, is also known internationally for her unique freestyle reining competitions. She's horse trainer and a trick rider who often does not use a bridle and in some cases, she even competes bareback. In 2003, she won the National Reining Horse Association Freestyle Reining Competition, riding without a bridle. In 2006, she became the first female rider to win the Road to the Horse competition. She's one of the only female trick riders who has been given the credit and accolades she deserves in a completely male-dominated industry. 
What makes you strong? 
"Being a cowgirl is about being so tough the normal stuff doesn't take you down. We're bold and comfortable and have an attitude like we don't care if we stand out, because we don't care if we do…"