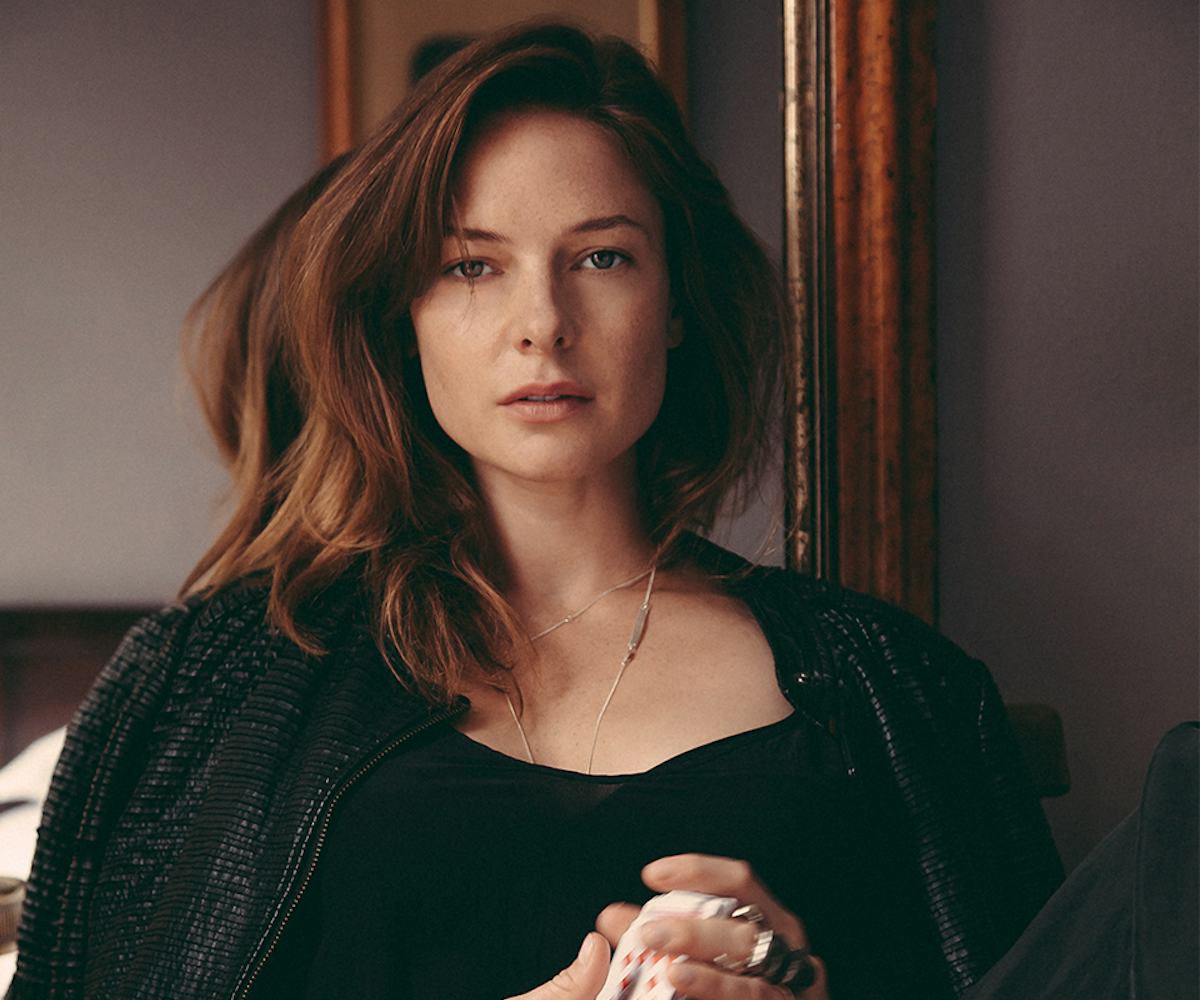 Photographed by Danny Kasirye.
Rebecca Ferguson On 'The Girl On The Train' And Why She Stays Off Social Media
The actress discusses her upcoming role
The following feature appears in the October 2016 issue of NYLON.
In the past few years, Swedish-British actress Rebecca Ferguson has played both the would-be queen of 15th-century England and an elusive, neck-snapping spy. But for her part in this fall's hotly anticipated romantic mystery The Girl on the Train, sounding like an American presented a fresh challenge. "I've never done [that] accent before, which was scary," the 33-year-old actress admits. And despite a "potpourri" heritage, as she puts it, and a schedule that takes her around the globe, Ferguson had yet to travel to New York for more than two days before she moved to the East Coast to shoot the film. "I loved living in New York," she says. "I managed to get there three or four weeks before shooting just to try to throw myself into it: the tempo, the energy, and the accent."
Ferguson grew up in Stockholm, and started her acting career on a popular Swedish soap opera and then several Swedish films before landing her role as the title character in the 2013 BBC and Starz miniseries The White Queen, which earned her a Golden Globe nomination. That led to her breakout role in last year's Mission: Impossible—Rogue Nation, where she played Ilsa Faust, an undercover MI6 agent who goes punch for punch with Tom Cruise's Ethan Hunt. 
Click through the gallery to read the rest of the feature.
In this fall's The Girl on the Train, based on the twisty best-selling book, Ferguson plays Anna Watson, the new wife of Justin Theroux's Tom Watson. The couple are being stalked by Tom's ex-wife (Emily Blunt), and to say anything more would be crossing dangerously over into spoiler territory. "What was lovely was the energy on set," she says of the shoot. "I really, really love Emily. I've a bit of a girl crush on her."
With her nine-year-old son, Ferguson splits her time between London and her home in Sweden, in a remote fishing village of less than 7,000 people, where she's lived for several years. "I think I'd have probably gone mental if I'd not had the possibility to travel," she says. "It's intense, and then I get to come home to a completely different energy. A lot of people look at me and go, 'You're crazy! How can you live there?' But the answer is simple: I feel normal, and I feel like me."
Get to know Ferguson:
About: Ferguson often gets compared to Swedish acting legend Ingrid Bergman, but her favorite actress is Isabelle Huppert, whose unpredictability she admires. "There's an interest for me in not knowing what she's going to do next," Ferguson says. "She just feels very real."
Favorite Quote: "A broken oyster always heals itself with a pearl."
Handle: Ferguson doesn't use social media. "I kind of have an addictive personality. I think if I'm doing any kind of social media that will take up my entire day. And I like people not knowing what I'm doing. I'd much rather call a friend or see a friend," she says.
Occupation: Astronaut. Ferguson is currently shooting scenes alongside Ryan Reynolds and Jake Gyllenhaal for Life, a film about an international space crew that finds life on Mars. "My day is hanging in a harness, or not, looking like we are in zero gravity and laughing," she says.
Song: "You Don't Own Me." "I've been listening to the Dusty Springfield version a lot."
Top 8: "I have a massive span of friends," she says. "My family is very close to me. I have old friends from when I was five years old, the ones who really know you."
Zodiac Sign: Libra