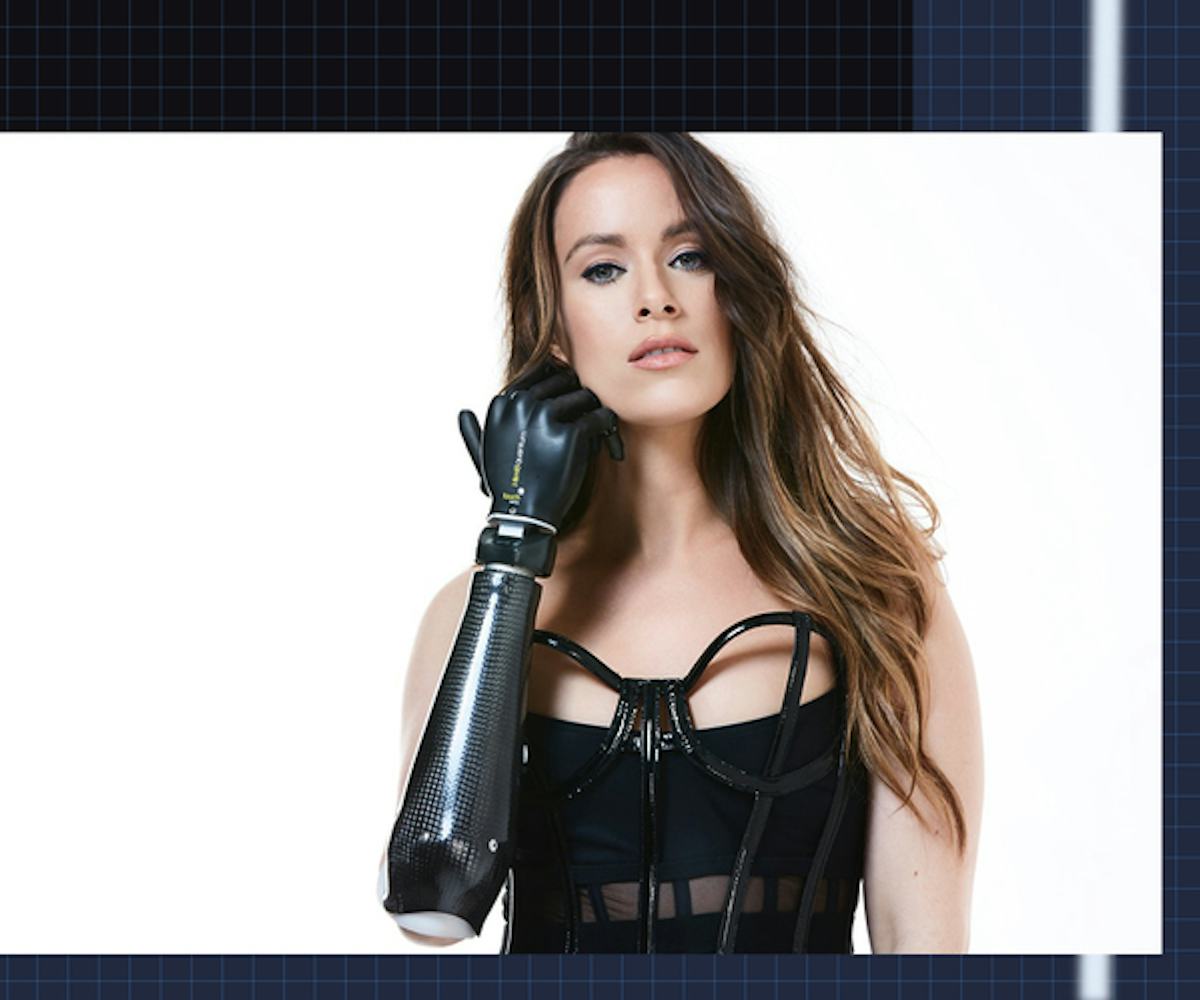 Photo by Stevie Chris
How Bionic Model Rebekah Marine Learned To Embrace Her Imperfections
"When you're willing to feel awkward and embrace fear, an entire world of opportunities opens up to you"
Model, motivational speaker, and humanitarian Rebekah Marine is making waves in the fashion world as a "bionic model." Born without a right forearm, Marine doesn't let her disability get in the way of rising to the top. First entering the modeling industry back in 2011, Marine has since appeared in a number of reputable publications and editorials, with even a couple of New York Fashion Week shows under her belt. Take one look at her, and you can feel the confidence and self-love she exudes—and it's powerfully contagious, too; you immediately feel inspired yourself.
However, things weren't always this way for Marine. She grew up struggling with the idea of perfection. "I spent a majority of my life beating myself up over the way I looked—the body I was born into. It wasn't until my early 20s that my desire to feel happiness outweighed my fear I had of letting people see the real me," she says.
So how did the girl hiding her body under baggy sweaters blossom into the successful model and speaker she is today? Well, it started with tossing those baggy sweaters aside. Once Marine began to wear tank tops for the first time, she allowed herself to be vulnerable and exposed and learn to love and embrace her body. "When you're willing to feel awkward and embrace fear, an entire world of opportunities opens up to you," she says. "The more I challenged myself, the stronger I grew as a person."
The question here is why Marine should have ever felt awkward or fearful in the first place. What it boils down to is our society's obsession with perfection. "We see it every day in magazines, TV, billboards—you name it. The problem with perfection is that it doesn't exist, at least not in any objective measure," she says. "Some will spend an entire lifetime trying to achieve perfection, and sometimes we spend so much time trying to cover up our imperfections that we lose ourselves." Marine admits that in her younger years, she did just that. "I let it consume my daily life. I just wish it didn't take me so long to realize that my imperfections were just part of what made me unique."
What makes Marine, and all of us, hopeful of the future of modeling is the fact that there is a definite shift happening in the industry. While there's certainly still work to be done and many barriers to be broken, there has been a substantial increase in inclusivity and diversity since Marine first started modeling. "Social media has changed the entire industry. There's been a shift in power from the marketers to the consumers. It's no longer the industry telling consumers what they should look like, but rather, the opposite."
And what do these consumers want? To see more people like them. Realistic people. People that don't have a typical cookie cutter model look, which ultimately leads us to believe that tall and skinny is "perfect." They want to see a range of ethnicities, body types, sexual orientations, and "imperfections." They want role models that are beautiful from the inside out, who take their imperfections and make them positive. "Ten years ago, I don't think I'd even be considered a model for some of the brands I've worked for. I don't think you would have seen me at New York Fashion Week either. I'm grateful I've been able to find my way into a very small, but blossoming, part of the industry."
There are, of course, specific brands that are leading this shift, one, in particular, being Chromat, which you'll see Marine wearing throughout this story. "Chromat speaks to everyone, regardless of race, weight, or even disability. They aren't just selling a great product; they're selling a great message and celebrating uniqueness through fashion. This is so important in today's industry because we, as consumers, want to know we're supporting a brand that's in touch with today's society and reflects our own values." We second that, hoping more brands like Chromat will continue growing and gaining traction and inspiring the world along the way.
It's fashion's ability to effect major change on an individual level that Marine points to being a highlight of her career. "You'd probably think it would have been walking in New York Fashion Week or modeling for some of the biggest names in the industry, but seeing myself grow into a person I truly love has been my biggest accomplishment," she says. "When I look at myself in the mirror, I see a woman who is truly confident—nothing like the 16-year-old me. I am so humbled I'm at a point in my life where I'm able to pass on the knowledge and advice to others who may be struggling with their confidence."
For those of us who do struggle with self-confidence (which, let's face it, is all of us to some degree), Marine has a powerful message: "Sometimes, we forget we have the option to love ourselves the way we are, and that beauty doesn't always need to be about your appearance. I want you to challenge yourself in the way you've always thought about beauty, and what beauty now means to you. Be kind to yourself, and don't be afraid of your insecurities, because they're not so scary after all." Challenge accepted.
All photos by Stevie Chris