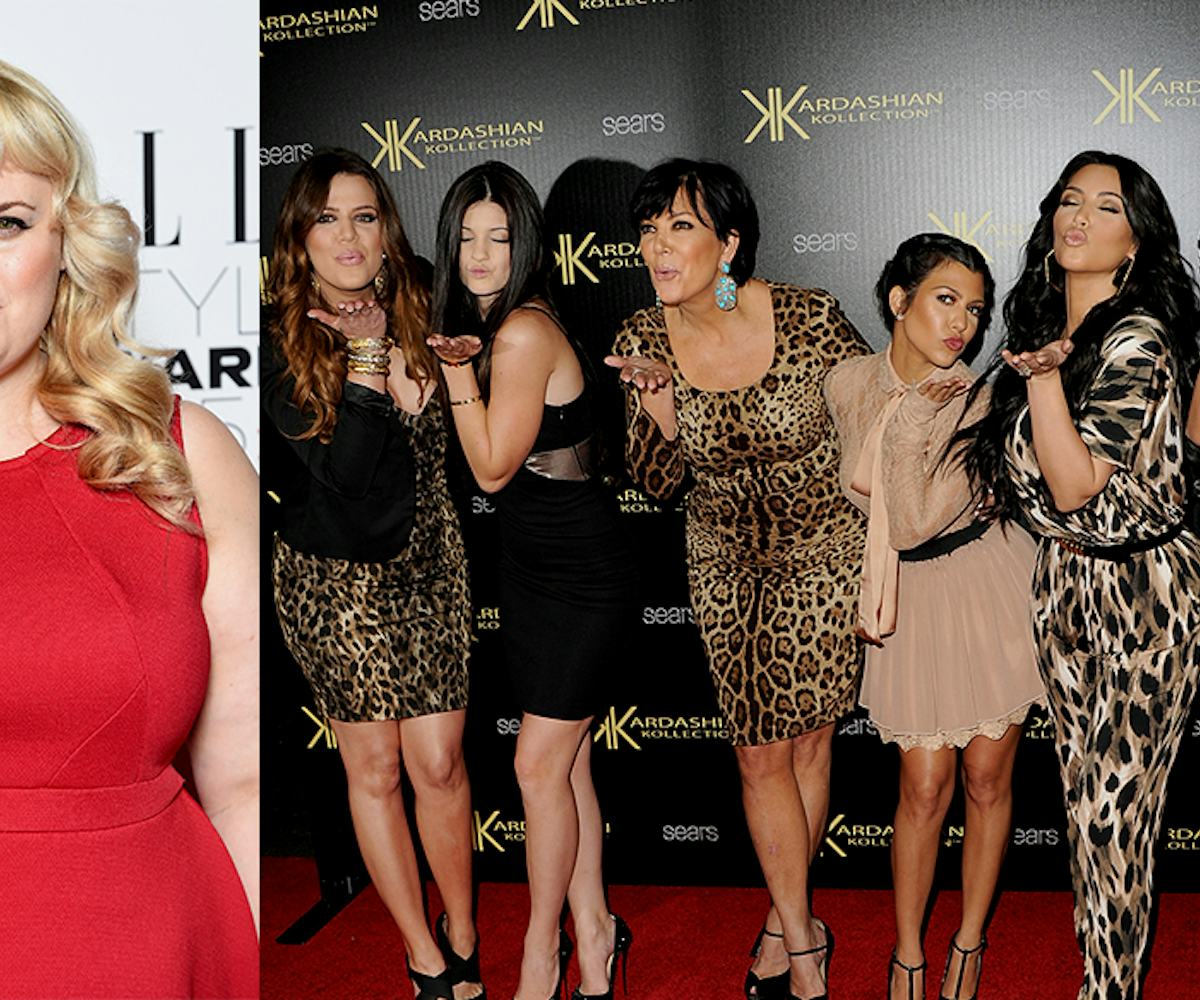 Photos by Gareth Cattermole and Jason Merritt/Getty Images
Rebel Wilson Calls Out The Jenners, Big Time
why she said "no" to appearing with them at the vmas.
You've got to respect Rebel Wilson for this, even if you don't necessarily agree with her. While chatting with the hosts over at Australia's KIIS FM, the Pitch Perfect actor and incredibly funny woman opened up on the Jenner/Kardashian clan with some harsh, but totally logical, words.
Revealing that MTV asked her to appear with the younger Jenners for a presentation during this year's VMAs, Wilson not only told the DJs she refused, but explained why in no uncertain terms.
"I got asked to present with Kendall and Kylie at the latest VMAs," she claimed, "but I said, 'No, I'd rather do it by myself.'" Interesting—but, wait, there's so much more. "What they stand for is totally against what I stand for. They seem a bit superficial and their careers aren't really based on talent." It's a rough and familiar judgement on the two, but also unusual coming out of a celeb's mouth.
To be clear, what Wilson stands for is acceptance of your own beauty, regardless of whether it falls into normative standards of how society thinks one should look. While the Jenners aren't exactly going around body-shaming people, they have drastically altered their appearances in order to fit into what they imagine the world expects of them and often do little more than show off the results. In this, Wilson's critique is a bit mean—one could also look at Kylie as a victim rather than a proponent of regressive beauty standards—but totally understandable. 
As for the "talent" part of Wilson's statement, she adds, "I know they're super popular, but I'm all about personality and working hard to get to where I am." She continued, "I mean, how Kim Kardashian got famous from the sex tape and I just went to acting school and worked really hard."
Again, this is harsh, particularly considering that—regardless of whether we like what they do—we know everyone in the Kardashian/Jenner brood works hard in their own way. Then again, coming from someone who's had to fight against expectations of how a woman in show business should act and look, it's 100-percent fair. 
While we don't like woman-on-women infighting and anyone critiquing anyone else on their choices (no matter what we happen to think of those choices), these shots Wilson takes are certainly worth a listen given her own, unique path to fame.
(Via People)