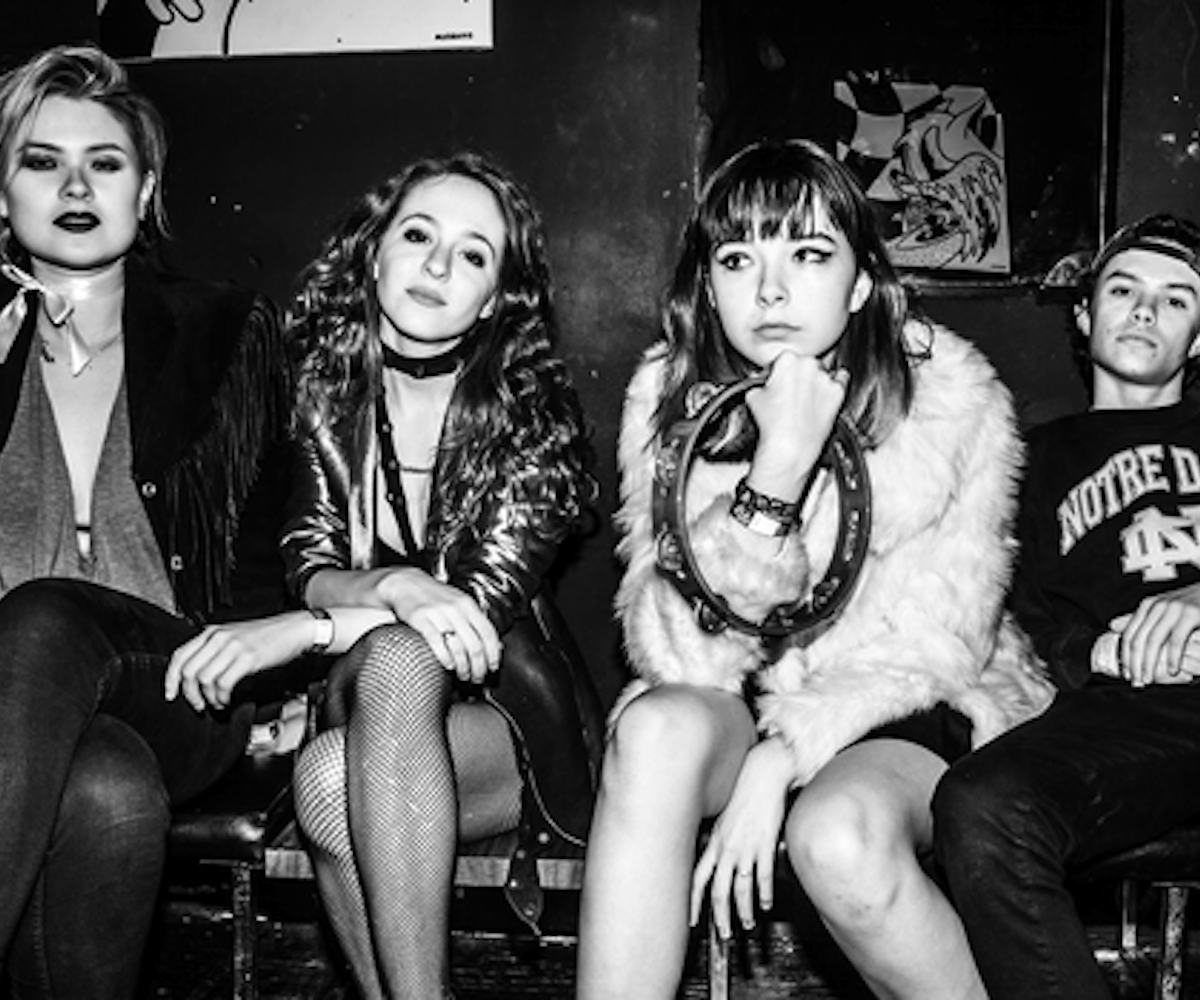 Photo courtesy of The Regrettes
'Feel Your Feelings Fool!' As The Regrettes Take You Track By Track
L.A.-based punk outfit The Regrettes aren't just good for their age. Ranging from ages 16 to 19, the young musicians reject the notion that their youth is what makes their talents impressive, and rightfully so. The band definitely isn't hesitating making themselves heard, having spent the last year on tour with Sleigh Bells and Tacocat. Following a handful of singles released in 2016 and contract with Warner Bros, today, fans can finally receive the full-length album, Feel Your Feelings Fool!, they've been craving. 
Lead singer, Lydia Night, pours her emotions into her songwriting, and the results are both empowering and timely. Their sound is reminiscent of punk acts that made waves decades prior, but Night's insight offers listeners a fresh, in-the-moment resurgence of feminist angst. The driving rhythms translate similarly both onstage and in the studio, bringing energy to each track. 
Night gave us a peek into the inspiration behind each track on the album. Dive in while you stream the whole record, below.
"I Don't Like You"
I wrote this song after I had a big crush on this boy, and the second he started liking me back, I wasn't into it at all. I felt really awful because I led him on not knowing how soon my feelings would change.
"A Living Human Girl"
This song was written mainly for myself to feel stronger and to start to believe I was lovable.
"Hey Now"
This one was written when I liked this guy but had no clue how to start a conversation with him or anything because I was so so so nervous.
"Hot"
This one is about the same guy as "I Don't Like You." Enough said.
"Seashore"
This one is dedicated to all the people I have encountered in my life who doubted me based on my age or gender.
"Juicebox Baby"   
I wrote this song when I was falling in love for the first time and constantly felt like running in circles and screaming [laughs].
"'Til Tomorrow"  
This song was written at a time where I liked this dude and wanted to tell him but couldn't figure out exactly how.
"Pale Skin"
This one is the most personal song on the record for me, and I don't feel comfortable saying what it's about, however, I will say it was written at a time of weakness and confusion, which I think comes across on the track.
"Lacy Loo"
Genessa [Gariano] and I wrote this one when we were visiting the Fender offices. It's just this totally random story we came up with that turned into something super cool.
"Head In The Clouds"
I wrote this song about someone who thinks they can get away with anything without consequence or anyone realizing it.
"How It Should Be"
This one is about that refreshing feeling you get after a breakup. After all the pain and suffering, of course.
"Picture Perfect"
I wrote this one about this chick who I went to school with who was super mean to people because she was so insecure and cared way too much about what others thought.
"Bronze"
I wrote this song during a fight with my best friend over the summer after freshman year. I thought I was losing her and was super scared, which then translated to anger.
"Ladylike / Whatta Bitch" 
Ladylike is something I wrote in the studio about the expectations that women constantly have to deal with. "Whatta Bitch" is a song that's making fun of myself before anyone else does.
"You Won't Do"
This one starts as a love song and then ends in a totally different way. I wrote this song about multiple situations I've had where I'm super into someone and then, as shit starts getting real, I'm over it.