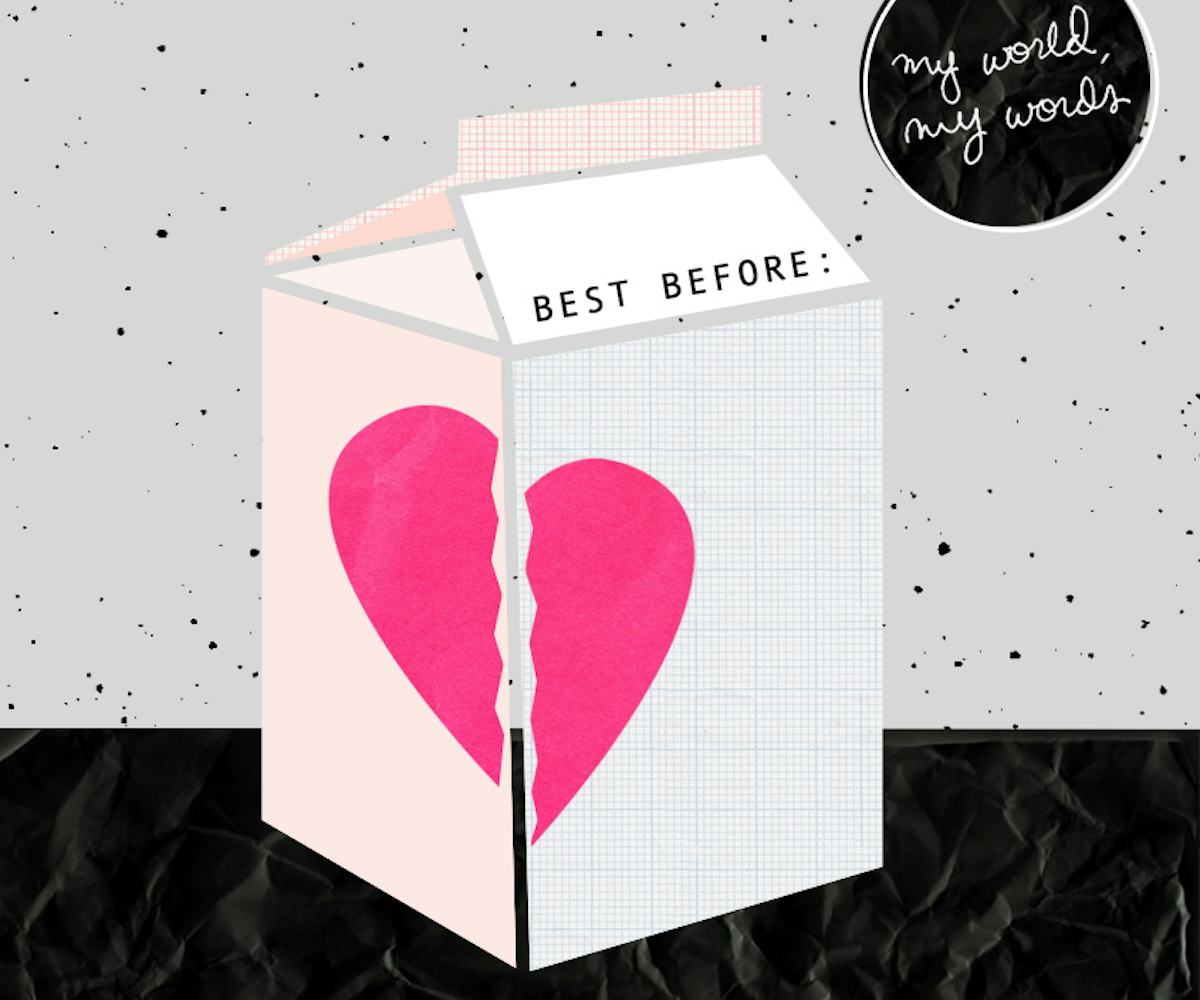 When Your Relationship Has An Expiration Date
It was laundry day—but that's a bad excuse. First dates usually involve fully intact pants. I met Matt* in a pair of old gardening jeans, a hole-dotted tee from my college radio stint, and skate shoes. We were both late, meeting close to 11:30 on a Tuesday night.
I'm not sure who found the other one first. But I know it went from casual Twitter, to slightly more personal Instagram, to mildly emo Tumblr, to "here's my aunt's thoughts on Clickhole." His rap references, posi outlook, and correct usage of the em-dash kinda enchanted me. Plus, let's be real: He was impossibly adorable with his top-buttoned cardigans and rosacea like a rosy-cheeked Emoji—an all-around babe.
I played dumb, leaning over my phone on the Megabus heading back to New York. I direct messaged him on Twitter at first mention of him actually being in the city for work. His media company footed airfare from L.A. and he was staying a few days. We made very nonchalant, loose, no pressure! plans early into his visit. I tried to pretend otherwise, but I was drunk with excitement.
The bartender seemed bored as hell and handed us free Jell-O shots. Matt and I played Beach Boys on the jukebox, shared deep feelings on Replacements' "Aching To Be," dissected why old-school punk and The Clash were so important to our teenage histories. We discovered that I saw his moderately popular band play in my Florida hometown years before and reveled in the irony. Our Bourbons and green gelatin globs disappeared. The dive prepared to shutter, but not without a final, group-binding shot with the barkeep and a boisterous regular.
I felt his hand steady my lower back en route to a second location. Maybe by accident? Maybe not? We paused in McGolrick Park to make cheerful observations and predictions for spring. The winter leading up to April almost broke me—winds howling on a daily mile-long hike to and from the train. Matt knew the drill well. He'd lived his whole life in the northeast and just happened to move from our then-shared neighborhood to the west coast only months before our Internet friendship ignited.
We arrived at the dark tavern just blocks from my place. The bartender who always spoke so candidly about his love life slid a Bud and Jack our way. David Bowie concert footage played all crackling and fuzzy above our heads as our bodies sat neatly tucked into the booth. Our charade thinned and soon we were skipping to my mouse-infested apartment, hand-in-hand.
After a very PG-13 evening, we dressed and walked to the train into the city together. I even lent him a freaking to-go coffee mug. Unspoken, immediately in sync, we moved like a practiced couple.
Between making out and flipping records the night before, we made an honesty pact. With most dating, as far as I can tell, there's at least a finite period I like to call the "aloof-off." Whoever shows investment or feelings or humanity immediately loses the upper hand. It's a garbage practice. Given his brief time frame before a westbound flight, we really had no time to be apathetic. We'd be openly excited, or frankly done. This continued for the week he visited, each night joyously abandoning his company's East Village Airbnb to share my squeaky bed and hot room in Brooklyn. I gave him a key our first morning together and he didn't knock after.
The hard-defined, upcoming departure date acted like a threaded needle punching careful stitches to bring us together quickly and harmoniously. It's easy to bliss wildly out when you know there's zero chance of ever having to surrender a moment of that bliss so you can work to smooth any friction. Friction can't happen in a handful of nights. He extended his trip by a week, transferring his books, razor, and clothes from the Airbnb to my shelf. We shared what ended up being a mutual secret: We'd both been passively crushing on each other via social media for months. He revealed each time he typed the letter "b" into his browser, it suggested my blog. I had similar secrets. We finally had sex. Sharing a glass of water after felt completely natural. The standard first-time sex nerves were totally nonexistent.
We had a final meal together his last night in town: Dinner at a swanky spot in Williamsburg—he insisted we take a cab "like grown-ups." We indulged in an endless array of hummus and cheese and Manhattans, and split the bill down the middle. I had hesitated on the cab call before—it was only a 20-minute walk, and I wasn't making much money at the time. I dodged most luxury expenses, but on the ride back I ended up paying. I volunteered out of courtesy, but he hastily accepted. It was a move typically warranting major points off any local suitor, but he was special.
The timeline screwed up my eyes to only see the adoring features. I made it impossible for Matt to be human—because humans have faults. He was a breathing, charming version of An Idea. An Idea who would take turns rapping Lil Wayne back-and-forth with me while we brushed our teeth together.
The morning came too early and washed Matt back out to the street to board a LaGuardia-bound car. I woke alone for the first time in days. I hated how easy it was to grow comfortable with his tawny, thin frame to cradle mine in slumber. I put a dress in a rolling bag, got a little stoned, and hailed my own ride to LaGuardia—but I was heading to Atlanta.
The honesty pact quietly died. With him back in Los Angeles and me still in Brooklyn, we barely talked. I'd occasionally send him boozy, pseudo-poetic text messages, explaining I was "pickled in Malbec," or something else requiring minor drafting. He'd respond warmly, but always brief. Once I Tweeted a sad joke about how no one would buy me tacos (a fairly safe expectation for any day, honestly), and my phone trumpeted a notification. "Matt just sent you $5.00 on PayPal." It was for tacos, he said.
We spoke on the phone just once. I trekked north and west at the last lip of ice during the spring. During pauses in our conversation, I could actually hear the snow melting. He described T-shirts and picnics and I explained how to make quinoa. After climbing a particularly steep hill, he accidentally helped convince me to leave New York. "Why not choose adventure?" he asked. One simple question solved a much more tangled one previously looming over my head. A few months later, I loaded a truck for Atlanta and left.
After my move, our interactions waned to include only the very rare Instagram like or Twitter mention. I sometimes replied to his daily TinyLetter, maybe if there was a stand-out photo included or I happened to also be enjoying a song he mentioned. But that was it. When I bought a ticket to Los Angeles to see another friend, I felt obligated to tell him—even though at this point it had been almost a full year since our first and last time meeting. I had very low expectations.
Matt was late and I was nervous, killing time in a park down the road from the apartment where I was staying in the suburbs. I passed minutes with a borrowed novel, trying hard to ignore the pools of sweat growing beneath my thighs on the hot metal bench. Some older men huddled around a chessboard, arguing in Armenian, as I crossed the turf towards his parked hybrid car. "It's like seeing a ghost," he said, giving me a guarded hug as we stood in the road.
At this point, I had a boyfriend. A nice man I met at a secret Santa vinyl swap party. A man with whom I felt stable. I was not trying to rekindle anything with Matt—I suppose it was curiosity above all else driving me to even reach out about my visit. We shared tacos and conversation, and I felt like someone flipped the light on in a very dim room. He was disinterested, meeting with me for mysterious reasons (perhaps guilt or an attempt to be polite), and not especially accommodating. I didn't expected more, or less…or anything. I felt like this was a stark, almost scientific way of laying out his persona along a blanket splayed directly in a patch of Echo Park shade. Matt wasn't a bad guy, he just also wasn't great. But, fault is human. I'm sure I did no magic of my own on him, either. Reality meant I was no enchantress. Prior to this second interaction, despite all suspicions otherwise, he was exactly that—An Idea. A human forgets he has your college radio station shirt for a full year and never returns it. A human doesn't make much an effort to initiate texts or hold eye contact for long. A human wears shades.
We had fun during our time in New York because of the looming expiration date (a "sexpiration date," I later joked to a friend). We were probably best off cutting contact as to not risk any bad feelings or harm, otherwise. It's the beauty of the date. And because of the date, it forced us to be candid. We got to really indulge in and enjoy the manic enthusiasm we experience when we meet someone who got us stoked. Instead of wasting time protecting our egos and feelings, we got to emote in a very raw way. Perhaps not entirely definitive—but absolutely authentic. It wasn't a lasting feeling, but during that time, I 100 percent loved Matt in a very deep, precociously tender way.
But as I grew sticky under the creeping California sun a year later, I became aware of my short dress keeping important parts covered, how he took me to his apartment for five minutes and seemingly no reason, his convenient enclave of acquaintances descending during our lounge. Matt dodged any minor probing at depths, keeping all subject matter light and inconsequential. It was fine, and when we parted, I hugged him and his other visiting friend who showed up at one point for an equal 0.5 seconds.
I crossed the street away from his blanket and felt no compulsion to toss up a courtesy wave when boarding another friend's car. The whole experience seeing him again didn't make me have less respect for him. It didn't rattle my appreciation for what he meant to me in those moments teasing about holes in my tights in my toasty Brooklyn bedroom. Or quietly holding hands on the L train keeping our brown eyes locked on each other. None of that is devalued by the fact we probably would have never had a lasting relationship anyway, even if given the time. It taught me love is done best when acting as if there's not much time. Affection is nice, honesty is necessary, and acting cool is bunk.
Sexpiration dating is great for what it is, but it's not sustainable. My current boyfriend and I have to work hard to smooth wrinkles since there isn't a defined expiration looming on the horizon to effectively steam out any imperfections. Learning to love like hell even though you don't know what's going to happen is an important lesson. Because there's a certain comfort in not knowing.
*Not his real name.