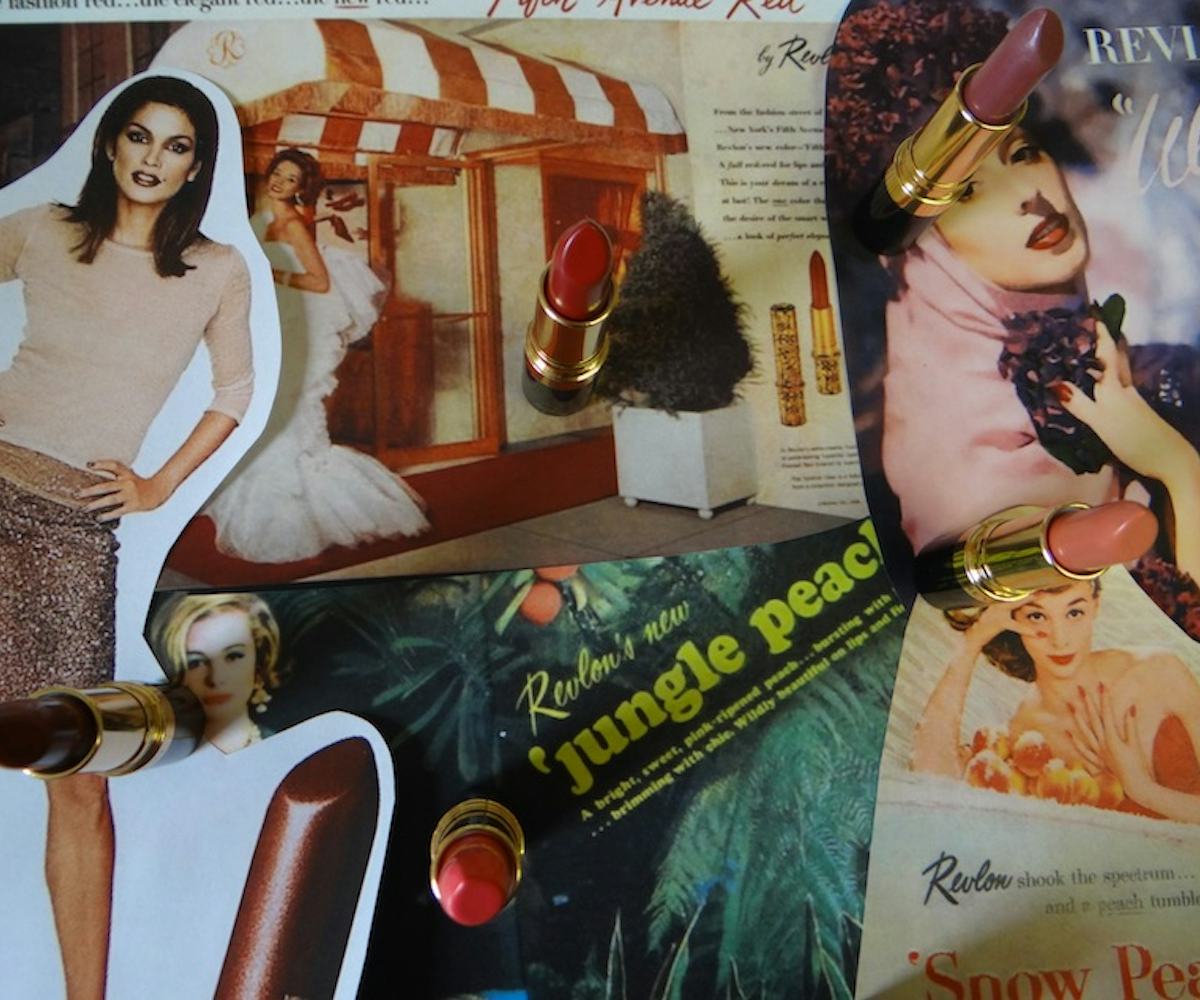 photo by jade taylor
mouthing off
to celebrate revlon's legacy collections, the best lipstick icons ever.
As an avid collector of vintage makeup (I know this sounds gross, but obviously I don't use them), my heart soared when I found out that Revlon was re-releasing a Legacy Collection. It features five shades the company created from 1946-1999, wrapped up in brand new 2014 packaging so, you know, I can actually wear them without getting some kind of freaky disease.
Released in 1946, the eldest shade from the collection is Icy Violet, an opaque formula that beams with lavender frosts and undertones of plum, much like its name implies. The next two colors, released two years apart from each other, Snow Peach (1956) and Fifth Avenue Red (1958) may arguably be the most iconic from the collection--especially since shades of peach and red lipsticks dominated the entire decade. Not to mention, they allowed women to wear bright colors without any negative connotations attached to them, and truly embodied the word "glamour" in the most authentic way possible.
The next color released, Jungle Peach (1963), is similar to Snow Peach in that they're both poppy peach hues, but Jungle Peach has more brown undertones, while Snow Peach boasts more coral. Last but not least is Sandstorm (1999), the definitive '90s brown hue seen on everyone during the grunge decade (fun fact: Cindy Crawford was the model in the campaign for this lipstick). I don't know this for certain, but I'm willing to bet money it's the same lipstick color Mena Suvari wears in American Beauty (which by the way, was also released in 1999).
So, what are you waiting for? Go to your local drugstore and pick up all five shades while they're still available for purchase, and click below for a gallery of my favorite babes from the years 1946, 1956, 1958, 1963, and 1999 for some swoon-worthy beauty inspiration.
Revlon Legacy Collection
Jeanne Crain, 1946
Lauren Bacall, 1946
Martha Vickers, 1946
Susan Hayward, 1946
Virginia Mayo, 1946
Brigitte Bardot, 1956
Eartha Kitt, 1956
Grace Kelly, 1956
Joan Crawford, 1956
Marilyn Monroe, 1956
Maria Callas, 1958
Martha Hyer, 1958
Model, 1958
Peggy Lee, 1958
Shirley Temple, 1958
Beth Campbell, 1963
Elizabeth Taylor, 1963
Jayne Mansfield, 1963
Tippi Hedren, 1963
Tracy Reed, 1963
Britney Spears, 1999
Courtney Love, 1999
Kate Moss, 1999
Lil Kim, 1999
Winona Ryder, 1999