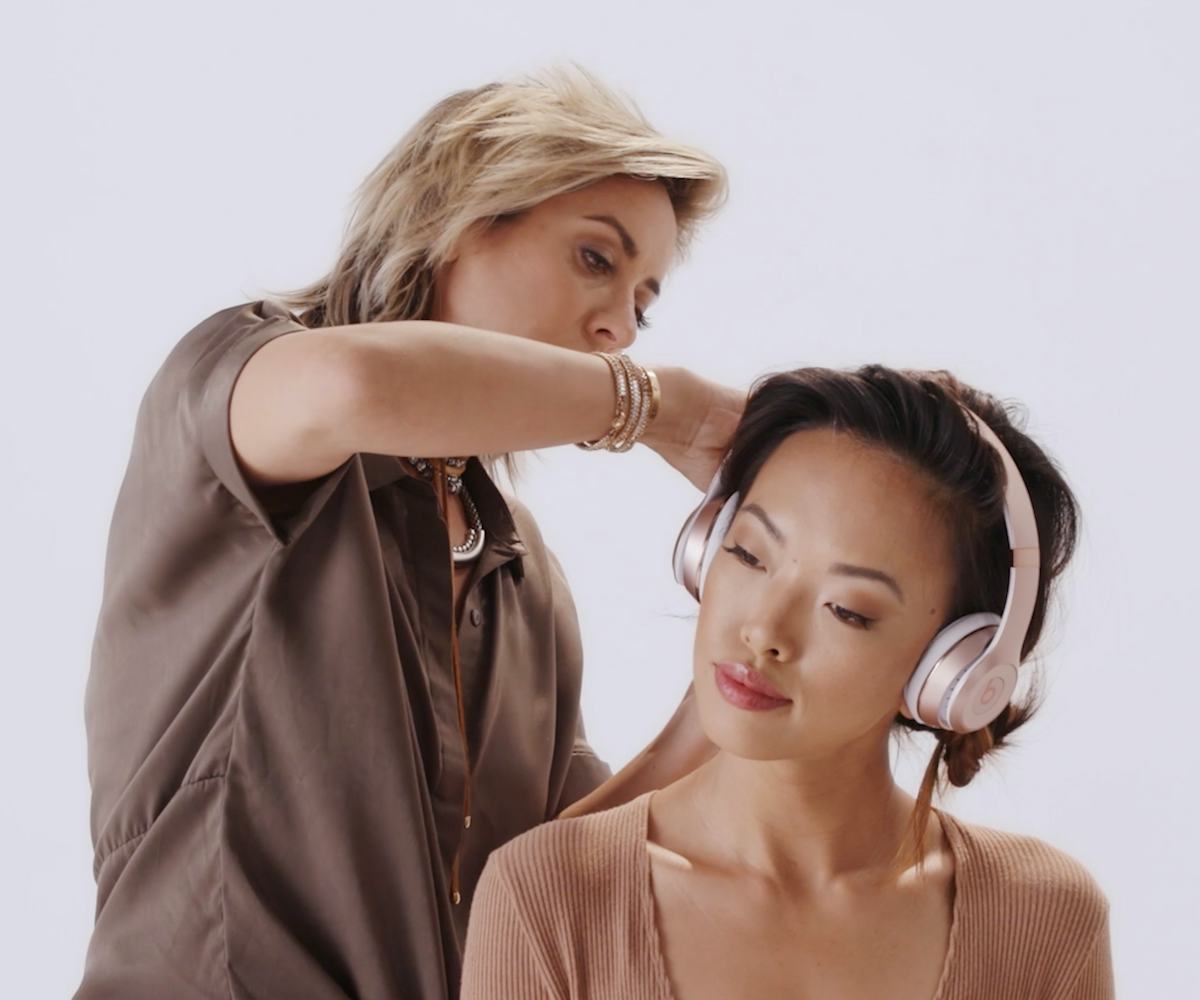 Photo courtesy of Beats
3 Surefire Ways To Pull Off Flawless Headphone Hair
Brought to you by celeb hairstylist Riawna Capri and Beats
Now that the iPhone 7 is here, we more than likely have found ourselves all in a tizzy searching for the best wireless headphones. However, what we need to keep in mind are hairstyles that help accent our new tech accessories.
Headphones should be treated like any other hair accessory, such as a cute headband or barrette, and therefore styled accordingly. Thankfully, celeb hairstylist extraordinaire Riawna Capri, responsible for the 'dos of Jennifer Lawrence, Selena Gomez, Demi Lovato, and more, is here to save the day. She teamed up with Beats by Dre to come up with three solid hairstyles that make wearing your headphones a statement, rather than a hassle. 
"I'm always listening to music on the go, as are many other people, making headphone hair an actual thing—like bedhead or hat hair," says Capri. "We wanted to create hairstyles where the headphones actually work for you, and not against you and your hair. Each style was inspired by situations where we wear headphones and experience headphone hair the most: while traveling, working out, and heading to a party." 
The looks that Capri dreamed up are easy to recreate at home by yourself—incorporating everything from textured curls and crimped waves to twisted-up knots and updated braids. "There are barely any tools or products needed—simply finish each look with your favorite hairspray, and it's ready to go!" 
Count us in. Click through the gallery below to read more about each look, and watch the tutorial.
For Travel: "The Jet Set"
When you have a long plane or bus ride ahead of you, what other way to pass the time than to listen to your favorite playlist (over and over again)? When you're busy traveling and want to avoid flat, messy hair, Capri created the ultimate look, inspired by loose knots with a modern twist.
Capri utilized the Solo3 Wireless headphones as a tool to set the hair, so once you arrive at your destination, you'll have beautiful and voluminous cascading waves—perfect for when you have to head straight from the plane to an event. 
Watch the tutorial, below.
Beats, Beats Solo3 Wireless On-Ear Headphones, $299.95, available at Apple.
For Your Workout: "The Circuit Braid"
As we all know, music that gets us pumped up will ultimately make a rigorous workout feel less strenuous. But after an intense workout, how can one manage to keep their hair looking good—especially if they have errands to run post-workout? 
Capri created an active hairstyle called "The Circuit Braid," inspired by French braids, and paired it with Powerbeats3 Wireless. Not only does this look sweat-proof your hair, but it keeps it nice and secure, so you're free to concentrate on your moves. 
And don't worry, Capri ensures that you can recreate this style at home, even if you don't know how to French braid. Check out the tutorial, below.
Beats, Powerbeats3 Wireless Earphones, $199.95, available at Apple.
For All Those Holiday Parties: "The Knotted Threesome"
We all know the best way to get ourselves amped up for a killer party is to listen to our favorite songs beforehand. But, the pregame doesn't have to stop at dancing in front of your bedroom mirror. What about while on the subway, or even as you walk up to the door?
"Everyone wants to listen to music on the way to the party, but doesn't know what to do with their headphones once they arrive," says Capri. In this case, Capri created the perfect party hairstyle and paired it with BeatsX, which are is the easiest accessory to take with you wherever you go. She added triple knots to an otherwise simple half-up do to create a feminine and elegant look.
Check out the tutorial, below.
Beats, BeatsX, $149.95, available at Apple.