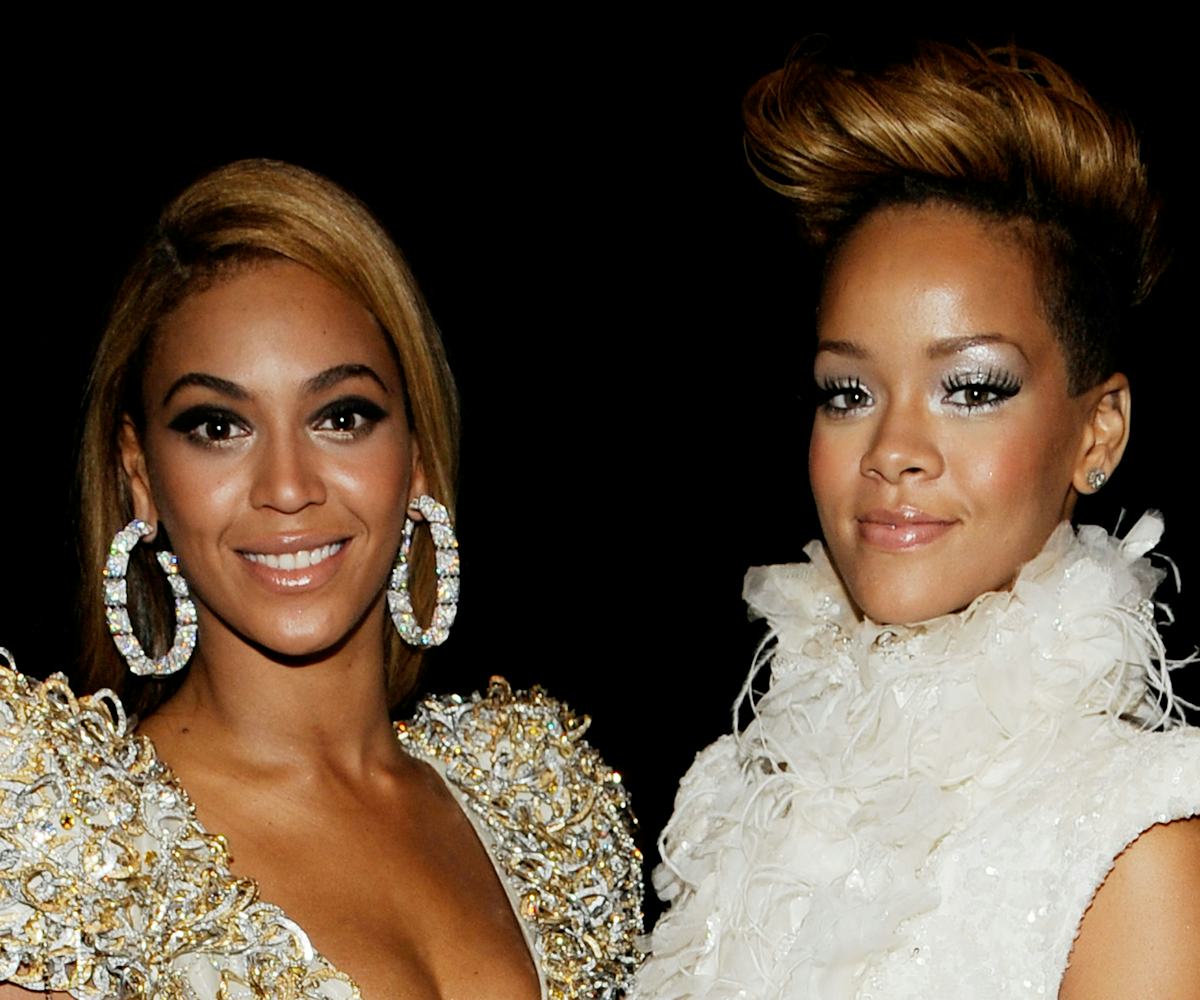 Photo courtesy of Larry Busacca / Getty images
Rihanna Wants Us All To Know That She's Totally Cool With Beyoncé
"We don't need to be putting black women against each other!"
Despite earning a whopping eight Grammy nods for her hugely acclaimed opus ANTI, some factions of RiRi's Navy took issue with the fact that it wasn't nominated for Album of The Year. One fan went so far as uploading an Instagram implying that the reason Rihanna was snubbed for the top honor was because the academy didn't want her having more nominations than Beyoncé, who led all artists with nine.
"F*ck them because they snubbed her … I think they didn't want her tied or passing someone else *cough cough*," the user wrote. The post had gone virtually unnoticed until Rihanna basically sparked an international interest by "liking" it. Just like that, conspiracy theories of a Rihanna vs. Beyoncé feud flooded the internet; because, you know, 2016 wasn't bad enough already. 
But before you go out and get your "Team Bey" or "Team Riri" tees silk screened, Rihanna decided to put an end to all the noise. The singer returned to the scene of the crime to make her feelings known about the supposed feud. "I wish y'all would drop this topic and see things from the bigger picture!" she wrote in the photo's comment section. "We don't need to be putting black women against each other! We deserve to be celebrated, and the Grammy Academy agrees!" She added that she "never actually read" the caption of the original photo and that she "thought the pic was funny and moved right along! I'm petty af, yes. But this is just unnecessary!"  
Rumors of a clash between Beyoncé and Rihanna are nothing new, despite Rihanna's repeated efforts to dispel any such myth. "Here's the deal," Rihanna said to Vogue about the apparent feud back in March. "They just get so excited to feast on something that's negative. Something that's competitive. Something that's, you know, a rivalry. And that's just not what I wake up to. Because I can only do me. And nobody else is going to be able to do that."
And while we certainly believe Rihanna that there is no beef between her and Bey, they should still give us a single collaborative song just to put the rumors to rest once and for all, and break the internet while doing it.