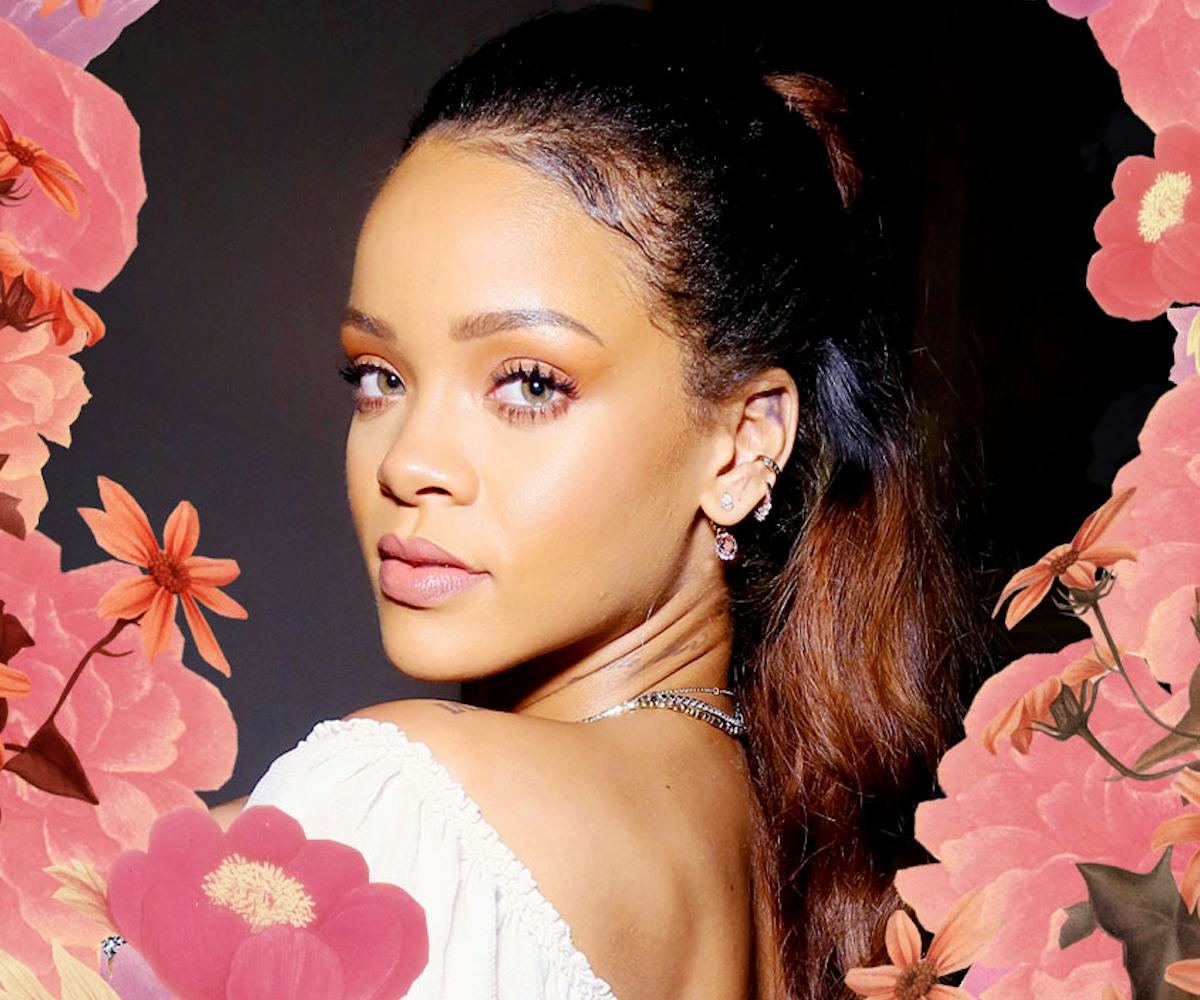 Pascal Le Segretain / Getty Images
Rihanna Is The Embodiment Of A Confident Woman In 2015
"girls are settling…but I won't. i will wait forever if i have to."
In 2015, the push for *~*~*love of thyself *~*~* has become extremely relevant. When Rihanna, carefree princess of the universe, takes a stand against casual sex and commiting to staying single for the purpose of maintaing self-respect, that means something. In her most recent cover story for Vanity Fair, Rihanna opened up about a lot of things pertaining to her love life (or lack thereof): "I'm fine being with myself. I don't want to really let anybody in," she said. After putting an end to her three-year, high-profile relationship with Chris Brown in 2012, Rihanna has been completely focused on building herself up. 
Today, she stands before us as a strong, independent woman who's more confident than ever. She doesn't need a man because she has her friends and family to support her, and that concept is sort of revolutionary. No, Rihanna isn't the first woman on the planet to push back against the pressures of dating in the 21st Century, but it's inspiring to watch a woman of her status blossom on her own after being broken down to a point that many struggle to come back from. It's admirable that she recovered from a toxic, abusive relationship and is now living a healthier lifestyle by her own standards. Furthermore, it's a testament to the evolution of the modern-day woman in 2015.
While Rihanna has been spotted with a few men over the years like Drake, Leonardo DiCaprio, and Travis Scott, she has not been officially claimed by any man (with the exception of baseball player Matt Kemp). When Rihanna breaks it down for us, it's clear that this is all a part of her internal strategy to protect her heart: "[Men] won't be a gentleman because that makes them appear soft," said Rihanna. "That's what we're dealing with now, a hundred percent, and girls are settling for that, but I won't. I will wait forever if I have to…but that's okay." 
The most infamous quote from Stephen Chbosky's The Perks of Being a Wallflower is "We accept the love we think we deserve," but it's incredibly true. At the age of 27, Rihanna knows what she deserves and she's not willing to compromise that for anyone until she gets it. We currently live in a society dominated by hookup culture—we can resort to seeding out our romantic options with the swipe of a finger on an app, and we can find out everything we need to know about someone via URL before we ever meet them IRL. Rihrih continues:
"You have to be screwed over enough times to know, but now I'm hoping for more than these guys can actually give," said Rihanna. "That's why I haven't been having sex or even really seeing anybody because I don't want to wake up the next day feeling guilty. I mean, I get horny, I'm human, I'm a woman, I want to have sex. But what am I going to do—just find the first random cute dude that I think is going to be a great ride for the night and then tomorrow I wake up feeling empty and hollow? He has a great story and I'm like…what am I doing? I can't do it to myself. I cannot. It has a little bit to do with fame and a lot to do with the woman that I am. And that saves me." 
Whether we like it or not, casual sex is the norm now, but Rihanna doesn't want to be part of that charade anymore. In the long run, it doesn't leave her feeling satisfied or fulfilled, and she's definitely not the only one out there that feels this way. "If I wanted to, I would completely do that," she said. "I am going to do what makes me feel happy, what I feel like doing. But that would be empty for me; that to me is a hollow move. I would wake up the next day feeling like shit. When you love somebody, that's different. Even if you don't love them per se, when you care enough about somebody and you know that they care about you, then you know they don't disrespect you. And it's about my own respect for myself."
These words are spoken by Rihanna, but they echo so many women today who have adapted the practices of self-love and self-care into their everyday lives. This movement comes from the realization that nobody needs a significant other to complete them. Rihanna wants to be with someone who is loyal and patient. The idea of being in a relationship right now legitimately scares her, but she has faith that someone extraordinary will come into her life someday.
Rihanna is truly living her best life, and in a spiritual sense, we need to get on her level.