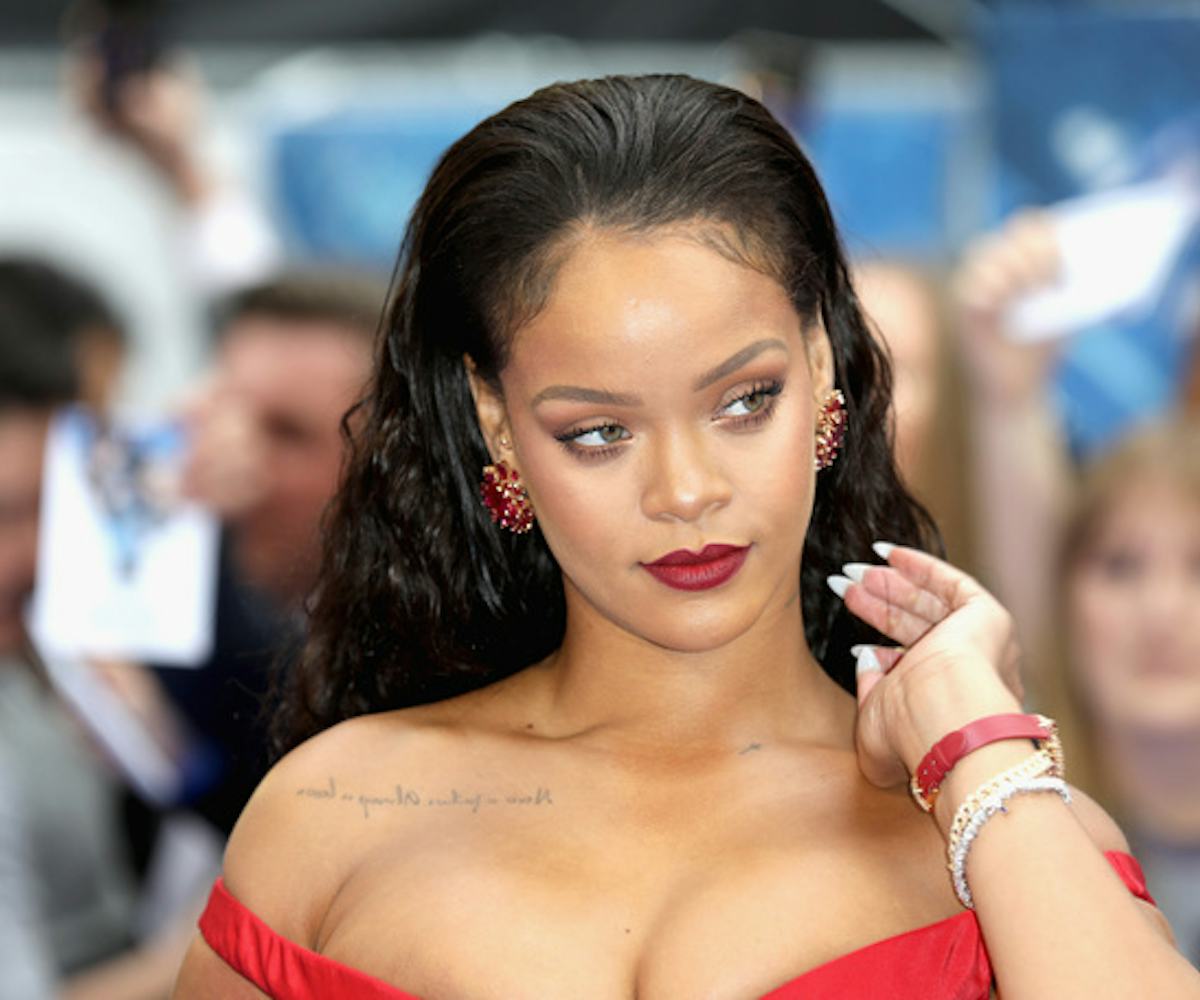 Photo by Tim P. Whitby/Getty Images
Here's Why Rihanna Will Not Collaborate With Diplo
Rihanna doesn't give a phuck if her name isn't attached to the most streamed song in the world. According to a new GQ Style interview with producer Diplo, she passed on "Lean On" for one simple reason: She "[doesn't] do house music." This is yet another example of major producers pitching Rihanna songs that are not very Rihanna.
It's no secret that the vast majority of Rihanna's (and any major pop star aside from, say, Lady Gaga) hits are shopped around to her. Songwriters write songs with a particular artist in mind, send it over with the hopes they're right, and wait for a response. Sia's album, This Is Acting, is filled with all the songs that have been rejected by the artists she wrote them for, lifting the veil on one aspect of the music industry. One song in particular, "Cheap Thrills," Sia says, was written for Rihanna at the request for another "Diamonds" from Rih's team. Had "Cheap Thrills" been pitched during Rihanna's Unapologetic era (2012 to 2014), the whole vibe would have aligned. Rihanna, however, had moved on from that sound when "Cheap Thrills" was born as we learned from 2016's Anti, an album that's light on the bops and heavy on the chill. (Sia believes it was "too Brit-pop" for her.)
In 2014, Grimes revealed that "Go" was originally written for Rihanna, who ultimately turned it down. While "Go" goes hard, it's too EDM for the singer who, yes, has had EDM-inspired hits in the past ("Only Girl In The World," "Where Have You Been?" "We Found Love," "This Is What You Came For"). Again, consider where Rihanna is in her artistic journey! 
Diplo, desperate to get Rihanna on a track of his and/or Major Lazer's, tells GQ Style that, after she passed on "Lean On," he played her "like, 700 songs" with Future. And what did Rihanna have to say about all that music? "This sounds like a reggae song at an airport." The shade. 
Lesson to learn: Dear producers, know who Rihanna is before pitching her music. Also, keep up with Rihanna. She's always a few steps ahead of the game. Anti is an album that keeps on giving—even after a year of listening to on repeat. Build off of that, consider why she's been linking up with Kanye West and Kendrick Lamar, and pitch again.