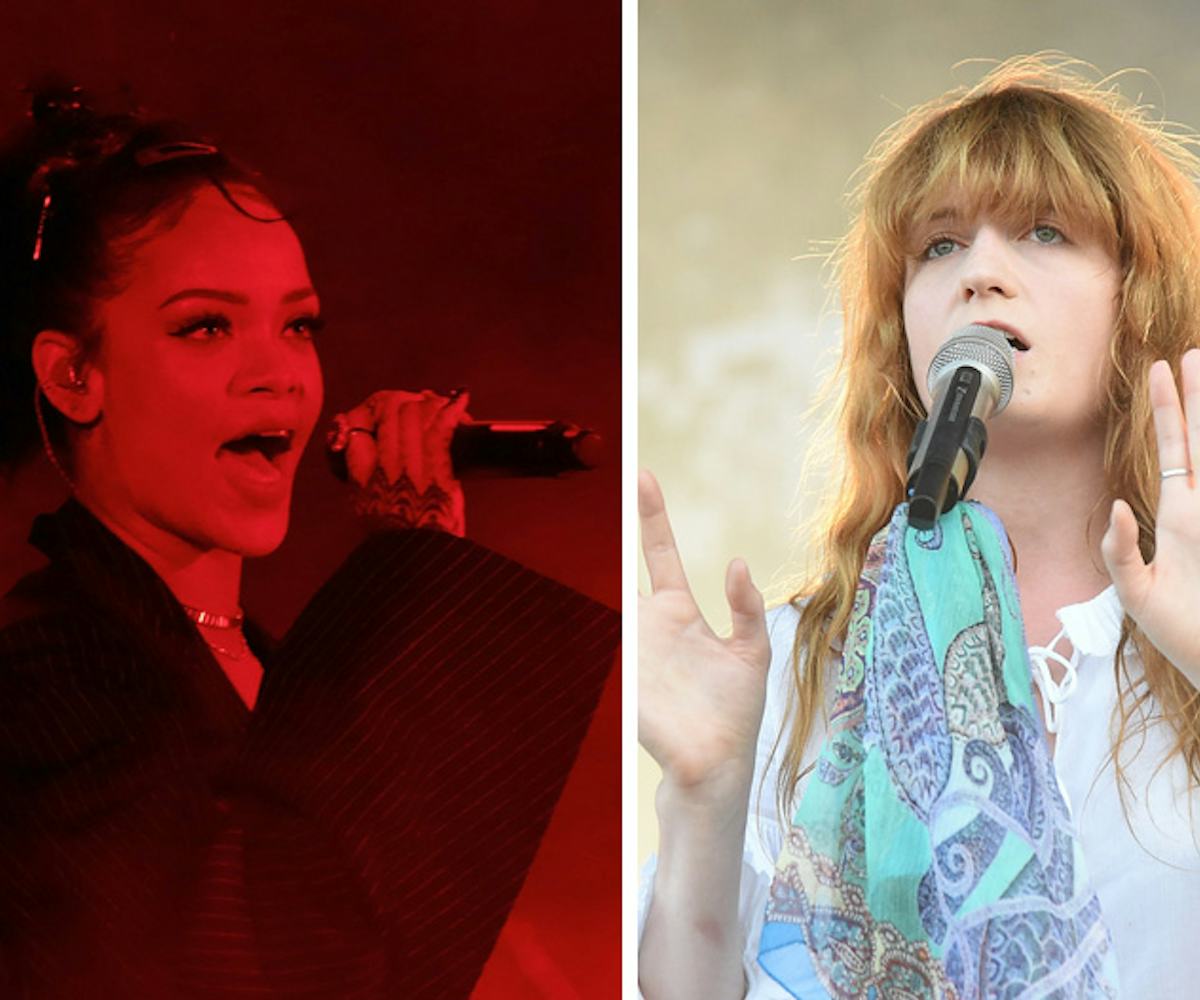 Photos by Christopher Polk/Getty Images for CBS Radio Inc.; Jason Merritt/Getty Images.
Rihanna's Duet With Florence + The Machine May Surprise You
hint: it's not called "only if for a night"
The lead-up to the release of Rihanna's eighth studio album was tricky, to say the least. Between fake track lists, a triad of singles that never wound up on the actual album, and the word "soon" being thrown around ad nauseam, it was anyone's guess as to what form the project would take on. When ANTI finally dropped this week, there was one song omission in particular that confused a few.
Where was Rihanna's song with Florence + the Machine? 
Rih had teased the track in her history-making Dior campaign video; it was a remix of Florence's 2011 song "Only If For A Night." Many speculated it would be included on ANTI's deluxe version when that dropped today, January 29, since it didn't appear on the original. Of the three additional tracks that hit iTunes and Tidal, however, none of them were "Only If For A Night." Turns out "OIFAN" changed names last minute to "Goodnight Gotham," and like the album itself, it's not the song people expected.
"Goodnight Gotham" doesn't feature Rihanna at all. It's a minute-and-a-half of a chopped-up Florence + the Machine. It should go without saying that Twitter divided itself on its appreciation for the track. For what it's worth, "Goodnight Gotham" is a fabulous remix: cinematic and a bit sinister. But where's that Rihanna glitter? Mitus, the producer of the song, explained on Twitter that "Goodnight Gotham" was supposed to open ANTI. "To my knowledge, 'Gotham' opens the tour, tho," he tweeted. Mitus went on to say that there was talk of making it full song, "but it never happened." 
Such drama. The making of ANTI would be great fodder for a memoir because these behind the scenes revelations are utterly fascinating. 
ANTI and its deluxe version are available on Tidal and iTunes now.