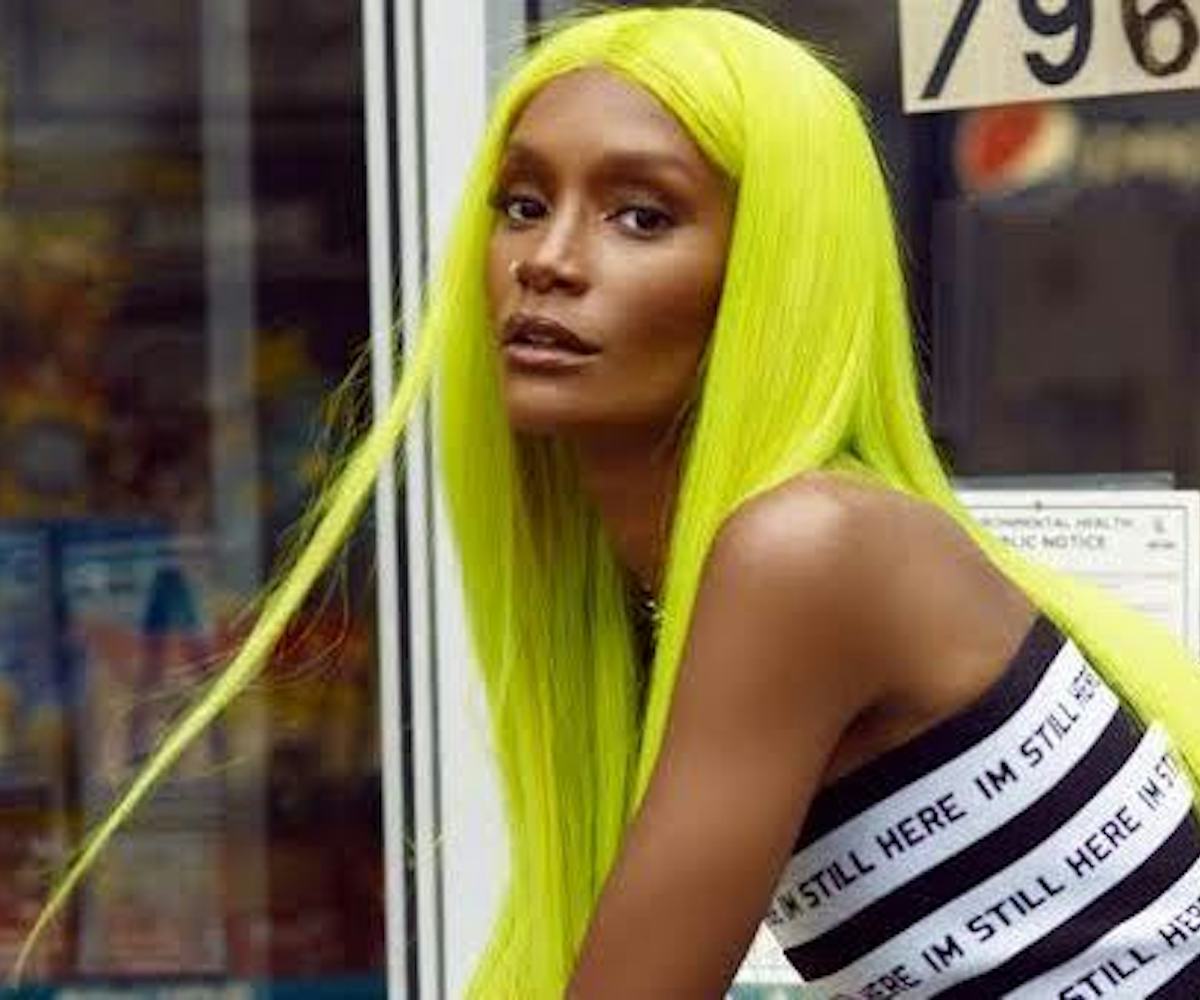 Photo By Troy Mattison.
How A Goth, Paramore-Loving Space Fairy Found A Mentor In Paris Hilton
Meet RIIOTTT, one of the stars of 'Hollywood Love Story'
Instagram can be a strange place, and no one knows that better than musician-model RIIOTTT. One of the aspiring stars whose journey is documented on VICELAND's new show Hollywood Love Story, RIIOTTT says Instagram—and the show—has proven to be the opportunity of a lifetime. Narrated and produced by none other than O.G. online star, Paris Hilton, Hollywood Love Storyhas been billed as an exploration into the turbulent and, oftentimes, dark world of social media stardom—and RIIOTTT is just one of several L.A.-based artists, sugar babies, and models whose IRL life gets the deep-dive treatment.
Telling NYLON that she was "a big part of why the show was even picked up," RIIOTTT's episode, which was posted in full earlier this month, was chosen to act as a teaser for the entire show—perhaps because it's so wild. And while she's been basking in the love she's received in the weeks since she was introduced to the public, she admits that her appearance on the show has also stirred up a lot of negativity. 
Then again, RIIOTTT's used to being the most polarizing person in a room. Taking her name from Paramore's sophomore album, RIIOTTT's journey began in Queens, New York. As her former roommate @flashniper explains at the beginning of her episode, RIIOTTT was never afraid to be different, even though "to be in the hood and gothic" was definitely "not a thing." In fact, it was something she believed made her better suited for L.A., where she's begun to make "space-y alien pop music." 
We spoke to the fascinating figure about Hilton, her new EP (out July 13), and what she hopes to achieve with the show. Watch RIIOTTT's video for "Fuckboy" and read our Q&A with her, below. 
Let's talk a little about your music. What sort of topics did you want to address with your new EP?The EP is self-titled because it's my first one. I want people to get to know my name more, so they could get familiar with it. The theme of it is basically my whole… galactic fairy goddess kind of situation. But I also wanted to showcase that I do know how to not only make space-y alien pop music but that I can also do R&B and earthy stuff. So half of it is more "out of this world," and the other half is like R&B and hip-hop. That's the EP, [which I hope gets people] familiar with my brand as more galactic and space-y… I don't think they even had a name for [the stuff I was making before], honestly. 
Tell me a little bit about the show and how you got involved. I met this girl, Kitty, on Instagram, and she's a clothing designer. She hit me up asking me to model for her clothes, and I did. Then a couple months later she wrote me and was like, "One of my friends [at Vice], they're pitching for this new show. Would you be interested? It's about famous L.A. kids on the rise." I'm the only artist on the show. There's a designer. There's a girl that's battling with mental illness. It kind of touches a lot of different, major personalities that you would find in L.A.—or anywhere really. But it's a documentary. My episodes are about my struggle. I wanted it to be as raw as possible because I wanted to inspire [people]. I wanted them to see me sleeping on floors, not having any money, not knowing how I'm gonna pay my bills. But, [at the same time], I'm also doing the show and recording in the studio and having meetings. Like, there are struggles and blessings at the same time. 
Vice put up your entire episode ahead of time on YouTube—why do you think they did that? Do you have more episodes coming? 
I recorded so much more, so I don't know how they're doing it. I want to talk to someone from the show, because I heard that I was a big part of why the show was even picked up... so I was one of the first people to film for the show. 
I really don't know what they're doing, but I'm looking at it as a godly, divine thing, and this is my time. But I don't know why [they put it up early] on YouTube. I kind of wanted people to wait to watch it because I was working around that date, but it's cool because people are starting to get acquainted with who I am as a person and an artist. Obviously, I'm getting love and hate at the same time. But I'm getting so much love and so many Instagram messages from people saying I inspire them. And that's why I'm doing it. I wanted people to see that you don't have to have a plan. Like, I came here with nothing. And now I'm in a position where I can tell my story and help people that want to do music or have a dream. But they may be afraid and they don't know how to start. 
Speaking of hate, I was looking at the comments on YouTube, and there was a lot of negativity. It's so crazy because I have this personal relationship with God and he was saying to me, "The people that are inspired and that are genuinely happy for you, they will personally write you and tell you that." [But] comments are a playground for negativity. It's just like an open door for people to just bash you and say whatever they want. I shouldn't have read the comments, but I was curious. 
People have been writing me saying good things, but that's normally how it goes. Like, they will personally write you and if not then they'll say some shitty things in the comments. That's how life is, but I think some people are getting the wrong impression of me. But I wasn't expecting a 1000 percent positivity. Like, I want to touch people, and even if it's 5 percent of people, I just want to inspire somebody. I want somebody to get off their butt and say, "You know what I could do this. RIIOTTT did it with nothing." If I could do that, at least I'm happy. Regardless, people are still watching. They're still tuned in. But people are entitled to their own opinions, I'm not gonna argue with someone because they don't like my style or my music or they think I'm crazy. That's okay, you know, we're all different people. I can't argue with you about that. That's your perspective. 
Were you nervous to leave your personal story in the hands of someone else for this process? Was it scary to give control of your narrative to the show's producers?  To be honest, this is my first time doing television, so I didn't even think about that. I thought about it in a way where I already knew that it wouldn't be 100 percent authentic. I mean, to be honest with you, they didn't really do too much to it... 
But to answer your question, no. I was not, because I feel like people are gonna be drawn to what's real. And they're gonna be drawn to whatever, wherever they are mentally in their lives, they will attach to that. So it's like real recognizes real regardless of [a show] or not. The show for me was a platform. I was destined to do this in my life. [Music] has been my dream, so the show is not gonna make or break me. If anything, it's just putting me in a position to expand and for more people to know who RIIOTTT is as a person and an artist. The show doesn't define who I am as a whole person, but it does tell my story. But I do think I have one of the most interesting stories in the show, because it's so raw and… every single thing that happened on the show was happening in my life. When I was pissed off, when I was mad, when I was sad—all that was really, really, really going on. That was all real emotion, and that's how I wanted it to be. But that's how I knew it was meant to be, because it wasn't staged. I was really moving out, I was really sad, I really didn't have a crowd [at my show]. I really was going through things with my roommate, they really didn't come to my show. Like, it was just real-life things that were actually happening but ended up being filmed, and that's why it's gonna be so so dope. People are gonna feel that realness, and that's why it's gonna be such a talked-about thing.
Did you get to interact with Paris at all? The structure of the show seems to separate all of you. I found out that she was narrating the show… because she followed me. I was shooting, and I was like, "Oh my god, Paris Hilton just followed me." And I wanted to know why—like, that's so random. So I wrote her, and I was just like, "Hi, Paris," and then she was like, "Hey RIIOTTT," and told me that she was in the studio doing voice-overs for my episodes. I was like, "Wow, I had no idea you were even on the show." Then she would just give me advice like, "Keep going, you're so entertaining." But when I first started filming, they didn't say anything about Paris Hilton at all. 
She would text you advice? Not text, just on Instagram. I still have the messages, because, at the time, I was actually leaving L.A.... They actually wanted to film my [moving back to] New York journey, which is probably going to be for the next season, I'm guessing. But she wrote to me before I left [L.A.] a year ago, and she was just like, "Never give up." Like, all this good advice. And I was like, "Wow, Paris Hilton is telling me that I'm entertaining and to never give up." So that was nice to leave L.A. with… I'm back now though.
Why did you move back to New York for a second? 
I'm going to keep it real with you, because that's just how I am. I moved to New York because after I moved out of the apartment [in L.A., which you see in the episode], I moved in with my boss. I was working for her because she had a clothing line, but I just felt very underappreciated. So me and her got into it, I left there, and then I had nowhere to go, so I was like, "Okay, I'm gonna go back home to New York, this obviously God saying to reset." I hadn't been home in over a year. I was like, "I'm gonna go back, restart, and then come back out here refreshed and hungrier," and that's exactly what I did. I went back to New York for like eight or nine months. When I first got there, I was still motivated—I still [had that drive from being in L.A.]. But once the money ran out, I got super-depressed, and I didn't feel motivated to work at all, because I didn't wanna live in New York. So then my now-manager flew me back out [to L.A.]. Now I've been back out here going on five months now. Second time around, you gotta just keep going like it's better than it was before.
How has your art evolved? In between New York and L.A.?New York to me—for me—was really dark. So I was more dark clothing and just like everything represented my mood and how I was feeling. My music was dark; like, if you listen to some of my old stuff, I'm talking about, like, sucking brain cells. I was super-dark. I was in a dark relationship. Like if you listen to my stuff now, the evolution is so different. I always talked about wanting to come to L.A., but now it's like that was my old stuff. Now, I'm talking about fairies and magic and happiness, and it was a big transformation. But my style was really just inspired by how I felt, and I was feeling really dark, so that definitely was reflected in my music. 
Hollywood Love Story airs Wednesdays at 10pm on VICELAND.
PhotosStylist: @maditachristineHair: @mslalajonesMakeup: @danahcleatonCreative Director: @officialstoriPhotographer: @troymattison
"Fuckboy"Stylist: @youthsmhrHair: @mslalajonesMakeup: @alexjairusDirector of Photography/Producer: Stephen WilliamsDirector/Creative Director: @officialStori