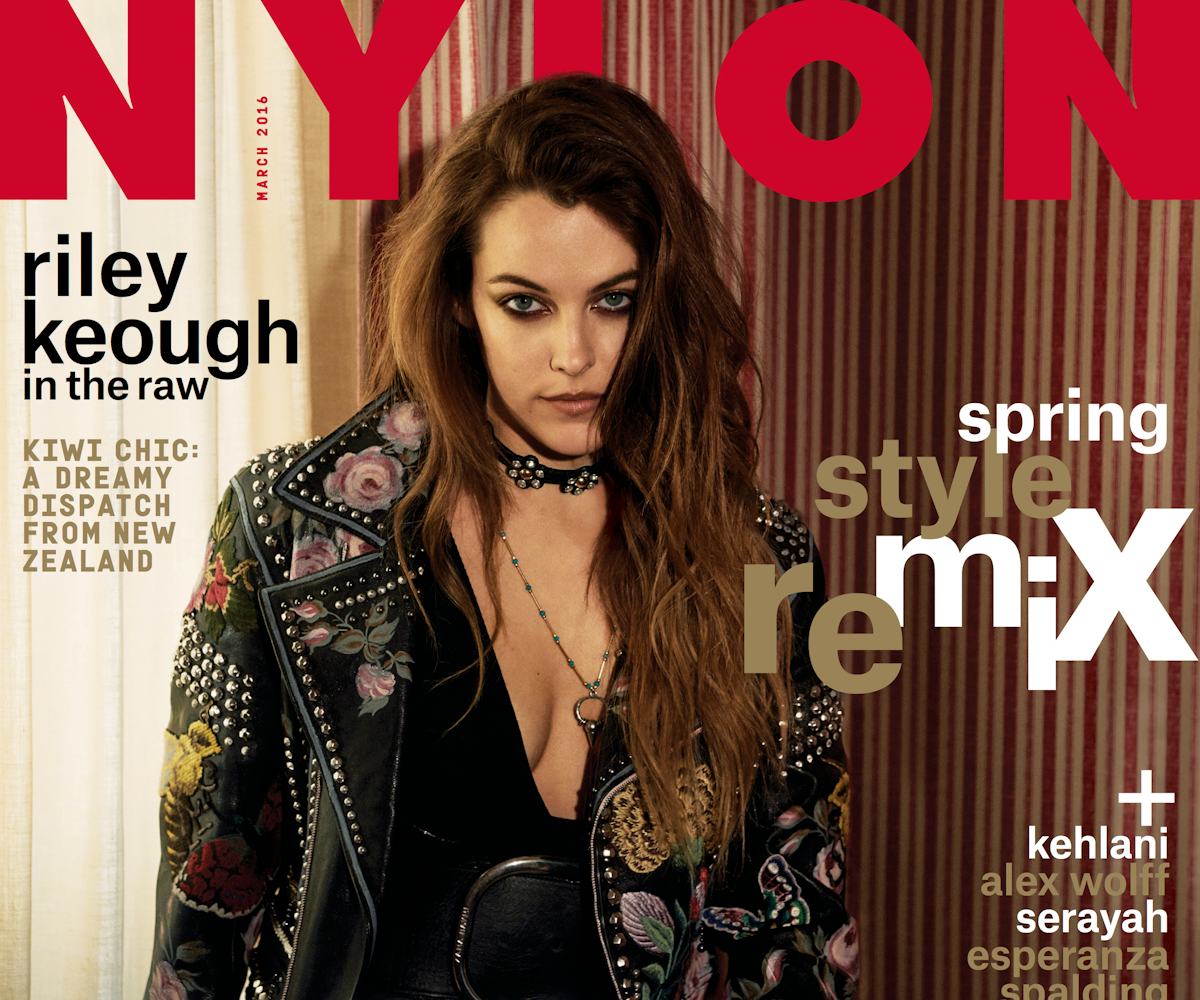 Photographed by Hilary Walsh. Styled by Daniela Jung.
Riley Keough Is Our March Cover Star
read the full story here!
The following feature appears in the March 2016 issue of NYLON.
Riley Keough's nails are striped with a riot of color—sparkly mahogany, mermaid blue, Manic Panic purple. 
At Kure Spa in Silver Lake, we're testing out polishes for a mani-pedi, and the tyranny of choice is killing us. We want all of the colors, like a unicorn's mane. "I always want to go for the wild shades," says Keough, her voice still a tad hoarse from pneumonia, "but most of the time, I just have to pick nude." Defeated, she brings the Deborah Lippmann neutral back to our cushioned white perches where the spa technicians scrub away at our soles.
It's a safe choice—the barely there hue won't clash with the dark Dior ensemble she'll wear tomorrow to the Critics' Choice Awards (Mad Max: Fury Road, in which she plays a ruby-haired concubine on the run, snagged nine awards, including Best Director for George Miller)—but it also has an intriguing resonance with Keough's latest project. In The Girlfriend Experience, set to premiere on Starz next month, the actress plays a Chicago law student who revels in the empowerment and detachment of sex work—and spends a lot of her time naked in the throes of calculated ecstasy. Innocuous nail shades aside, the role, like many of Keough's career choices, is a high-wire feat that should pay off big time. In the span of a few flurried years, Keough, 26, has defined herself as a gutsy and unvarnished actress who doesn't blanch at stripping down for steamy sex scenes (hetero, lesbian, or otherwise) or playing a harem member in a dust-raw dystopia. Her laid-back personality—at times in our conversation, she tips her head back like she's sunning at the beach, her voice close to a sigh—translates on-screen as unflappable. She's a naturalistic performer who has yet to blink.
Click through the gallery to continue the story.
Jacket by Gucci, bodysuit by Topshop, pants by Chanel, choker and belt by Zana Bayne, necklace by Vanessa Mooney, rings on pointer finger and middle finger by We Who Prey, Keough's own ring on ring finger.