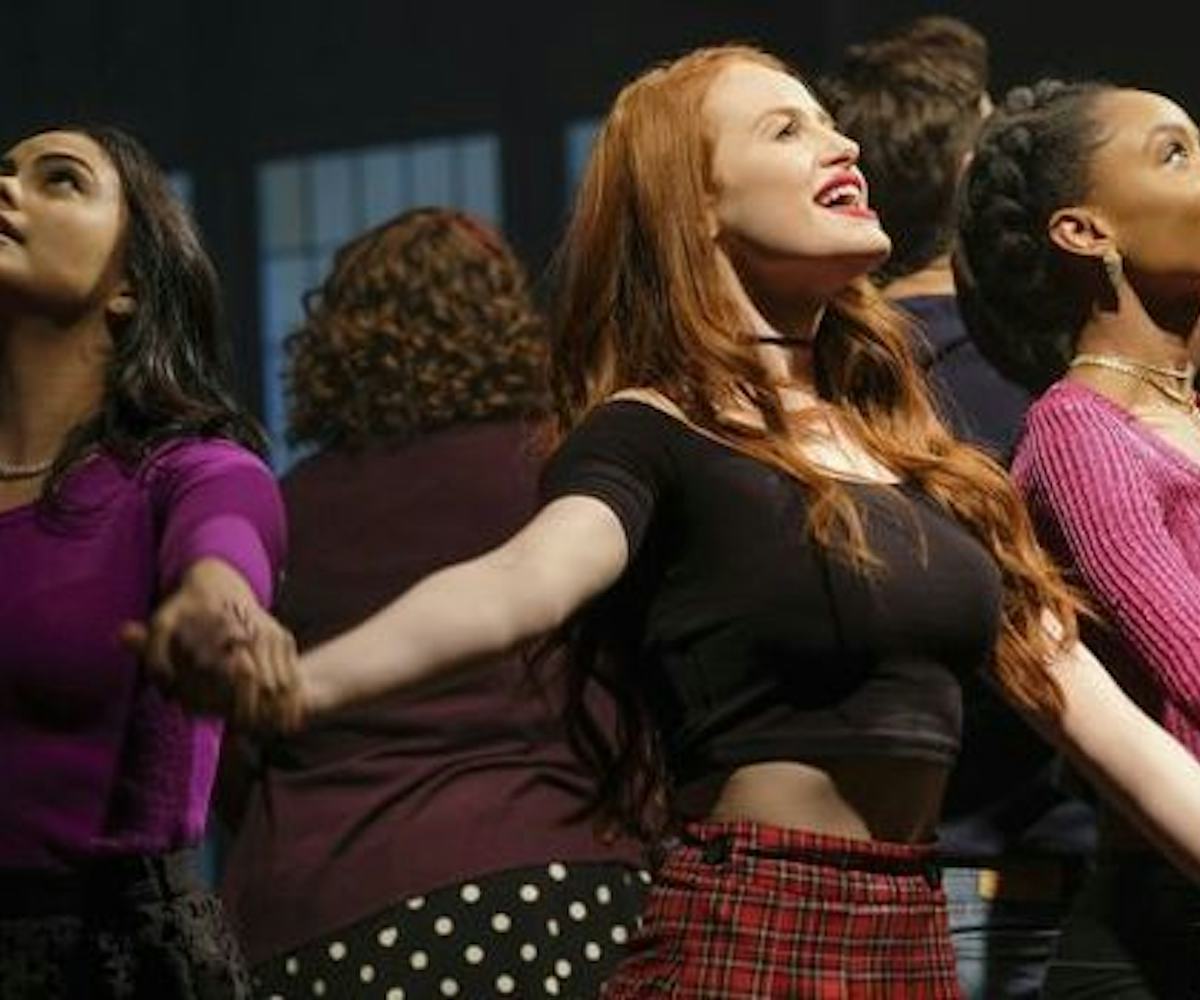 Photo by Katie Yu/The CW
Why This Character Had To Die During The 'Riverdale' Musical Episode
After a brief hiatus, Riverdale returned last night with the shocking musical episode, "Chapter 31: A Night to Remember," which finally reintroduced the murderous Black Hood. But what does the Black Hood's return actually mean for the inhabitants of Riverdale in the lead-up to the season finale? According to Riverdale showrunner Roberto Aguirre-Sacasa, it's nothing good.
"I think the place we go from here is things get much, much, much, much more intense for the last few episodes. I think our characters are in mortal danger in a way they've never been before," Aguirre-Sacasa said in an interview with Entertainment Tonight. "There are now four episodes left and I would say as intense as things have been in Riverdale, this amps up the danger and the drama to a level that even we haven't done. I think that there's great character stuff and romance stuff, but it's super intense. The Black Hood is only one of the millions of problems that Riverdale is about to face."
That said, the fandom is still reeling from the episode's final act, which saw the gory murder of Midge at the end of the school's theater adaptation of Stephen King's Carrie—with many asking why she was the one that had to go. 
"We've known that the Black Hood was going to come back for a while and we thought that the most unexpected way for the Black Hood to come back was during the musical episode," Aguirre-Sacasa responded. "The Black Hood has killed people—Miss Grundy, the Sugar Man—he's shot people, and unsuccessfully killed people, so we wanted to make it clear when the Black Hood came back, that the stakes were real and people were in danger." So naturally, as a murderer with a "kill all the immorals" MO, if someone had to die, it was going to be Midge who, earlier this season, narrowly escaped death after the Black Hood stumbled upon her and Moose doing a stimulant drug known as Jingle Jangle.
"We wanted his return to be tied to a character's demise," Aguirre-Sacasa continued. "It's funny because I love the actress [Emilija Baranac] who plays Midge. We did everything we could to try to keep her alive, but in the end, it was just that the Black Hood could not be stopped." 
Talk about "A Night to Remember."