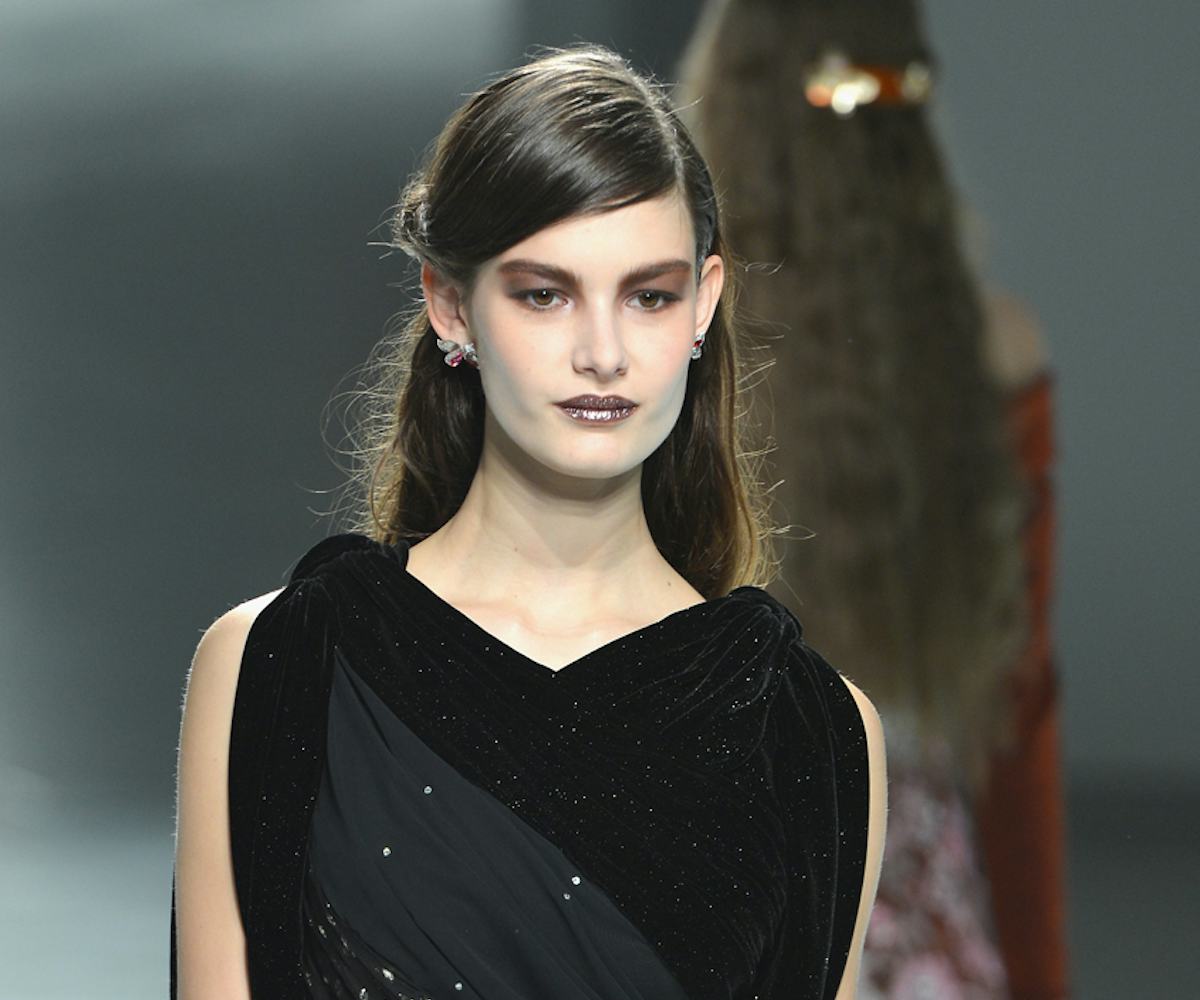 photo by getty images
the face: rodarte
get the beauty look inspired by a galaxy far, far away.
Ah sweet bird of youth! Nostalgia for childhood and everything that implies inspired the beauty at Rodarte.
For Traceylee of Sally Hansen that meant painting models' nails with a chunky glitter polish called Pink Dream, created especially for the Mulleavy sisters' spring collection. It's the stuff kid dreams are made of. Sadly, it won't be available until September but it's worth the wait.
Makeup artist James Kaliardos looked to fairy tales and the 80s for references and came up with dramatically smoked out eyes and glittery lips. To get the dramatic lids, Kaliardos brushed reddish brown shadow from the lash lines up and into the brows and along the lower lids, then blended thoroughly along the edges to soften them, and layered lavender hue into the center of the lids and inner corners of the eyes. He contoured the cheeks to emphasize the 80s reference. To get the disco ball mouths, Kaliardos laid down a base with lip liner, then went over it with a glittery lipstick in either pink or brown. He set it against doll-like skin, created with loads of cream foundation and concealer. While most of the products he used won't be available until fall, you can approximate the looks with currently available offerings and a little improvisation (see below).
As with past seasons, the hair at Rodarte was topped off with an eye-catching hair accessory. This time it was an oversized barrette upon which golden butterflies were perched. It secured a section of hair that hairstylist Odile Gilbert had twisted together and pulled back. The super-long strands (lengthened with the help of extensions) were loaded up with leave-in conditioner, plaited, then after awhile set free so they were left with loose fairy princess waves.
Makeup:
All NARS
Radiant Cream Compact Foundation
Matte Multiple in Torrid Blush and Anguilla
Eyeshadow in Sophia and D. Gorgeous
To get the sparkly lip, you'll have to D.I.Y it with a combo of lip color and glitter:
Pink: Nars Satin Lip Pencil in Biscayne Park and M.A.C Glitter in Fuchsia
Brown: Nars Semi Matte Lipstick in Pigalle, Nars Larger Than Life Lip Gloss in Rouge Tribal, and M.A.C Glitter in Reflects Blackened Red
Hair: