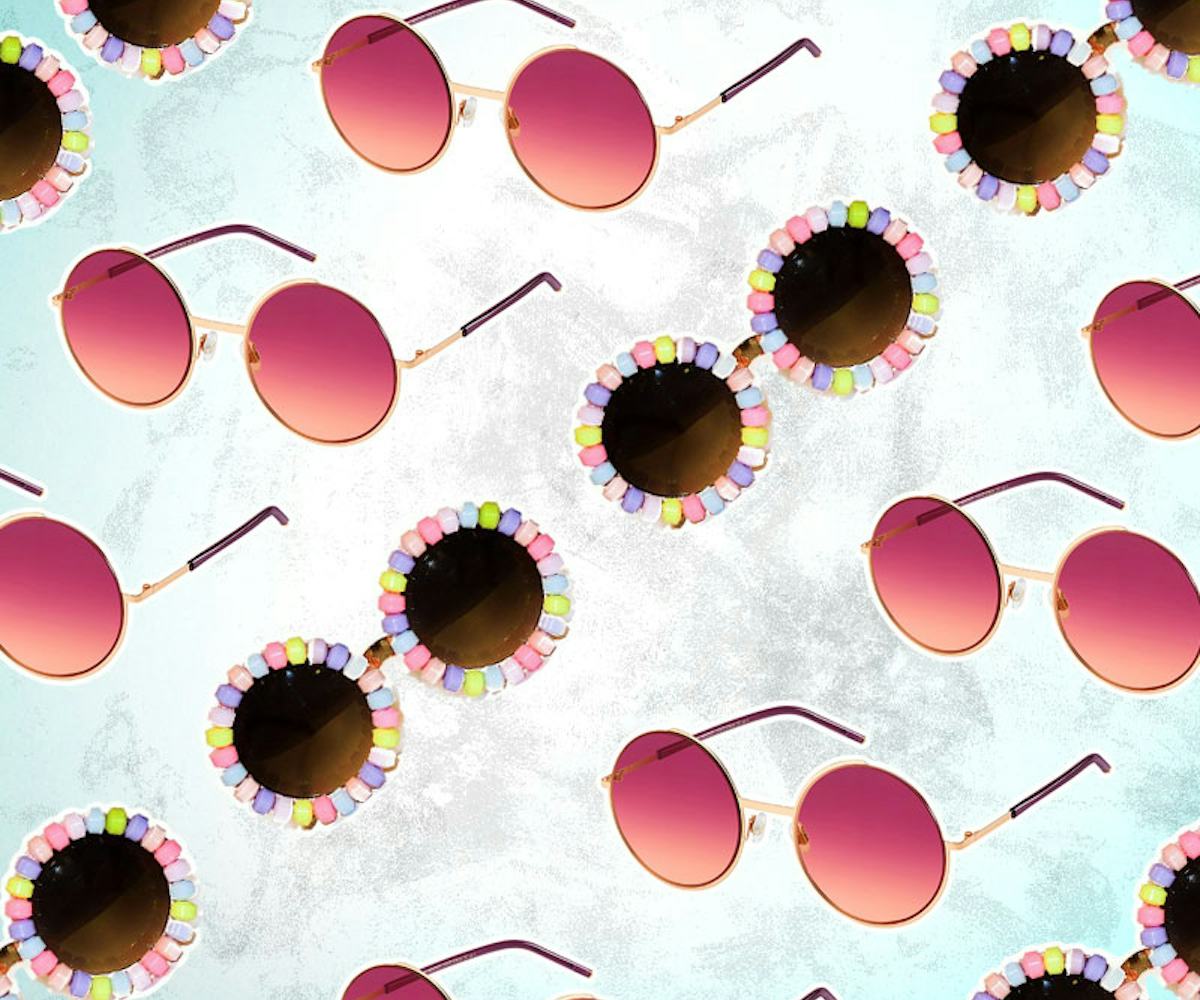 Round Up: 20 Rounded Sunglasses To Rock This Summer
A modern ode to hippie fashion
Round sunglasses, a style that was once associated with the hippies of the '60s and '70s, have been making quite the comeback this season. The once-retro silhouette has gotten a sartorial face-lift, evolving into a style that's more hip than hippie. With a demand for round frames rising, this season's offerings are much more modern than the wire frames we're used to seeing on the likes of John Lennon and Janis Joplin.
While rounded frames don't have a great history of being universally flattering, which is why many people initially shy away from them, today's styles have advanced and are now available in a variety of sizes, shapes, and silhouettes that will work for almost everyone. From big to small, from floral embellished to thick and colorful, there's a style out there that will enhance any bone structure.
We rounded up 20 of the coolest pairs available now to give your summer look a modern hippie-inspired update. Click through the gallery below to check out our picks.
ASOS, Hexagon Flash & Flat Lens Sunglasses, $19.50, available at ASOS.
Forever 21, Iridescent Round Sunglasses, $7.90, available at Forever 21.
Marc Jacobs, 34/S Round Sunglasses, $150, available at Solstice Sunglasses.
Jeepers Peepers, JP0118, $24, available at Jeepers Peepers.
Ray-Ban, Round Folding Frames, $225, available at Ray-Ban.
Valley, Scapula, $199.99, available at Valley Eyewear.
Sunday Somewhere, Isabella, $290, available at Sunday Somewhere.
Preen By Thornton Bregazzi, Bouquet Black Rubber, $298, available at Preen By Thornton Bregazzi.
FREYRS Eyewear, brooke Round Mirror Sunglasses, $40, available at NYLONshop.
H&M, Round Sunglasses, $12.99, available at H&M.
Free People, Sunny Cher Sunnies, $240, available at Free People.
Aldo, Primalucco, $16, available at Aldo.
Cutler And Gross, 1070 Mosaic/Black, $447, available at Cutler And Gross.
Karen Walker, Dusty Pink Hollywood Pool, $300, available at Bona Drag.
Rad + Refined, Candyland Sunglasses, $58, available at NYLONshop.
Spitfire, British Riviera, $45, available at Spitfire.
Urban Outfitters, Both Worlds Round Sunglasses, $18, available at Urban Outfitters.
Topshop, Lakota '60s Round Sunglasses, $30, available at Topshop.
Beauty & The Beach, Mellow Yellow Sunnies, $24, available at Beauty & The Beach.
Eye Buy Direct, Joplin, $52, available at EyeBuyDirect.com.