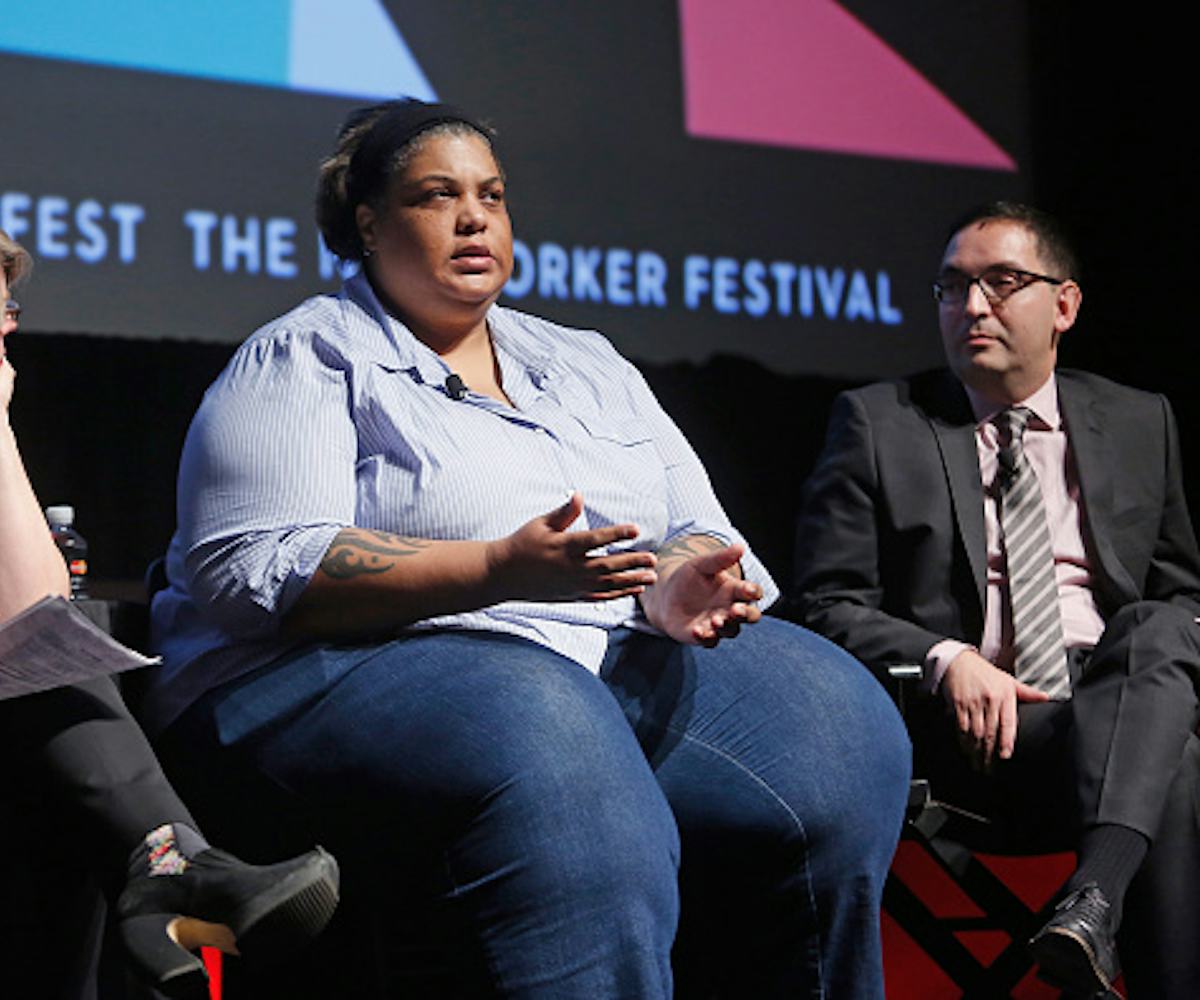 Photo by Thos Robinson/Getty Images for The New Yorker
Roxane Gay Criticizes Podcast For "Cruel And Humiliating" Article
Australian website Mamamia has issued an apology to author Roxane Gay after publishing a piece that Gay called "cruel and humiliating." In a now-deleted story that accompanied an episode of the No Filter podcast, the site's co-founder and creative director, Mia Freedman, disclosed an extensive list of preparations they made to accommodate Gay, calling her size "imposing."
"A lot of planning has to go into a visit from best-selling author, college professor and writer Roxane Gay," Freedman
of the podcast episode, for which she interviewed Gay about her new book,
Hunger: A Memoir of (My) Body
. "Will she fit into the office lift? How many steps will she have to take to get to the interview? Is there a comfortable chair that will accommodate her six-foot-three, 'super-morbidly obese' frame?"  
In response, Gay said she was "appalled by Mamamia," adding that it was "a shit show." She called the website's treatment of her "cruel and humiliating."  
"You see, Roxane Gay is...I'm searching for the right word to use here," Freedman wrote in the deleted story. "I don't want to say fat so I'm going to use the official medical term: super morbidly obese." Freedman went on to detail exchanges between Gay's publishers and the website's team. "Her size is imposing and also a logistical nightmare for her. The requirements back and forth with her publishers who had brought her out to Australia to promote her books were extremely detailed." 
On the podcast, Freedman said her "breach of confidence" was justified because it's "a fundamental part of the story." Later, however, the site issued an apology, saying, "As a publisher that's championed body diversity and representation in the media we're deeply apologetic that in this instance we've missed the mark in contributing to this discussion. We believe the conversations sparked by Roxane's book are vitally important for women to have, and are disappointed our execution hasn't contributed in the way we intended." 
They went on to say they never meant to make Gay "feel disrespected," adding that they "are mortified to think she would ever believe this to be the case or that we have upset someone we so deeply admire and respect." Former Mamamia employee, Rosie Waterland, tweeted in support of Gay, saying she was "fucking gobsmacked." 
"As a fat woman who used to work there," she wrote, "and tried daily to make them understand this stuff... I am so sorry I failed." 
This, unfortunately, isn't the first time something like this has happened to Gay, who tweeted in May that while doing an interview for Hunger, the interviewer told her, "We did a bunch of special things to accommodate you," like they wanted a cookie for being normal, professional human beings. "Am I supposed to be grateful you provided a sturdy chair?" Gay wrote. "Why would you tell me this?" 
She tweeted about another interview, during which she was asked to "describe your body for me." Gay said she wasn't "entirely sure I am going to be able to keep it together during the press for this book." The author mentioned these moments to Freedman on the No Filter podcast, saying she's been asked some "very dumb and very insulting questions." 
During their conversation, Freedman said she was grateful to know Gay's requirements up front because she didn't want the author to feel uncomfortable. Gay said that sometimes people went "to the other extreme," assuming she's "incapable of basic things, and basic movement." Gay explained to Freedman that the world is not built to accommodate people like her, which is concerning, especially since there were 79 million obese Americans in 2015, according to the Associated Press. 
"It's very stressful because you just never know if a space is going to accommodate me," Gay said. "Are there going to be sturdy chairs? Are the chairs going to have arms? How wide are the arms? How low is the chair? It's just a constant series of questions that you are asking yourself every single day before you go into any space, and it's exhausting because people don't think, they just assume that everyone fits in the world like they do."