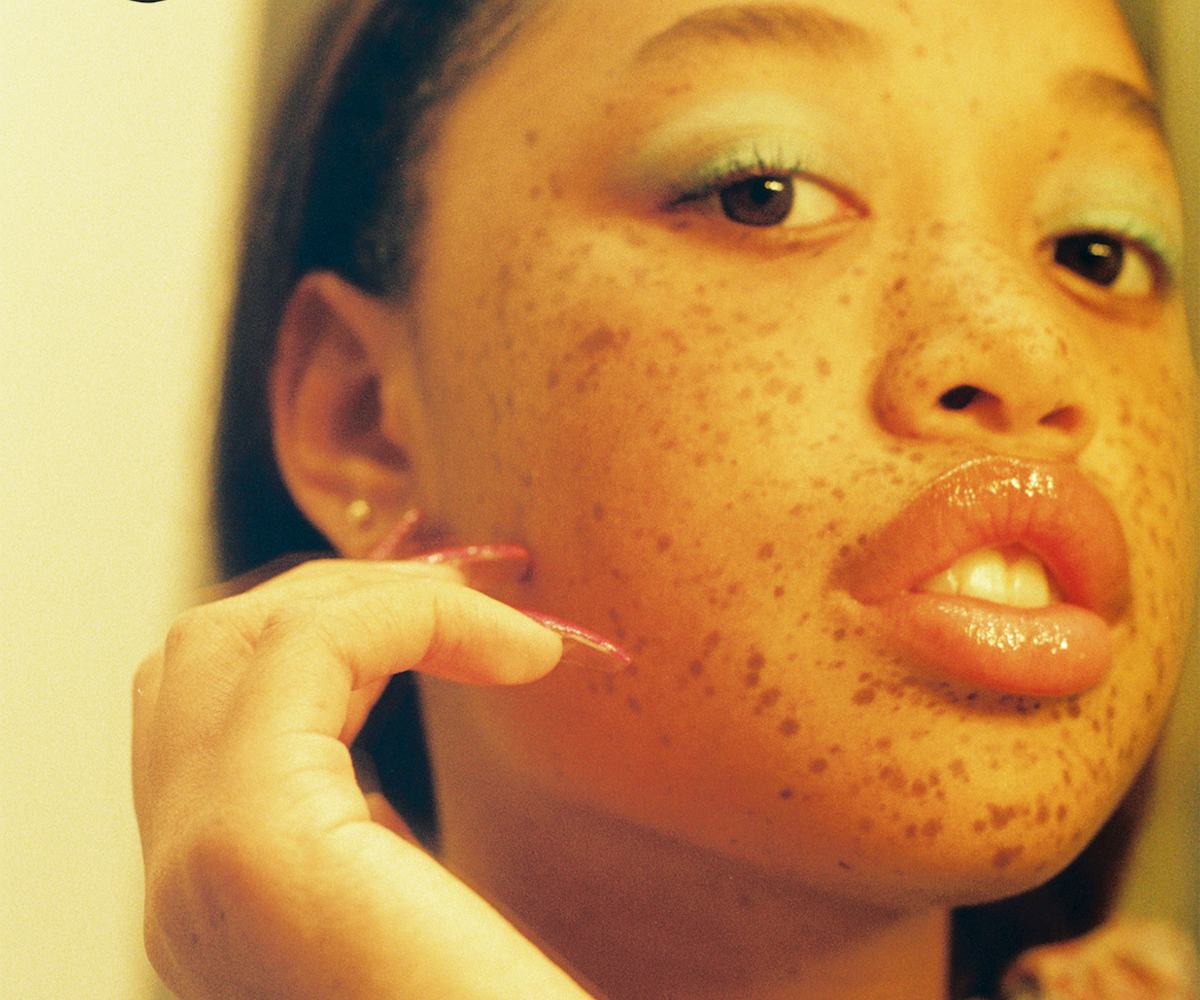 Photo by Mayan Toledano
Salem Mitchell Is The Next Model Everyone Will Be Talking About
In celebration of Black History Month, NYLON is running a spotlight series called UNAPOLOGETIC. Every day, we'll celebrate different aspects of black culture through profiles, interviews, roundtables, reviews, videos, and op-eds. #Blacklivesmatter and we hold that truth to be self-evident.
Salem Mitchell is only 18 years old, but she's already making her dreams come true. The San Diego native recently signed to Ford Models and is featured in the lookbook for SZA's forthcoming CTRL album. Though Mitchell is just at the beginning of her career, she intends to use her rising platform to empower all women to be successful.
"I am so passionate about women being taken seriously," she says. "Women are strong and powerful, worthy of being anything and everything, from models to engineers to the President of the United States. Something that bothers me is when people see a strong woman in control, they can be so quick to tear her down for anything, from the way she dresses to mistakes in her past."
Mitchell is also not here for backhanded statements about black women. She adds, "Black is beautiful without any conditions." Another subject that Mitchell cares about is educating girls and boys about healthy relationships and communication.
"It really bothers me that negative relationship dynamics are constantly glamorized on reality TV shows and in the media," she says. "It doesn't promote positive habits. Young people see that this is what's making headlines and prime time, and think relationships are okay to be abusive or full of yelling and screaming."
You can currently catch Mitchell on posters blown up to gigantic proportions for Converse and on display at your local Urban Outfitters. Learn more about this blossoming beauty in the interview, below.
Tell me about your childhood and where you grew up. How has this shaped who you are today?
I grew up in southeast San Diego in a neighborhood called Emerald Hills. It honestly wasn't the best neighborhood. I don't think it shaped who I am at all. It was more of the schools I went to and what my parents chose to expose me to. My family as a whole were always really supportive of my creativity and all my ideas from the way I wanted to dress or what I wanted to involve myself in. I went to arts schools for elementary, middle, and high school. I attended the San Diego School of Creative and Performing Arts (SCPA) from sixth to twelfth-grade studying dance. SCPA for sure is what really shaped and made me feel more comfortable with my individuality. It was a safe space for the creative kids, loud kids, LGBTQ kids—everyone was so supportive. It wasn't the average awful high school experience I usually hear about from my other friends. There was no pressure to fit in, to look a certain way, everyone was unapologetically themselves. 
How did you initially get started in modeling? What has your experience in the industry been like so far?
I was always interested in modeling for as long as I can remember, but I always thought it was out of my reach. I was always taking photos on my own or with the photography students at my school, but it wasn't until I began putting myself out there more on social media within the past two years when larger photographers and brands would reach out with interest in working with me. I can honestly say that so far my experience in the industry has been absolutely amazing. I really can't complain about anything except I think more hair stylists need to carry edge control [laughs].
What are you hoping to see change in the fashion and beauty industry?
I think the fashion and beauty industry needs to become more inclusive. I've noticed the brands that have younger consumers or newer brands have been more inclusive of different types of beauty, bodies, etc. However, I'd love to see some of the already successfully established brands completely change it up and include more people. Things like the Victoria's Secret Fashion Show need more models with curves and fat and freckles and all of that.
You're friends with young women like Gabrielle Richardson, Chloe x Halle, and Yara Shahidi. How do you all influence each other? What do you all do for fun?!
All of those lovely ladies influence me just by being their wonderful selves; they're so genuine and sweet. Their energy just makes me want to be a better person. Another thing I greatly admire about each of them is their ability to use their platform to speak up about things going on in the world, and you can tell they genuinely care or resonate with the situations. Gabby and I like to eat a lot of food together, hug a lot, and just explore places, like museums; Chloe, Halle, and I enjoy hanging out, relaxing, and I love hearing their stories. Yara and I actually just recently got better acquainted, and we've decided to start a cover band called Silverlake. So be on the lookout in the future.
Who are your biggest role models?
My parents are some of my biggest role models because they instilled strong values about understanding your worth in me at such a young age. My BF/BFF Dajuan is another one of my role models because he really has an ambitious attitude and doesn't limit himself which I really picked up within the past year. Also, my friends like Gabby Richardson, Mayan Toledano, Julia Baylis, Chloe and Halle, Yara Shahidi, Zolee Griggs—they're a whole bunch of successful thriving young women living their dreams and spreading positive messages while doing so. How could I not look up to that?
What is it like growing up during a time where so many black girls and women are thriving?
It's amazing and well-deserved. Black women are the backbone to so many things. They're the creators and holders of so many of the styles, traits, and characteristics being praised by everyone right now. It's nice to see us and other women of color taking over—no more underestimating women, no more underestimating women of color.
You graduated from high school, so what's your next move? 
I actually attended and completed my first semester at San Diego State University, but I'm looking to relocate to Los Angeles in order to have a better balance between my career and education.
What are you hoping to accomplish in the next year?
It's a long shot, but being on a magazine cover would be an absolute dream.
Do you have any exciting campaigns or projects coming up that you can share?
There's a lot I can't say yet but there is a possibility of me being in a magazine or two in the next few months, so look out! Also, I had the pleasure of shooting multiple Converse campaigns last year, and the products/photos are slowly but surely releasing all throughout 2017.
What is society getting wrong about our generation of millennials?
Society gets the idea that millennials aren't hard working because they're not working in the same fields they might have when they were our age. I feel like my generation is filled with some of the most driven and hard-working people ever, but they're striving for creative careers rather than "traditional" ones, which some older people automatically see as invalid.