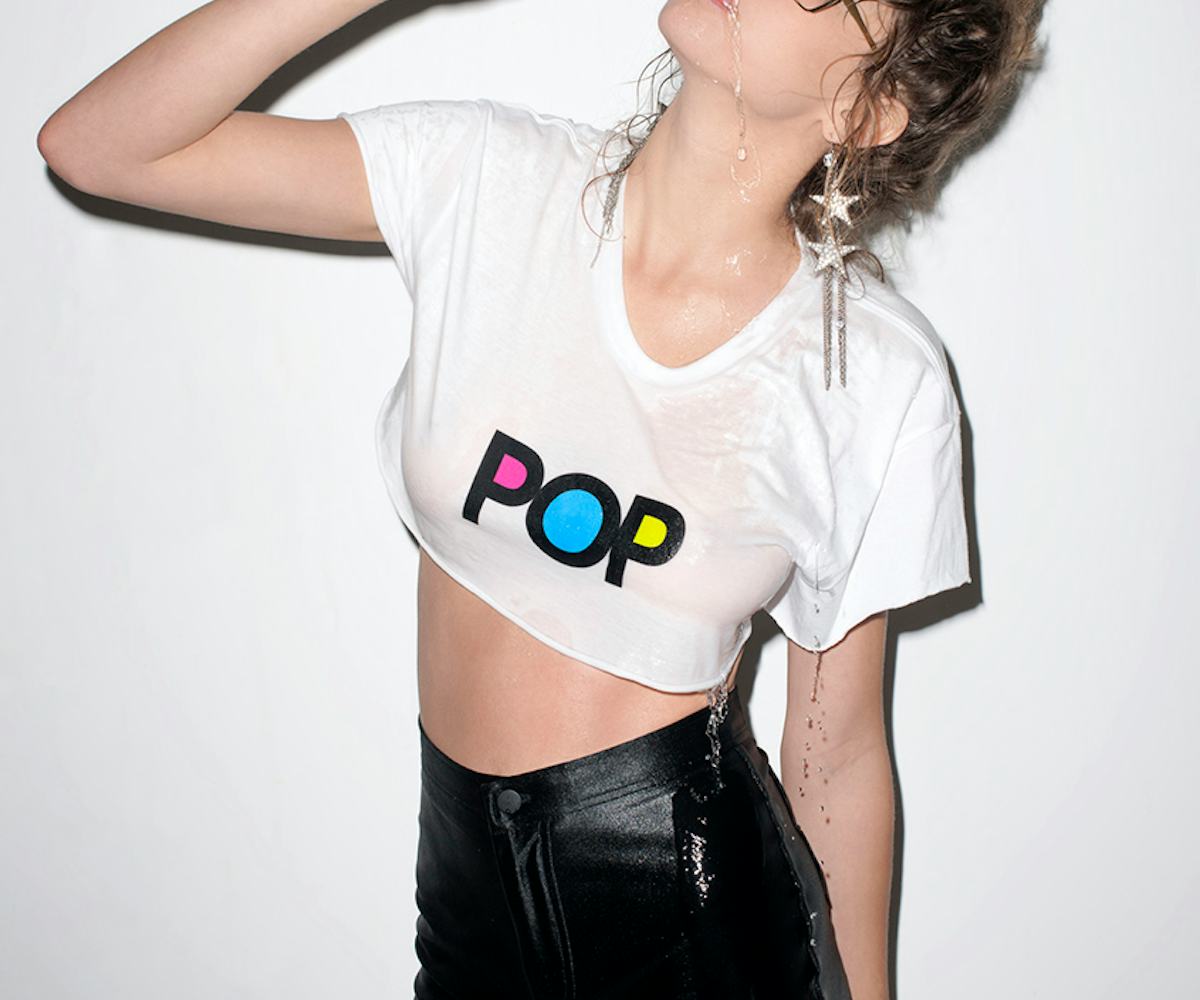 photo by terry richardson
model citizen: samantha york
model/artist/drummer/editor… there's nothing she can't do!
Warning: after reading this article you'll either be massively inspired or extremely jealous of Samantha York. Not only is she a model who has worked with the coolest photographers in the business, like Ryan McGinley or Terry Richardson, who shot her for POPwater's latest campaign (you know, the fruit flavored sparkling water brand founded by Lady Gaga's manager, Troy Carter) that you can peep above and in our exclusive gallery, but she also assists a writer of indie films, sews her own clothes, in the drummer in a band, and runs a rad art zine called Tasty. After spending an hour with York, I can confirm that she is, by far, one of the most genuine and creative people I've ever met. 
She's also a total babe, which is why she got scouted in her hometown of Austin, Texas, and is now represented by Trump Models in New York. But, if you couldn't already tell, modeling is not her only passion. Read on to find out what else York is inspired by and get the real scoop on shooting with Terry Richardson. (You know you want to know.)
The shoot for POPwater seems like it was the most fun ever. True or false?
True. I've worked with Terry [Richardson] before so it was nice. It was a huge set. I think there were at least 50 people there, all very different kinds of talent that was being photographed. It was a lot of personality on set, so I took a backseat for the day and got to watch things happen until it was my turn to jump around. I definitely had to get in the zone and be willing to jump around and have fun with it, but there's only so much that can go wrong when you're standing in a big pool of cold water in studios! [laughs] Stella Maxwell is great to work with. We had such a good time--we're both very high energy. I mean, it's not often you get to spit water in another model's face.
Where's the coolest place you've traveled for work?
I went on the Ryan McGinley road trip this summer. That was awesome. I got to go to parts of the country that I would have no reason to go to otherwise. I met them in Portland. I flew to Portland and then we drove through Oregon, Washington, Idaho, Wyoming, South Dakota, and back towards New York. It's a different reality for sure. We stayed in an incredible house in Wyoming that hadn't been updated since the early '60s, so it had a curcular room with an amazing burnt orange carpet with another red orange rug on top.. The other structure on the property was all green shag carpeting and amazing lamps. There was something about the vibe that we got going in that house that was spot on. I really enjoyed getting to see cornfields and landscapes too. You go and there's nothing but fields and sky, it's like being inside the background on a Dell computer or something, you know?
What's been the highlight of your modeling career, so far?
The fact that I moved to New York City. I really used modeling as a ticket to New York City to allow me to do other things that I'm interested in. I run a small art magazine called Tasty. That's been my creative passion for the past six months. It's a submission based quarterly art magazine. Each issue has a theme and we ask artists to create work based on that theme. We've got an incredible array of work, from writing to illustration to painting, and it's been awesome. Our next issue is actually coming out at the end of this month. 
So in your free time outside of modeling, what are you favorite things to do?
Tasty is really a big chunk of my life. Along with each issue we also host a gallery night to actually show the work. That's a big project in and of itself. I also assist a writer and director, Adam Rapp. I've been working with him for the last year or more on his theater and film projects. I got to work on my first feature film this year, so that was awesome. I've been assistant director on two plays, and got to work as an assistant to the director on a indie feature. I'm really busy all the time, but I like it that way. I moved to New York to be an artist, truly, not to be a model. 
How do you bring your art background into modeling? I feel like you definitely have an advantage as a model because you're a creative person.
For me I feel like modeling is more like performing or acting because it is so not who I am. For me to be a good model I have to be present and connect to what I'm doing, otherwise the part of my brain that is not a model will run away and I won't really be there. I look at it as performing and as a job.
How do you get into "Performer Samantha" mindset?
I feel like it's more of a Zen thing. I have to close my eyes and take a deep breath and say, "OK, I'm going to be on for the next ten hours." The best part of modeling for me is meeting people and hearing their stories. I feel like that influences all the other creative aspects of my life. 
Let's change topics for a second. Your outfit today is amazing [Ed. Note: She was wearing a sunflower crop top and long skirt with mega-high platform sandals] How do you describe your personal style?
I've been a vintage and thrift store shopper for my whole life. I just have an eye for things that fit my body type and try to stay away from the things that don't. It's a hard balance. You mess up sometimes and see a photo of yourself ] later and say, "Oh, how'd that happen!?" [laughs] Another big help is the fact that I can sew. Basically everything I buy that's vintage I end up tailoring. For me it's about up-cycling it into something better.
You're in a play music too, right?
Yes! I'm lucky that my buddy who I make music with is in a real band with a beautiful practice space, so we have access to a really nice practice space. He plays drums in that band, but with me he plays guitar and I play drums. I feel really lucky. My house is filled with guitars, too, because my boyfriend plays guitar.