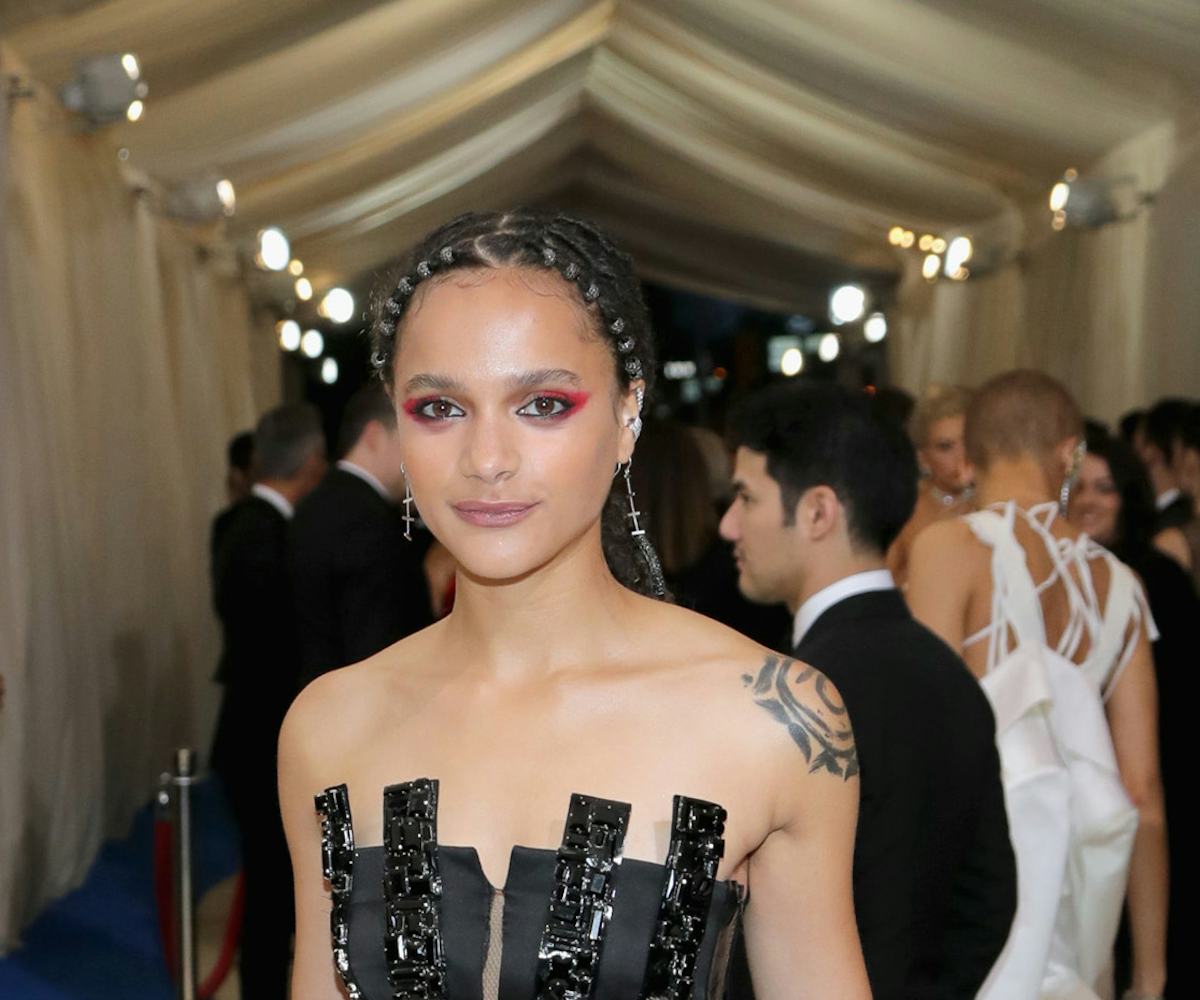 Photo by Neilson Barnard/Getty Images
How Sasha Lane Got Ready For Her First Met Gala
From dress design to calming her nerves
Sasha Lane may still be considered an up-and-comer in the world of film, but she's certainly no stranger to the red carpet. The American Honey actress made her big debut last year at Cannes, where she quickly became one of our sartorial favorites for her killer choices in red carpet attire. From Victorian-inspired gowns and leather bustiers to simple silk slips, there's no doubt that she'll soon be a regular fixture on best-dressed lists to come. (I mean, she did just snag a Louis Vuitton campaign and all.)
That said, when we found out that Lane would be in attendance at last night's Met Gala for the first time—quite the milestone for any celebrity—we couldn't wait to see what she'd be stepping out in. We caught up with her before the big event to find out about what she'd be wearing and how she was planning to prepare herself for fashion's party of the year.
Lane teamed up with H&M on a custom gown that not only paid homage to Rei Kawakubo, the subject of the last night's gala, but also incorporated her own design ideas. She told me that the stunning, structured look referenced one of the Commes des Garçons key motifs—polka dots—and was inspired by the idea of a "badass fairy goddess." Mission accomplished!
Lane wanted to be a part of the design process, so she got as involved as she could. "I gave them a few ideas and pictures, and they narrowed down ideas and went from there," she says. "In the more final stages, I made suggestions here and there, but everyone involved had such great taste, I totally trusted them."
Photo Courtesy of H&M
For any celebrity attending the Met Gala (whether it's their first time or their 10th), preparation typically starts way before the big evening. With that in mind, we were curious to know how Lane would get ready for the gala.
As it turns out, her red carpet routine is pretty laid-back and she doesn't really sweat too much about it. She says it definitely helped that her American Honey co-star (and Met Gala veteran), Riley Keough, gave her the insight on what to expect prior to the event. "I keep asking Riley, "What is it like?!" to have an idea of what I was getting into," she said. Usually, when her nerves do get the best of her, though, she says, a quick text or FaceTime with her brother or a short walk to get coffee seem to do the trick. However, if her nerves kick back in moments before stepping out onto a red carpet, she'll take a few big, deep breaths and listen to music that gives her a confidence boost.
When it comes to beauty, her approach is even more chill: "I might do a face mask and get my nails done and hair washed," she said of the Met Gala. Sounds perfectly low-key to us, which makes us love this rising star even more than we already do. Whether she opted for the mask or skipped out, there's no doubt that she looked absolutely flawless.