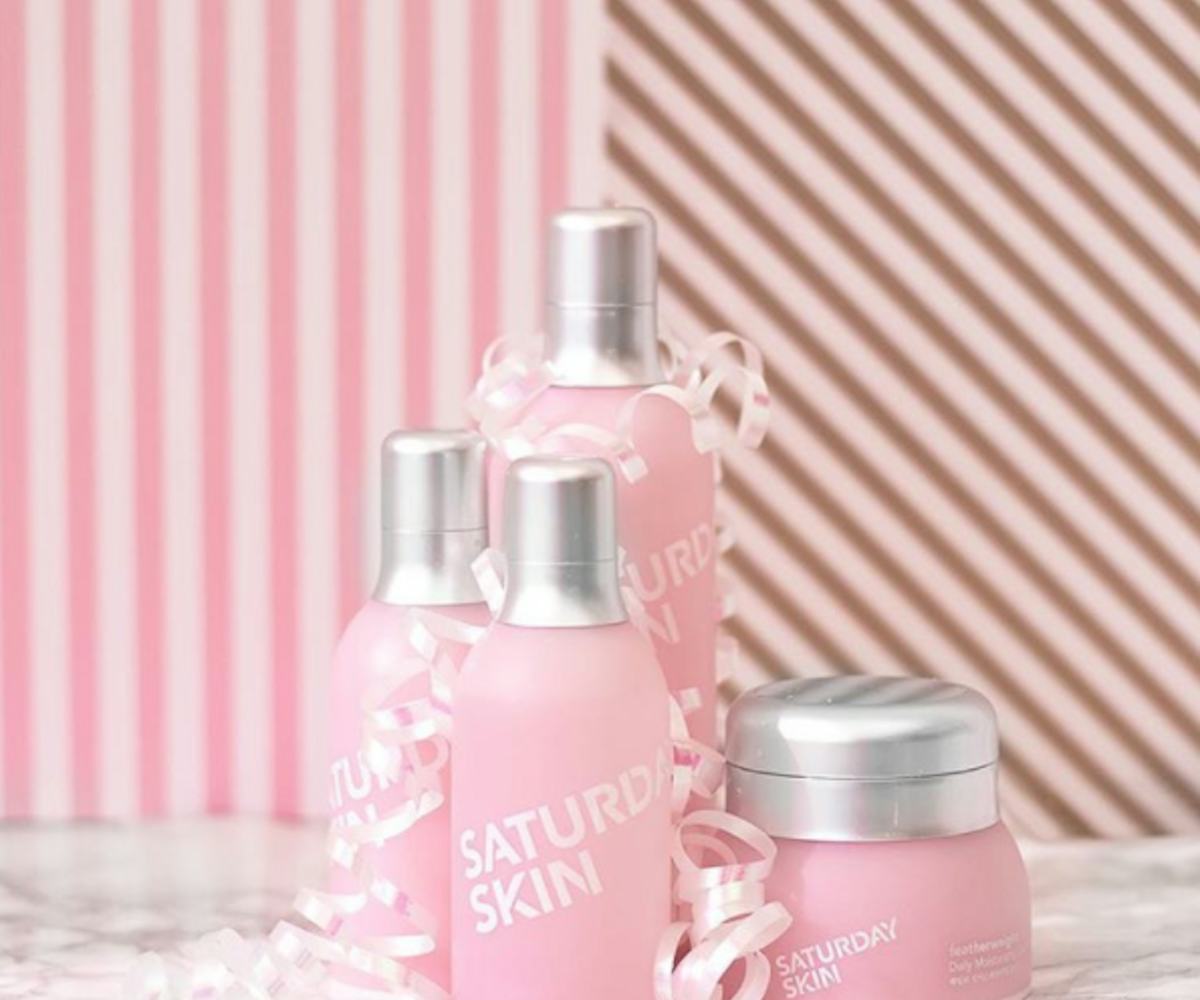 Meet Beauty's Buzziest New Brand
Saturday Skin is the latest Korean beauty brand you should know about
I first discovered beauty brand Saturday Skin via Instagram. Which is odd, as I typically discover my products through websites or by stalking Sephora's "just arrived" section. But in the same way that more and more people are discovering fashion brands through social media, beauty is following suit.
Take Glossier, for example. You might've discovered the company's products on Into The Gloss but, more likely, you saw one of them artfully placed on someone's shelfie. Same goes for Milk Makeup, whose quirky pictures and coo girl design are hard to avoid. Over the past couple of years, a new breed of beauty has been slyly tapping into Gen Y via their social feeds, and Saturday Skin is the latest to join the gang.
So, what is it exactly? Saturday Skin is a Korean beauty brand that launched in July of last year. Despite its short shelf time, it's already received a ton of buzz. Teen Vogue awarded the company a Beauty Game Changer award and it was recently picked up by K-beauty e-tailer Peach & Lily to be stocked on its website. The brand is an extension of one of Korea's most renowned wellness centers, Chaum, a research institution meets hospital meets clinic that focuses on anti-aging. Saturday Skin's vice president, Sidney Baek, tells us that celebrities and royal families—basically people with a lot of money to spare—fly to the institute just to receive treatments. As a result, the company created Saturday Skin after clients requested a line they could take home, Baek tells us.
The products are curated and simple. There's a cleanser, several lotions, two versions of essences, an eye cream, and two types of sheet masks (Baek tells us that cushion compacts, oil-free lotion, and clay masks are coming in the near future). Like Chaum, the brand's credo is all about anti-aging. But rather than fighting lines and wrinkles, the aim is to maintain the youth of customers. By using a patented, very scientific-sounding ingredient, Cha-7 es complex, the peptides involved help "prolong your skin's optimal cell regeneration rhythm."
If I'm being completely transparent, it's Saturday Skin's packaging that first caught my eye, though. Where it came from and what it was formulated with came second. As Baek tells us, many people who initially discover the brand don't realize it's Korea-associated (guilty). That was an intentional move. Baek explains: 
We are actually one of the very first Korean brands who intentionally decided to market to global women. When you think of Korean products, for me, it's either super expensive, super high-end that you can purchase at Neiman Marcus or Bergdorf Goodman, or you need to drive to this weird ethnic grocery market or Koreatown. You have to hunt it down and try to figure out what the product is. They're not easily to access for a lot of U.S. customers. Or, it's affordable, reachable but, at the same time, a little weird and a little awkward and the customer can't understand 100 percent what the product actually is. So, that middle part, I think, so far, had been missing. And Saturday Skin is building that bridge to connect.
And the brand is doing a pretty impressive job. Clean packaging, a no-fuss approach to beauty, easy-to-use products; this is essentially the formula for a successful millennial brand. Sprinkle in the fact that the line is free of parabens, added dyes, or fragrances and includes buzzy ingredients, like avocado and coconut pulp, and you're well on your way to capturing the market.
You want Saturday Skin's products on your vanity but, most importantly for the brand, you want to document and show them off. Let's not even get started on how obsessed our generation is with millennial pink. Like Glossier and Milk Makeup before it, Saturday Skin has a clear and clean brand image with a very strong aesthetic. The prices might elicit a scoff or two (the cheapest being $26) but, man, think of that shelfie gold. 
You can check out the full collection of products in the slideshow below.  
Saturday Skin, Balancing Act Skin-Smoothing Lotion, $39, available at Saturday Skin.
Saturday Skin, Freeze Frame Beauty Essence, $47, available at Saturday Skin. 
Saturday Skin, Daily Dew Hydrating Essence Mist, $34, available at Saturday Skin. 
Saturday Skin, Wide Awake Brightening Eye Cream, $46, available at Saturday Skin. 
Saturday Skin, Featherweight Daily Moisturizing Cream, $49, available at Saturday Skin. 
Saturday Skin, Rise + Shine Purifying Cleanser, $26, available at Saturday Skin. 
Saturday Skin, Spotlight Brightening Mask, $30 for five masks, available at Saturday Skin. 
Saturday Skin, Quench Intense Hydration Mask, $30 for five masks, available at Saturday Skin.