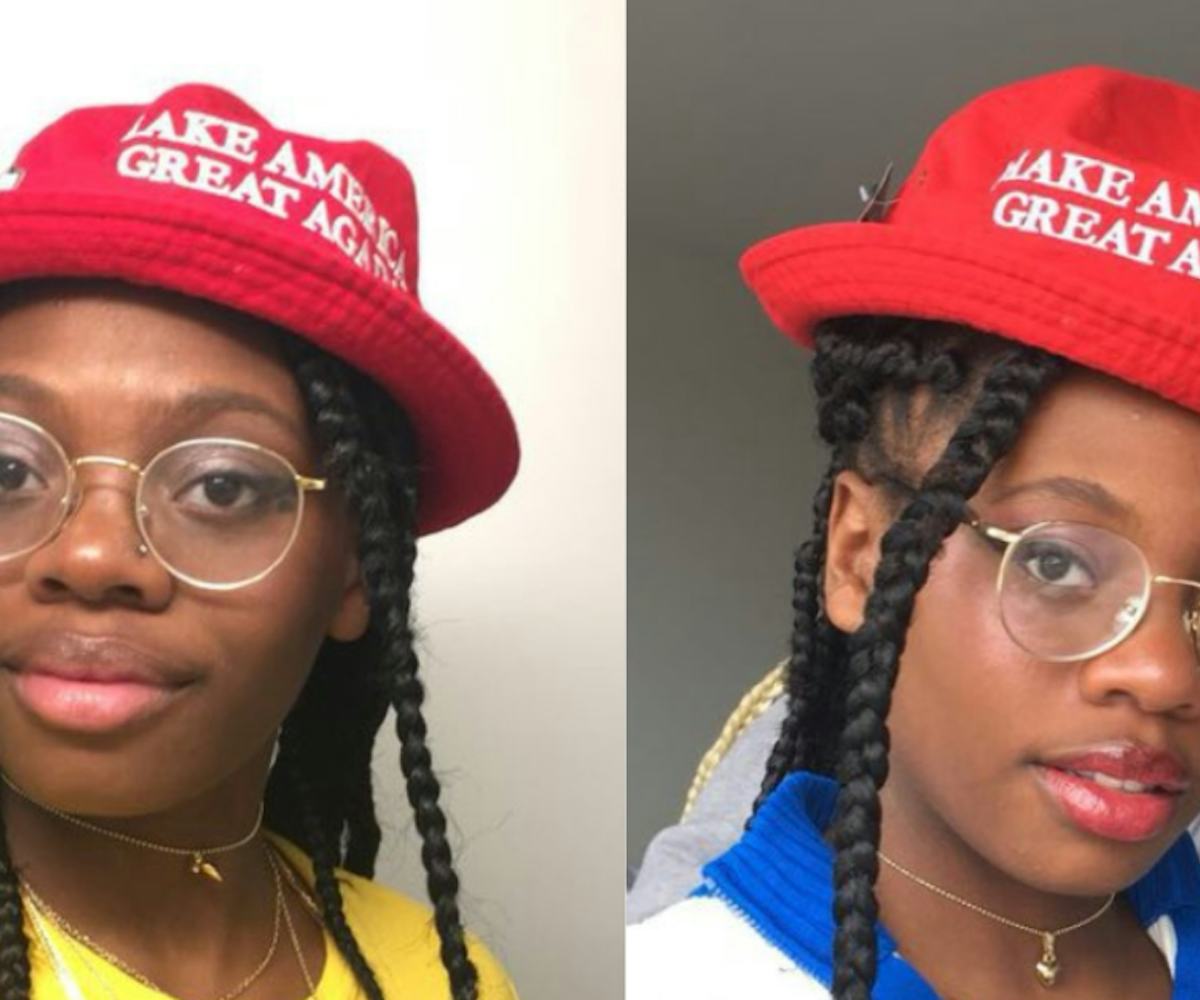 Screengrabs via @chckpeas on Twitter
This Woman Just Pulled Off The Scam Of The Century
Twitter user @chckpeas just pulled off the scam of the century, pretending to be pro-Trump and scamming MAGA bros out of an unknown amount of money. On October 27, it all began when the young woman posted a selfie donning a MAGA bucket hat, claiming to be a "reformed Republican" who "will not hide any longer."
Next, on October 31, she began a gofundme, claiming that her parents stopped paying her university tuition in response to seeing the tweet and now needed support.
Perhaps in hopes of continuing to draw attention to the gofundme—or maybe, because the scam became way too fun to drop—she added to the ruse, tweeting, "My mother literally woke me up out my sleep and screamed at me 'how could you support this monster,'" later doctoring texts from her mother that demanded she move out of the house within two weeks.
By Saturday, November 3, the impressive scammer was exposed by a number of tweets praising her talents. But, Twitter users who did their due diligence would have realized it was satire all along, as @chckpeas had been pretty up-front in her other tweets about never being a Republican.
The gofundme has since been removed, but not before @chckpeas had swindled enough for an iPhone XS Max. While the beautiful scam may have reached its expiration date, her Twitter timeline is the gift that keeps on giving, continuing to egg on conservatives who haven't gotten the memo yet, including this glorious hot take: "Stealing from republicans isn't bad because republicans arent ppl."
@chckpeas, please teach me your ways. I have so many student loans and so many locals on my timeline with cash to burn.