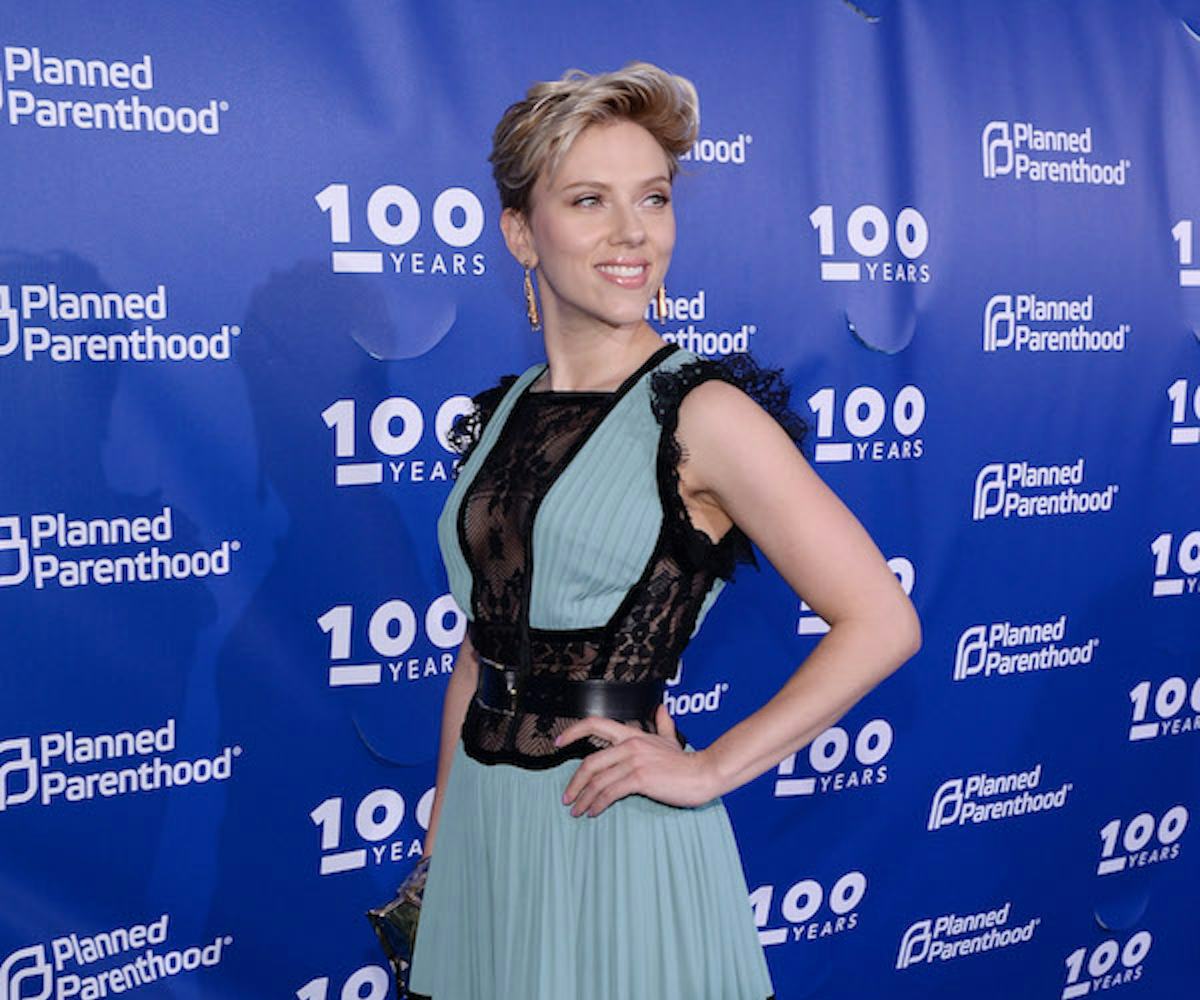 Photo by Andrew Toth/Stringer via Getty Images
Scarlett Johansson Has No Time For Slut-Shaming
"Just having a healthy sexual attitude, you are labeled as loose, wild, a slut"
Scarlett Johansson is tired of the fact that women can't be sexual human beings without having to endure some kind of harmful label intended to shame and stigmatize. In a recent interview with Cosmopolitan magazine, the actress acknowledges that it's a luxury to be able to speak out on women's sexual and reproductive rights without it harming her career. For most women, even female celebrities, this kind of advocacy can be downright dangerous to personal safety, amongst other things. Scar Jo, however, sees it as some of the most important work she can be doing and appreciates that her privilege and platform can help her help others who don't have it as easy.
Johansson tells Cosmo she feels emboldened because she "grew up in an environment that encouraged activism" but also because she wants to set a good example for her two-year-old daughter, Rose Dorothy Dauriac. On female sexuality, she says, "When women talk about enjoying sex, it's almost forbidden. Just having a healthy sexual attitude, you are labeled as loose, wild, a slut. You have no morals, and you're seen as some kind of sexual deviant or someone who can't be in a monogamous relationship. The minute you talk about enjoying yourself, being curious, that is still taboo." In a lot of ways, her new movie Rough Night thumbs its nose at the absurdity of raunchy women causing nothing but harm to themselves and others. Case in point: Scar Jo and her best buds on a wild bachelorette weekend accidentally kill the stripper they hired. Women and their sexual wiles! Look at what you've done.
Johansson has also been a longtime supporter of Planned Parenthood and sees reproductive rights as intrinsically linked to sex positivity and better health outcomes for women. "There's no reason we shouldn't be talking about our reproductive rights," she told the outlet. "They're something we have to fight for and continue to protect. There's nothing icky about talking about that stuff. Of course, it's private and it's your body, but we should take the stigma away." She also continues to hope that Ivanka Trump uses her extremely privileged platform to speak more about women's health and reproductive rights. Johansson says, "I know it's complicated. It's her father. Can you imagine?... It's hard to put yourself in somebody's position like that. But how do you move the needle in one direction or the other? Hopefully, she'll make a courageous choice and stand up for what she believes in—whatever that might happen to be." Although the "whatever that might happen to be" makes us a little nervous, perhaps we need a little bit of Johansson's patience and hope here, too.
Cosmopolitan's July issue featuring Scarlett Johansson's is now on shelves, and Rough Night is also out in theaters nationwide.
(Via Cosmopolitan, Refinery29)