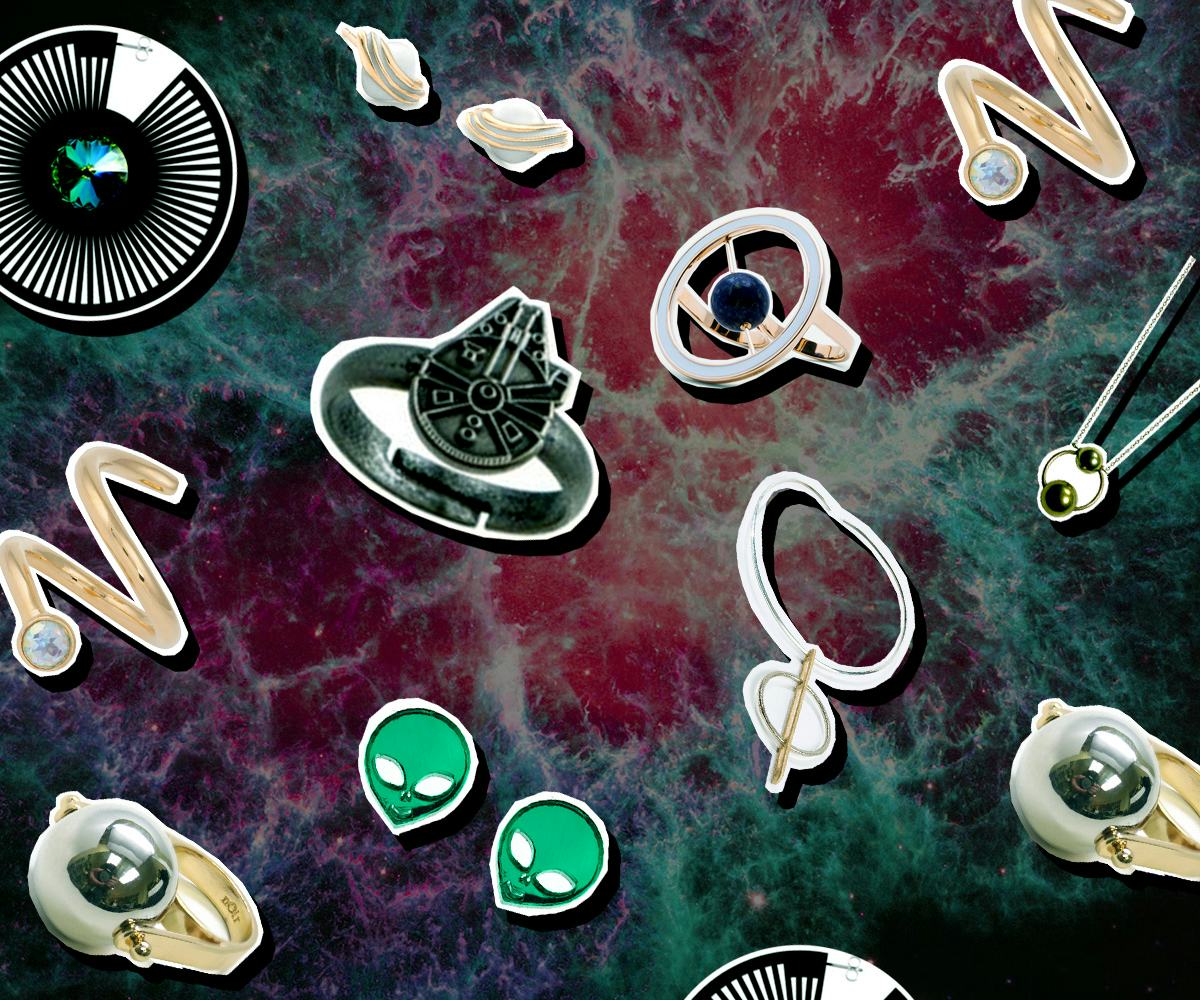 The 15 Coolest Pieces Of Jewelry For The Sci-Fi Enthusiast
Live long and prosper futuristic jewelry
Science fiction has always been a great source of inspiration for what we think the future will look like. No matter how far-fetched or realistic the storylines may be, the wardrobe is always a fun way to imagine what the world may look like stylistically in 20, or 2,000, years from now. Minimalism and clean lines tend to rule in many of the greatest sci-fi films and shows of all time (think: Star Trek and The Fifth Element).
While most of us wouldn't choose to wear a full-on costume in our daily lives (although some of the truest sci-fi fanatics do and more power to them), we can still channel those futuristic vibes in a more subtle way: jewelry.
Whether influenced by outer space, science, or the great unknown, we rounded up some of the coolest sci-fi inspired jewelry, from alien earrings to all sorts of scientific baubles. Bring out your inner UFO with these 15 totally awesome pieces, and let your imagination run free into the future.
Click through the gallery to check out our out-of-this-world picks. May the force be with you in picking just one.
Marni, Gold-Plated Horn Brooch, $280, available at Net-A-Porter.
Ben-Amun, Sculptural Geometric Necklace with Pearls $445, available at Ben-Amun.
Dream Collective, Saturn Studs, $250, available at Dream Collective.    
Faris, Disc Hoops Medium, $95, available at Faris.
Laruicci, Neptune Claw Ring, $53, available at Laruicci.
Laura Lombardi, Ceres Necklace, $54, available at Local Eclectic.
Metalepsis, Calder Collar, $330, available at Metalepsis.
nOir, Claire Spinning Ring, $50, available at nOir.   
IMYOURPRESENT, Rad Planet Choker, $12, available at NYLONshop.
Vinca USA, Alien Face Earrings, $16, available at NYLONshop.
Shahla Karimi, Customizable Spiral Ring, $165, available at Shahla Karimi. 
Love and Madness, Millennium Falcon Silver Ring, $20, available at Love and Madness.
Sylvio Giardina, S-K-I-N Kit Bracelet, $246, available at Luisa Via Roma.
Uribe, Linnet Ring, $280, available at Uribe.
Vojd Studios, Round Earrings, $150, available at Vojd Studios.