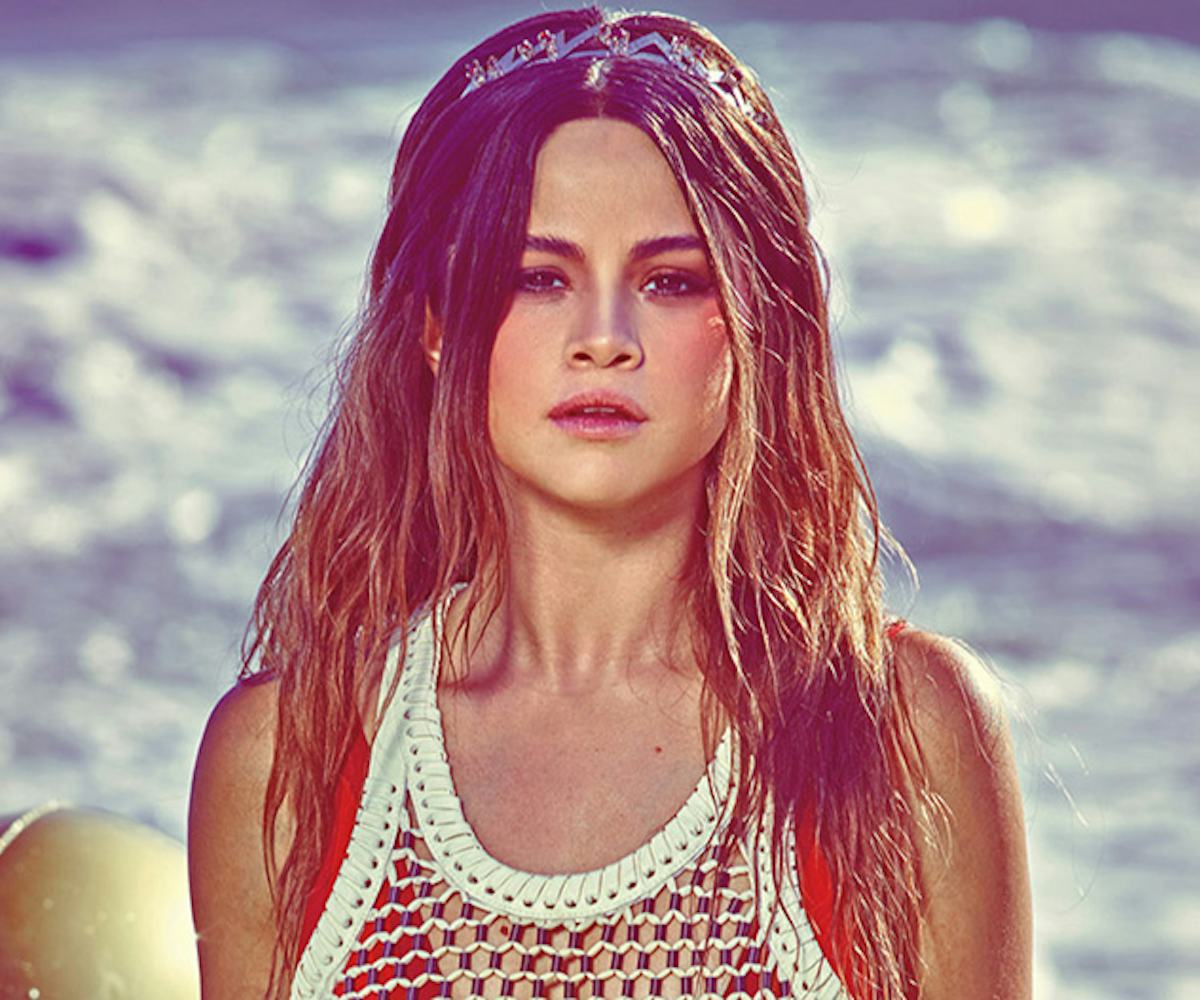 Photo by Steven Klein for W magazine.
Selena Gomez Clarifies That Whole Miley Cyrus Feud
"we both liked the same guy when we were 16"
Selena Gomez has been living under the public's gaze since she was 7. Now 23, Gomez has been through enough public scrutiny to title her latest album Revival. Among the tabloid fodder that's followed her since her Disney days: boyfriend troubles, friendship fallouts, and the inevitable comparisons to her polarizing female peers—namely Miley Cyrus.
Unlike Cyrus' brash exodus from Disney, Gomez's was more restrained, but definitely not filled with animosity towards the fellow star many speculated over. "We never feuded," Gomez tells W magazine for the issue's March cover story. "We both liked the same guy when we were 16. It was just a Hilary Duff–Lindsay Lohan thing: 'Oh, my God, we like the same boy!' We are now completely settled in our own lives." The feud was apparently over Nick Jonas. The timeline of events is, as Gomez alludes to, petty teenage drama. But what normally would've been high school lunchroom bickering was blown out of proportion due to both star's celebrity statuses. The same thing happened during Gomez's turbulent relationship with Justin Bieber, a relationship says she's "so done" with. "I care about his health and well-being," she adds. "But I can't do it anymore."
Gomez goes on to lament over how the unexpected publicity got to her. "At first, I didn't care," she tells W. "Then I got my heart broken and I cared. Because people had no idea what was going on, but everywhere it was a million different things." Now, she uses social media as a means to clarify headlines and gossip written about her. Though, don't expect her to be on it forever. "In a few years, I'll give all of it up." And in those few years, she and her peers will be older, wiser, and even better equipped to deal with the BS that comes their way—fake feuds and all. 
Read on for more quotes from W magazine's new March issue in the pages ahead.
On comparisons to Miley Cyrus: "Every single girl has done it completely differently. Obviously, she wouldn't want to be doing what I'm doing, and I wouldn't want to be doing what she's doing. But I'm a fan of her music—I don't know if she'd say that about me."
On life after Disney: "Once Disney was over, I was like: Oh, shit. I didn't know what I wanted to be. I had to learn to be myself."
Read Selena Gomez's full W interview here.